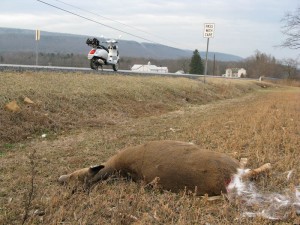 In warm weather riding the Vespa to work is automatic. The only time I don't is when I need to haul gear or people. In winter I make a quick assessment of road surface and mental state before making a decision. This past Thursday morning everything was aligned for scooter departure.
I chose a longer route to work to allow the battery to get a good charge. I don't use a battery tender because so far my riding frequency seems to be sufficient. The recent addition of electric gloves has me wondering but so far so good. I suppose if the battery is going to die it will be 50 miles from home at 10º F.
Riding continues to create a hyper-awareness of my surroundings that is difficult to find while driving a car. I probably would not have seen the deer along the road while driving. I'm just cut off from the world by steel and glass. Looking at the deer I realized I don't consciously watch for deer while riding. I watch for everything. Everything in front and back, left and right. Things come into focus in a continual processing of sensory information.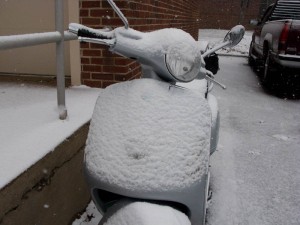 The ride to work was routine. The weather forecast called for snow showers late in the day but I assumed I would be home before they arrived. At 2:30 PM I saw the first snowflakes falling outside my office window. When I walked to the Vespa at 4:30 PM I found it covered in snow. The roads were still mostly wet with a bit of intermittent greasy slush.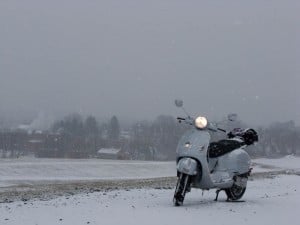 Plans to travel across farm lanes when I realized that snow was accumulating too quickly to comfortably handle the steep grades in a few places. I wandered home on back roads and kept a careful eye on speed and road surface.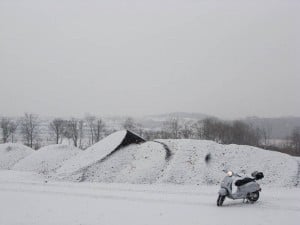 The local limestone quarry always looks good in the snow and I couldn't resist stopping for a picture. The wet snow is surprisingly slick and I had to work a bit to get the scooter back onto the road even with all the gravel under the tires.
Various amounts of snow accumulated as can be seen in the curve in the above photograph. Easily negotiated but a potential disaster for a careless rider traveling too fast for conditions and assuming the road is merely wet.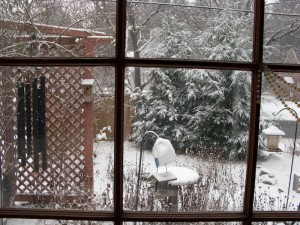 I arrived home safely, brushed the snow and slush from the Vespa before parking it in the garage, and joined Kim for a cup of hot tea. Watching the snow out the front window warm and snug after just another ride home from work.