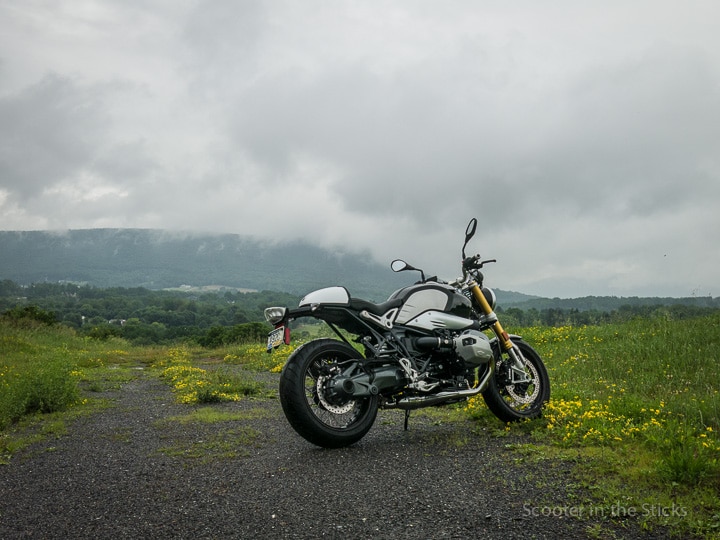 I swear, I love my Vespa scooter.  Regardless of what I write from this point on remember that.
The details aren't important other than Kissell Motorsports put me in a position to be riding a BMW RnineT motorcycle.  I don't follow the motorcycling world closely so I missed the unveiling of this bike as a new direction for the BMW Motorrad line.  There are a wealth of reviews on the web of this motorcycle with technical evaluations replete with discussions of forks, dissertations on  exhaust design, or musings on quarter-mile sprint speeds.  And of course the endless arguments on what the best customization paths are.
Ugh.
Double ugh.
I decidedly do not fit into the aftermarket customization customer model.  Whatever personal defects are at work I generally make do with whatever the scooter or bike has and it takes a long, long time for me to think about changing anything.  And then for purely utilitarian reasons — like wanting to haul more groceries or needing better traction in snow.
So what I'll try and do is share what it's like to move from a relatively small scooter to a big motorcycle.  It's a path many riders take from small to large so perhaps I can shine a light on what to expect.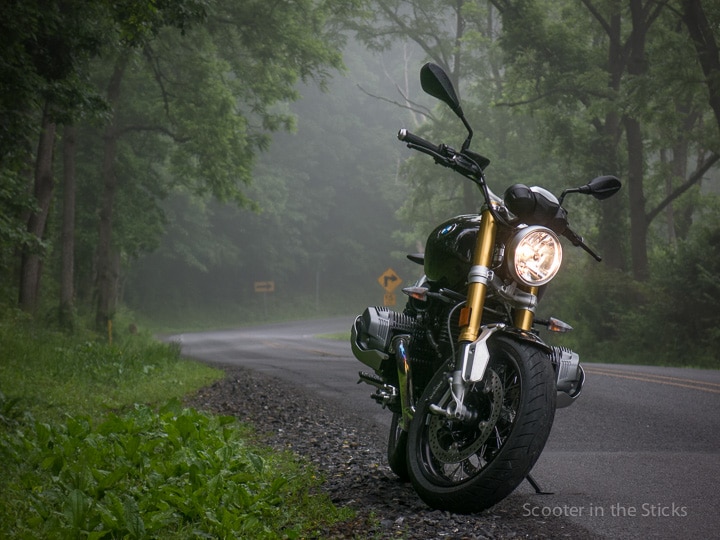 While a lot of riders talk about how fast a motorcycle will go I'm more concerned with how slow it will go.  Or more specifically, how well it will go slow.  I'm a tourist when I ride.  I like to take in the scenery, creep along back roads and feel the air change from warm to cool as I pass a creek.  This kind of slow riding is not something every motorcycle does well with engines demanding higher RPMs lest they lurch and chug or worse stall at slow speeds.  The BMW R nineT is marvelous at slow speeds and purrs like a kitten at 10mph, 25mph, or 85mph (the fastest I actually witnessed on the speedometer).
The motorcycle is easy to handle and has little of the big motorcycle feel that other machines have.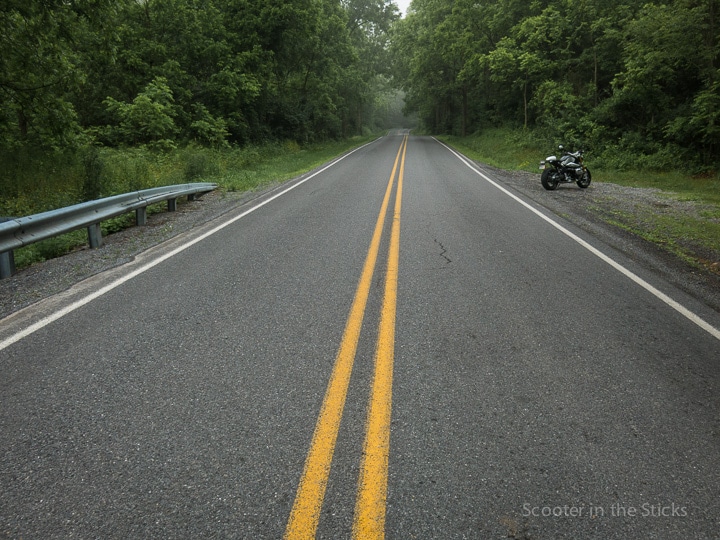 The BMW R nineT is fun to ride but it does lack some of the thrill I derive from the Vespa — that feeling of flying that comes from relative silence and absence of mechanical reminders.  The BMW makes noise, heightened by the addition of a titanium Akrapovic exhaust.  You just can't escape the fact that you're riding astride a big, powerful machine.  It's the difference between being a bird and being a pilot.
I like being a bird.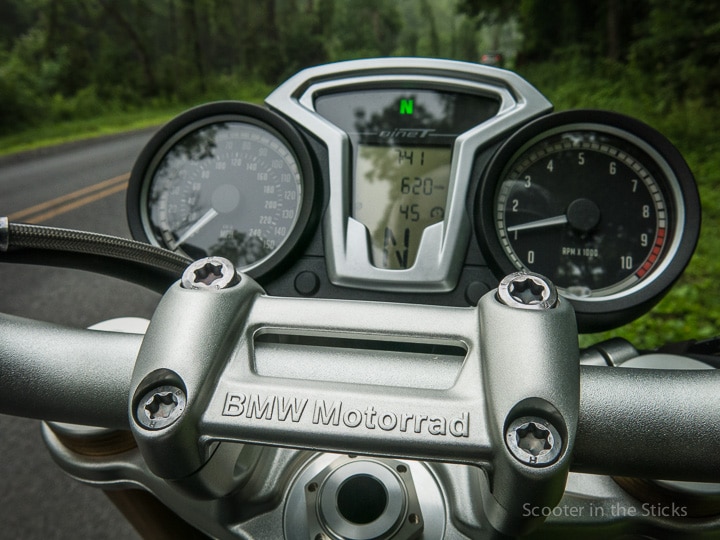 Unlike all the other modern BMW motorcycles I've ridden the nineT is simple. No heated grips, no GPS, music systems, heated seats, it doesn't even have a fuel gauge.  The simplicity is in line with the elegance of the motorcycle.  It is beautiful, and it attracts attention from others.  Stopped for fuel two other riders paid a visit.  At a Cafe for a snack another rider did an inspection.  A neighbor saw me on the road and paid a visit to talk about it.  And on the road, at traffic lights, people looked my way.  That has not happened on any other motorcycle I've ridden save, perhaps, for a URAL.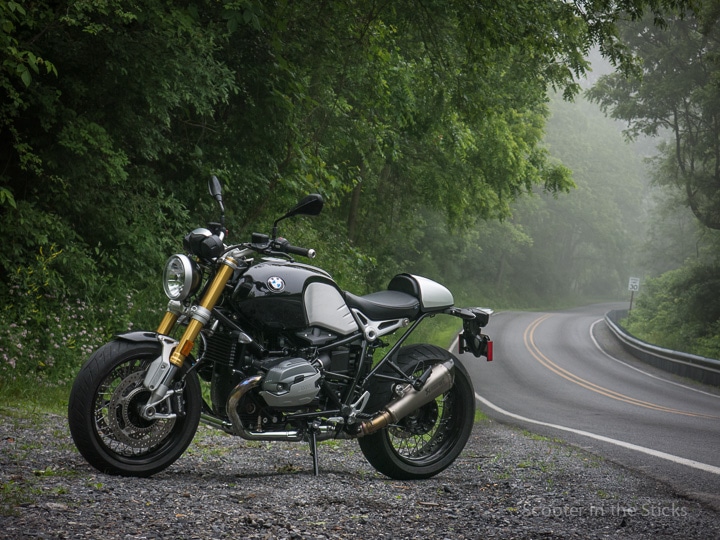 I tried to picture the BMW R nineT in my garage; what role would it play in my riding life? It seems great for a ride that requires nothing more than the clothes on my back.  Without any capacity to carry extra gear for changes in temperature or precipitation you really need to pick your riding times carefully.  Adding luggage or storage would seem like a sin to muck up such a pretty machine.  So the utilitarian needs of a daily commuter or long distance traveler are out in my book.  The nineT seems like something akin to a sports car that only goes out on sunny days for fun.
Maybe I'm wrong.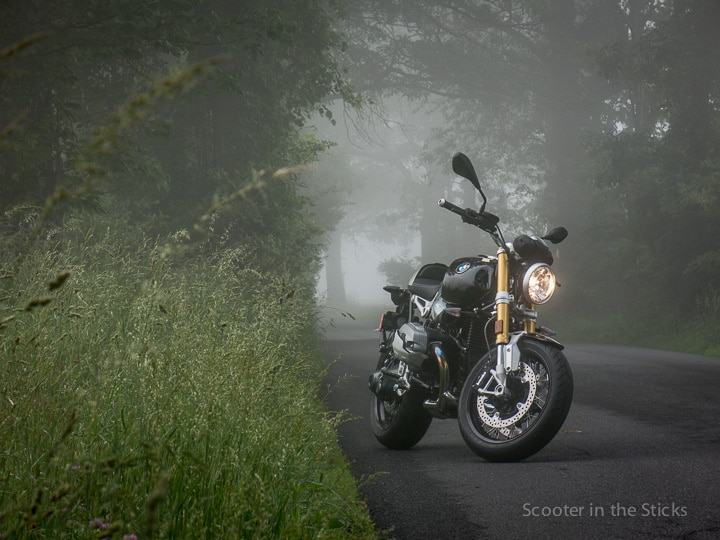 Riding on a foggy morning with patches of wet roads and impaired view I was grateful that the motorcycle had ABS brakes.  With it's big tires and big brakes it stops fast — something handy with deer and other critters bouncing across the road.
Making this picture I was again struck by how really cool this motorcycle looks.  The BMW R nineT is one of the few motorcycles that I find visually stunning.
I really like the BMW R nineT despite what I know are functional limitations to the kind of riding I do.  I would never take this out in the winter or go on long trips with it.  But still, it is so much fun to ride that if I had it in the garage I would figure out reasons to ride it.
And I did feel unique on this machine.  I admit by ego was at work but the whole idea of individuality that are part of motorcycle marketing are so much noise.  But with this motorcycle, it seems true.  Riding it through the central Pennsylvania countryside I felt as if I were alone in the world, me and everyone else.  It's not flying but it is a heady feeling.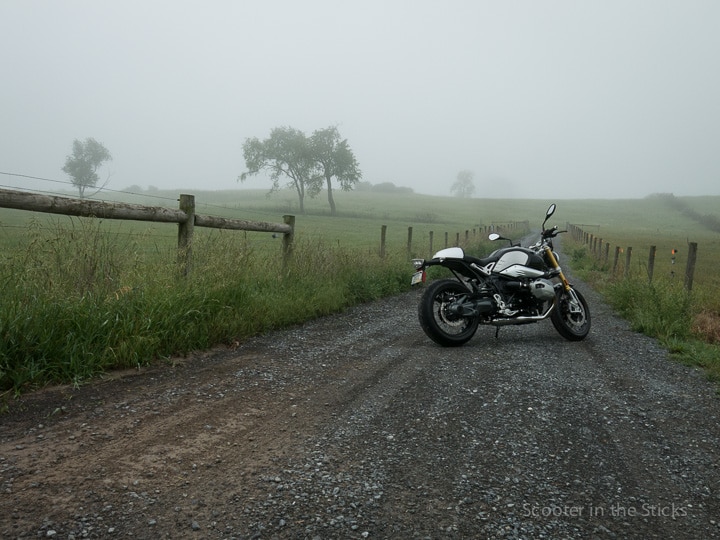 I had to try it on gravel, just a little bit.  Nothing fast, just to see how it performed on what are common choices around here.  The big smooth road tires aren't what the doctor ordered for gravel but it was fine.
Because of the riding nature of the nineT I would probably seldom choose to pick my way along dirt or gravel roads.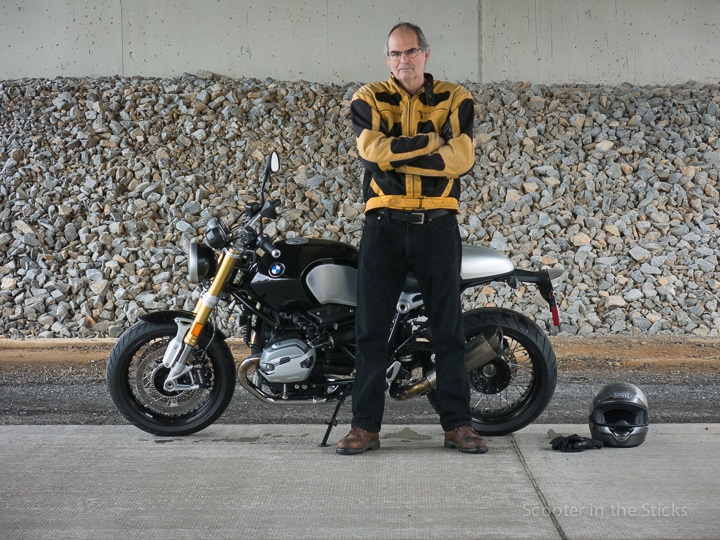 Final thoughts…
1.  I really loved riding the BMW R nineT motorcycle.  I was fun, a very easy riding position, comfortable weight and handling, and great road feel.
2.  Powerful.  For someone used to a much smaller and lower powered scooter you could immediately sense how little throttle it would take to light the front wheel off the ground.  Something any new or transitioning rider needs to pay attention to.
3.  Beautiful, elegant, stunning look.  Nothing like it as a factory bike.  If you want to stand apart from the crowd, this is a bike you should seriously consider.
4.  It's not practical for commuting, errands and other utilitarian purposes.
5.  If you can afford a second motorcycle to be the sports car in your life, this is a great candidate. I didn't want to give it back to Kissell Motorsports.
I love my Vespa scooter and tell people that of everything with two wheels I've ridden it remains the best choice for me and what I do.  But I've always thought it would be nice to have a motorcycle in the garage for those days when I want a different experience.  I wouldn't feel bad to see a BMW R nineT sitting there waiting for me.