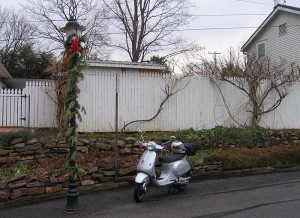 Two days until Christmas. Everywhere I see bright faces and smiles, people shopping, families with children looking at decorations. Consumed by the magic of the season. Maybe the commercial part but I'm sure there are some more spiritual experiences too. Either way people are rushing, working, laughing, planning, buying, wrapping, talking, singing, and driving. Yes driving. After riding into town today I have to believe the heightened Christmas spirit and driving don't mix too well with riding safety. Or maybe I am merely experiencing what is normal everyday life for those of you in more urban settings.
I left the house around 9AM this morning. The temperature was about 40° F and it was raining. Not hard but enough to keep the roads wet, generate a small bit of fog and mist to paint the world from a grey template. A fine day for a ride and an excellent chance to test the waterproof characteristics of the rain cover for the MotoFIZZ bag I now have on the rear rack. Riding down the road from my house I see a car coming down a side street to my left that ends at a stop sign. I have the right-of-way, I see the driver looking at me but the car is not slowing down. I ease off the throttle and cover the brakes as he rolls through the stop sign at 15 MPH and onto the road in front of me. I follow him down to the traffic light where he pulls up behind a truck waiting to turn left. I glide by him on the right and make a right turn onto the highway going towards town. I see in my rear view mirrors that the car turns right instead of left. I'm riding on a four-lane road with many connecting roads, lanes, and driveways and I always pay careful attention to everything on this stretch. Two miles down the road the car catches up to me as traffic slows for a series of lights. He is in the left lane and I in the right. Another half mile up the road he decides he wants to be in the right lane so he can make a right turn. I am presented with my first spiritual decision of the day. I can continue on the course I am on and effectively block his attempt to turn right. None of the cars are inclined to let him in. Or I can slow almost to a stop to let him in. I can tell you that in the past, in the pre-scooter days, I would not have let him in. Especially after the stunt he pulled earlier. I slow and let him in, he turns right and I follow him along up the hill. We continue on for about two more miles until he signals that he is going to make a right turn into an office complex. I have to go to the same place. I'm thinking he is worried now that some big mean scooter rider is going to pummel him in the parking lot. I smile to myself and go about my business without any further interaction or notice of the offending car.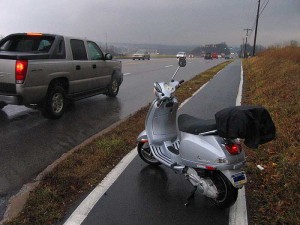 Later as I am riding in town I feel as if I am dodging people and vehicles constantly. Everyone is talking and laughing and not paying a whole lot of attention to the road. I see a young driver in a white Ford Explorer chattering away on a cell phone as they pull across my path from an alley. They really looked happy, eyes all aglow, full of the Christmas spirit. Near disaster later as I am leaving town and a Jeep Grand Cherokee runs a stop sign at 35 MPH on a really busy street and me only 20 yards from the intersection. It was a surprise seeing that Jeep rush past in front of me, driver's left hand holding the phone to their ear talking I'm sure about whether to buy the heating pad for Uncle Owen or just get him a pound of fudge. I'd take the fudge.
The real news here is not that drivers, pedestrians, and dare I suggest riders don't always pay attention to the road. The more important news is that I don't get angry anymore about these things. And not so long ago I could really generate some grudge and rage fuel from these sorts of things. While riding I have become more accepting of the inconsistencies on the road, and that generally it's not personal. I have some expectations of drivers and riders but if they aren't met, well, that's OK. And I accept what those shortcomings could mean to my own wellbeing. I don't really know if all those people are full of the Christmas spirit or not. But I know that I'm feeling it and it makes it pretty easy to be generous on the road.
The waterproof rain cover kept everything dry. I had a bit of difficulty at first figuring out the best way to cinch it over the pack. I left it sloppy in the back but by the end of the day I figured out how to have it nice and snug. I did worry a bit about leaving the scooter parked in the parking garage wondering if some enterprising thief would grab it for a present for some rider thief. After a few moment of consideration I decided that it's only a bag and if it is going to be useful I will have to leave it on the scooter. When I returned it was still there. It was a good day.