Fully Equipped Motorcycle
Saw this motorcycle (I think there's one under all that gear) at our local BMW dealer (Kissell Motorsports soon to be renamed under new ownership) when I dropped my friend Paul Ruby off to pickup his scooter.  It got me thinking about the need to carry a motorcycle tool kit.  Along with all the other gear this rider had packed on his motorcycle, he had the tools necessary to do some work on the front wheel.
Do you carry a motorcycle tool kit with you on the road?
Fully Loaded, Fully Prepared Motorcycle for Life on the Road
I don't often see machines like this.  From my vantage point, it seemed like every usable space was doing duty for storage or undertaking other utilitarian purposes. It was a little mesmerizing looking at this BMW F800 Adventure motorcycle and all the thought that must have gone into preparing it.
The owner was busy running back and forth with the dealer — they were ready to close and he was in a rush.  One of the mechanics was nearby just in case this episode of roadside maintenance went south.  The mechanic was a BMW rider himself.  I was admiring his 1996 BMW K75.
Too much BMW stimulation all at once.  But back to the need for a motorcycle tool kit.
BMW Envy
Even without a front wheel the motorcycle was interesting.  It was like looking at one of those intensely posted bulletin boards with all sorts of unique information. My friend Paul had just bought a 2016 BMW R1200 RT.  I was wondering if he was now wishing he had gone a different path.
It was the absent front wheel that got me thinking about the motorcycle tool kit and how much wrenching I was prepared to do along the road.
A Custom BMW Motorcycle Toolkit
This is what the rider had out on the ground.  Not sure if he had other tools packed away somewhere on his motorcycle.  But he had enough to get the front wheel off the bike.  There's an argument here for a center stand as well.  No need to find a stump to put your motorcycle on.
I've never really surveyed riders about their motorcycle tool kit — what they carried in terms of tools, spare parts and how much they were prepared to fix if necessary.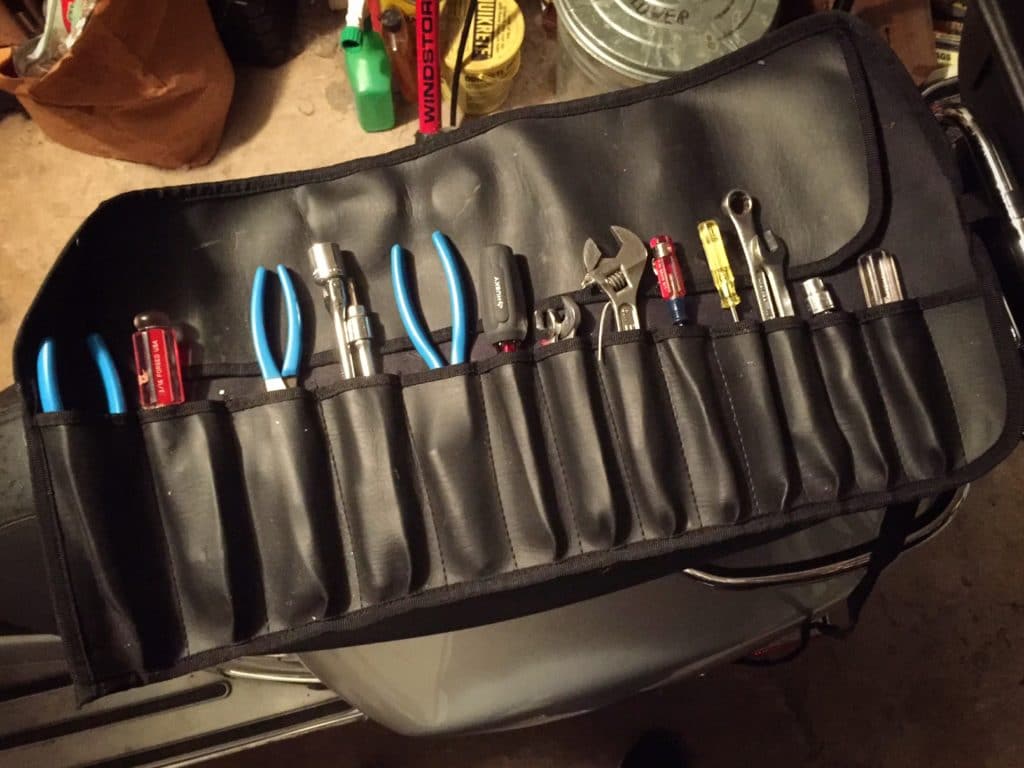 Vespa Tool Kit
My own tool kit is packaged in an inexpensive vinyl tool wrap I purchased from Harbor Freight.  In it are the tools necessary to do a variety of jobs should the need arise:
I suppose there are other things I could do if pressed but I wanted to be able to take care of some of the simple, common problems that arise with a Vespa GTS scooter.  I carry spare parts.  Down the road I may add the tools and parts necessary to change out the CVT drive belt.  For now I have the dealer change it on a liberal schedule.
So, what sorts of motorcycle tool kits do you carry?  A few riders have told me the only tool they carry is a credit card.  I understand the feeling.  For me, there are a few things that I would like to take care of quickly.
The messy part of riding…