Sparkling Trees and Lights
Christmas — a time of magic and wonder. As a child the crackling energy of lights and presents and visions of Santa Claus. More years added ideas of spirit and faith, magical and wondrous in different ways as I journeyed through my own notion of God and Christmas. At the very least, I find this a time of personal reflection,  a search to rediscover magic and recognition of the Christmas blessings that I can easily overlook.
With Christmas just a few hours away I wish each of you reading these words, regardless of your belief, good tidings and cheer in hopes that your life, your family and yourself are blessed, healthy and safe. Best wishes for the road ahead and all that it may reveal.
Winter Riding with a Vespa Scooter
With my Vespa in the body shop, there are no opportunities to navigate the world on two wheels and ponder the Christmas spirit.  Instead I've been wandering through memories of past Christmas experiences and rides.
Christmas Eve Vespa Ride
A couple years ago I was on the road on Christmas eve riding through Rothrock State Forest in a light snow.  All that was missing were the jingle bells that are etched in my brain as an element of the season.
Merry Christmas to Scooter and Motorcycle Riders Everywhere
My wish for each of you — to find comfort on those difficult days we all experience, and recognition of the beauty in the world to help fuel hope when it's hard to find, friendship to brighten the journey you're on, courage to continue on when you want to stop, patience to accept the things you learn and experience that aren't always what we want, faith that everything will be ok, and love to complete your life.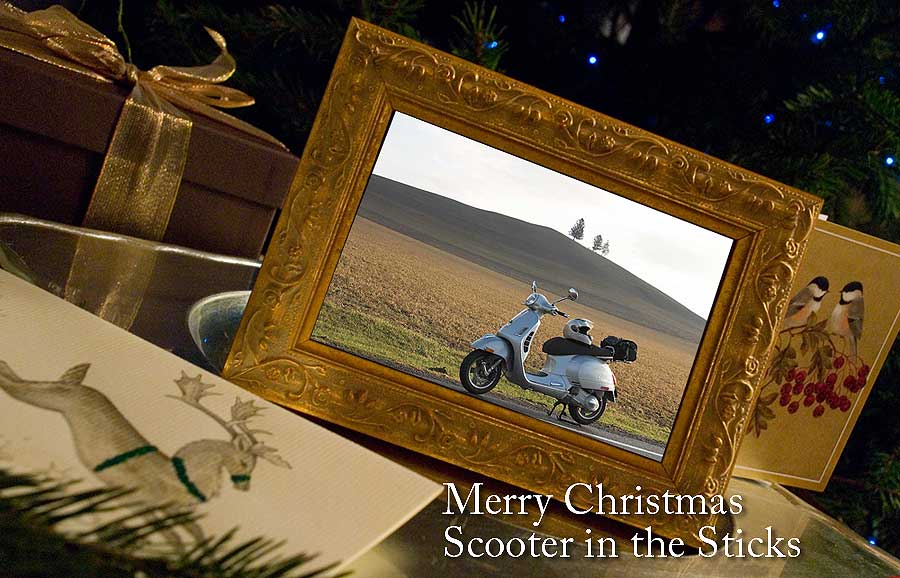 Merry Christmas to all!