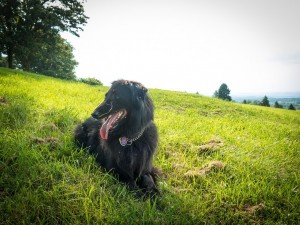 Junior is five years old today. Kim and I have had the pleasure of sharing life with him for almost four of those years and look forward to many more. This picture, made on one of our morning walks in the hills near our house, shows Junior resting after miles of running up and down the hillside chasing his beloved tennis ball. On some days as I make my way up the hill and the view of the valley sweeps away to the west and north, I feel as if I'm walking through a scene from the Sound of Music.
Life with a good dog…

One many mornings during those walks Junior decides to go for a swim — a newly acquired taste on his part. Made this video a little over a month ago when he finally decided to go after the tennis ball in the water. He was still tentative then. He's an expert now. Not sure how Belgian Sheepdogs generally react to water but Junior has become a swimmer.
Happy birthday Junior. What will it be — Outback Steakhouse or Texas Roadhouse for dinner? Or just a big bowl of Fromm's?