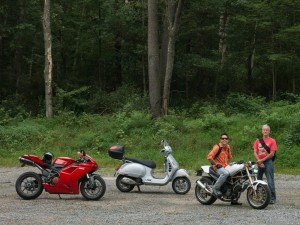 Ducati Men. My friends Ken Hull and Paul Ruby posing this morning on the way to Way Fruit Farm in Stormstown, Pennsylvania for breakfast. A few miles down the road we'd run into a rural traffic jam — three turkeys in the middle of the road resisting being herded off the pavement by a guy on an ATV and another on a bicycle. Should of stopped to make a picture but, well, I've seen turkeys on the road before.
The ride this morning reminded me of a question I hear a lot — should I get a scooter or a motorcycle? A few days ago I was talking with a woman about her choice of motorcycles and she explained that friends told her she wouldn't be able to keep up on a 650cc bike she was considering and ended up choosing a Honda 1100cc Shadow instead. I was tempted to ask how fast her friends rode but remained silent.
Riding this morning my mind worked over the scooter vs. motorcycle question.
For me the answer depends on needs and choices in these three areas:
1. Form — the physical being of the machine. Size, shape, looks, chrome, power, wheel size, lights, seat height, etc. Choices in this area are guided by all sorts of real and imagined desires and needs. It often comes down to "I like the looks of that.".
2. Function — how the machine performs. Speed, handling, comfort, maintenance. All the on the road riding stuff that gets you where you're going, handles the route you've chosen, and keeps you safe and comfortable. As straightforward as this seems there is a lot of denial and delusion at work about all of this stuff.
3. Ego — what an individual requires to feel "ok" in the world. Just like clothes, hairstyle, and a million other little things, a person can be driven or influenced by what they think others think of them. Or how they brand themselves. Of the three areas I believe this is the decider. No matter how much sense a choice makes in area one or two, it has no chance at all if the ego says no.
So what about a scooter vs. a motorcycle? I can't speak for anyone but me. Here's what I know:
1. My 250cc Vespa can keep up with any motorcycle riding legally and safely. With a top speed of 75mph it's a not issue on backroads or the freeway. Certainly more work to ride a light scooter at high speeds but it is possible.
2. A scooter isn't as rugged. Speaking about my Vespa I can say it has been pretty reliable save for things I overlooked. As 23K miles nears on the odometer I feel comfortable it can go another 23K without issue. I've read of riders surpassing the 50K mark without needing any rebuilds or reworking.
3. A scooter isn't good offroad. Well, depends what you are doing. I've ridden offroad with mine but would want more aggressive tires if I was going to do a lot of it. And it absolutely can't handle water crossings of any depth beyond a couple inches deep. The air intake is low and will suck in water and make you sad.
My gut feeling about why people shy away from scooters are feelings that they aren't serious vehicles, they're too light weight and underpowered, and they just don't fit a lot of rider's idea of who they are as a rider. And that's fine. Choosing a machine is personal and you should choose something you like and feel comfortable with.
But don't let anyone tell you that you can't keep up or that you'll be worn out after a day on a Vespa.
Horse apples.
Besides, a Vespa is far easier to negotiate practically anything over a Harley, BMW, Ducati, or any motorcycle. In my humble opinion and based on a lot of miles on a lot of different motorcycles.
And it is far easier to use in the winter when you may run into snow or ice. A LOT easier.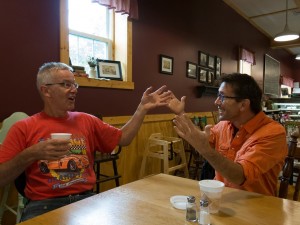 Paul and Ken get pretty animated after spending some time astride their Ducati's. When they ride their BMW and Harley respectively they're quiet, almost somber, lost in thought and worrying about what people think about them on the road.
Maybe I'm projecting.
Anyways, it was a great way to start a Saturday morning, good ride to breakfast, had to deal with rain on the way home but that's just part of the riding experience.