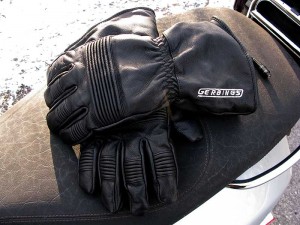 My electric gloves are dead. They died a slow death over the past couple months but last week during an 8F morning ride I knew they were done.
My friend Paul gave them to me for Christmas in 2007 and in the subsequent four years they have seen a lot of use; probably more than most riders ever use them. I wrote of that joy in a post titled
18F and Gerbing Electric Gloves
.
As I was preparing to toss them in the trash I decided to check to see if the heating elements could be repaired. Or even easier a bad connector. Being of sound mind I retrieved a little used multimeter from the toolbox and set to work to determine if something was wrong with the gloves themselves or the connector coming from the battery.
A strong arc on one of the probes indicated to me that I was getting power to the connector so I abandoned that line of research.
A quick continuity check on the gloves themselves indicated failures in both. Checking for repair service on Gerbing's web site indicated a lifetime warranty on the heating elements. A LIFETIME WARRANTY!
My sense of joy was dashed when I read that I would have needed to register the purchase four years earlier.
Shit — I never register anything. Still, I had to try.
An extremely pleasant voice answered the phone at Gerbing customer service. I described the problem and asked about repair service since I knew I hadn't registered the gloves. When the woman on the other end of the line said she would check in the database to see if I was registered I knew I was done. A new Aerostich catalog had just arrived, maybe they have some new electric gloves.
"Steve Williams" I sheepishly responded when asked for my name.
"Gee, we have a lot of Steve Williams's in our database." she replied.
Williams is a terrible name to have if you're trying to get a handgun or wade through registrations of any type. The first because mostly we're criminals and second because there are so many of us.
"What state do you live in?" was her next question.
When I answered she proceeded to recite my address, phone number, place of employment, blood type, sexual preference and favorite chocolate. I looked out the window and thought I saw the sunrise.
"Holy shit," I thought. "I must have registered the gloves."
Great news from Gerbing. They gave me a return number and said they would either restore the gloves to their previous toasty state or replace them with a brand new pair.
A real surprise to someone who is always expecting to get ripped off at every turn by capitalists everywhere except for L.L. Bean and Walmart. Always bring Vaseline to Best Buy.
So the gloves are now in Tumwater, Washington and I am roughing it with conventional gloves until they return. So far the temperature hasn't dropped below 25F, easily managed for the comute to work. But longer rides will have me on my knees praying at the muffler.
Still, I'm a happy camper. I'm getting something for free!