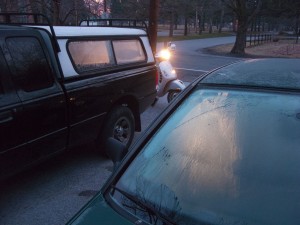 This is a story about what goes through a rider's mind when their throttle freezes. On a Sunday morning awhile back I planned to ride into town to meet BMW rider Dan Leri at Saint's Cafe. The frost on the car and truck reminded me the temperature was still dropping below freezing and that I should pay close attention to the road. And I worried a bit about Dan on his 1150 RT but more on that in a bit.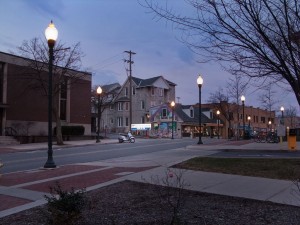 Dan wears a lot of hats in addition to a helmet. He's the director of Innovation Park at Penn State, a father and husband, and somewhere in his past a member of one of Joe Paterno's Nittany Lion teams. All this was of interest as I parked the Vespa in the pre-dawn light of State College, Pennsylvania where I was going to learn from Dan what goes through your head when your throttle freezes — something he's recently learned on a ride to work.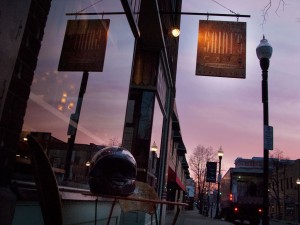 It's not often I arrive at Saint's before they're open. Poor planning on my part to have to sit outside in the cold. At least the light was nice for the few minutes I had to wait to get a cup of tea and a bagel.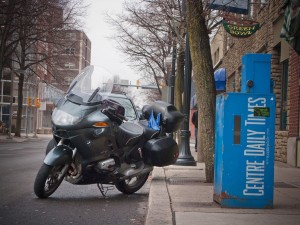 This is the bike in question — a 2005 (?) BMW 1150 RT. Dan describes it as the perfect machine. It's the typical conversation with a BMW rider. They speak in a casual, even, measured tone, slowly drawing you into their delusion of performance, reliability, and rides around the world. Eventually their eyes roll back into their heads, English transforms into an ancient Teutonic tongue and sweat beads on their foreheads. At this point it's best to nod your head politely and let them finish. I think a requirement of ownership of these kinds of motorcycles is to evangelize whenever possible. Dan keeps at me. I recently joined the BMW MOA.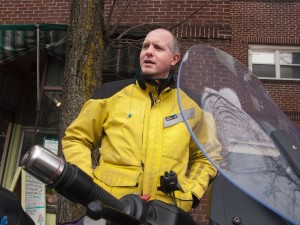 That's Dan in his Roadcrafter jacket. He is a hi-viz kind of guy.
I was in Denver when a text message arrived on the morning of March 25. It read:
My throttle cable froze solid while passing a truck this morning on I99 on the way to work. Since I was passing, I was going 80mph.
IMPORTANT NOTE TO GRACIE: If you're reading this you should understand the concept of what happens in Vegas stays in Vegas. Ask your dad to explain that. Don't scare your mother with this information.
The message continues:
Fast ride to work! Good thing traffic was spaced out! I eventually shut it off, coasted to a stop, messed until I got a little play in it, then high RPM clutched to Wegmans (grocery store) to get hot water to get it thawed, and down to idle, then let it run to generate engine heat to thaw it. That got me another mile and a refreeze, (it was 18F that morning — yes, Dan's a serious rider) and a repeat procedure!
You have a lot of funny "now what" thoughts while stuck going 80mph and wanted to get close to help and a solution before shutting down!
So I'm in Denver reading these text messages and the first thing that comes to mind is, "Geez, you tap out a lot of characters for a text message." Then I think about what I would do — hit the kill switch. As Dan and I talked he said that if he did that he would be a long way from anywhere. Listening to him I realized he was more and more like MacGyver as he described his thought process and plan to ride on as far as he could. If he only had tin foil and some chewing gum he could have continued around the world. The long way.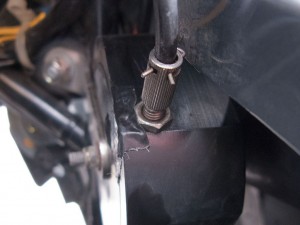 A bad photo of the cable distribution box on the BMW and the source of the freezing problems.
Standing in Dom Chang's (
Charlie6 of Redleg's Rides
) garage near Denver I showed him the text message. In minutes the garage was full of Teutonic sounds uttered from a man with his eyes rolling back into his head.
I had sent a message back to Dan, short, concise, and embodying my interest:
Wow. So what kind of thoughts?
Here are Dan's. Maybe you have others.
1. Oops! This is interesting!
2. This will redline and blow if I pull the clutch in.
3. How many feet will it take me to stop this bike without the servo-assisted brakes?
4. Why didn't the folks in the Toyotas with stuck accelerators simply put it in neutral, get stopped quickly, and turn it off?
5. If traffic is spaced properly, I can make it to the 55mph zone before shutting down — I'll be closer to help and a thawing solution.
6. If I get near a Sheetz, they'll have hot water to thaw the cable distribution box.
7. A Lowe's or Home Depot will have a small torch I can buy.
8. Where the hell is the sun?!
9. At 19 degrees at 7:15am, at what time will the temp be closer to 32 degrees?
10. How can I get the heat from inside my Gerbing gloves wrapped around the cable distribution box?
11. My wife will kill me if I die this way 🙂
12. I hope all the groundhogs are too cold to come out this early.
13. What would MacGyver do?
14. James Bond would simply ride up the deck of a slower moving truck.
15. I might be late for my first meeting of the day.
16. I hope it's at least in the high 20's for the ride home tonight.
17. Diann will kill me if I'm late.
And that's all he wrote. In text messages mind you. That's persistence. Didn't realize how much so until I had to type all that.
Now that the warm weather is here you don't have to worry about freezing throttles. Dan determined there was a very small hole in the cable distribution box which must have taken in some water when he was trailering the bike through a storm.
Trailering a BMW. Karmic justice that the throttle froze.