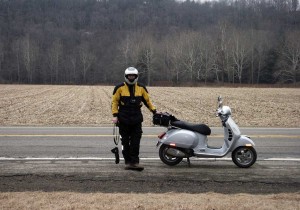 I was looking for a picture of my Vespa and realized I had forgotten about a lot of the ones I have made over the past couple years. So I have decided to post them here just for those of you who would like to immerse yourselves in the beauty of the Vespa that appear in Scooter in the Sticks.
While looking through the old posts I was surprised at how fresh the rides were in my head. Seeing the pictures triggered the memories. And I could see how my eye has changed towards the Vespa. These pictures are of my first scooter, an LX150, and the current Vespa GTS 250ie.
And don't forget to click on the images for a full size version!
So here are some of my favorites….