A riding intermission pushed other things into awareness.  Autumn on the road gave way to the dogs racing through the garden as I pondered the bright yellow Sassafras leaves with my camera.  The desire to ride despite a flare of an old back injury finally receded when I surrendered to a battle I could not win on my schedule. And now October has faded into November. Every leaf speaks bliss when I take time to pay attention.
Autumn has always generated a nostalgic energy which colors my thoughts.  As a child I recognized the change and loss the came with the season.  Now I connect it with the natural cycle of life — in the mirror I see autumn.  My body whispers of changes.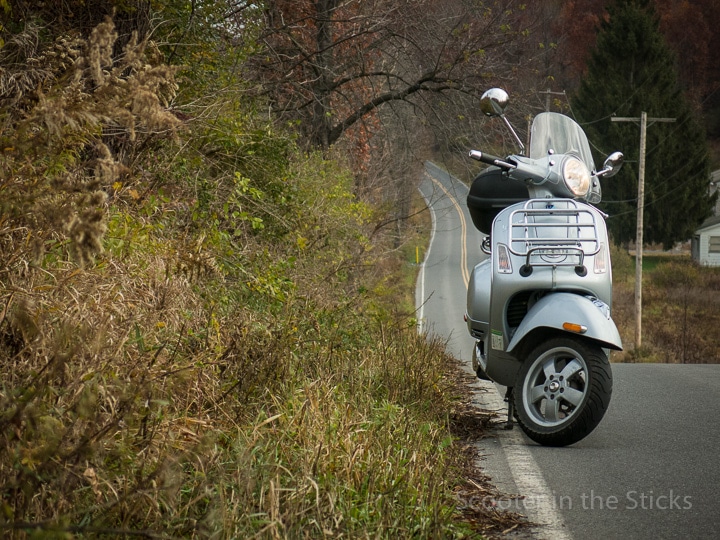 A first ride since an old back injury flared and sidelined the Vespa.  Pushing the scooter out of the garage hinted of improvement and by the time I stopped to make a photograph I could assess the limits of body and mind.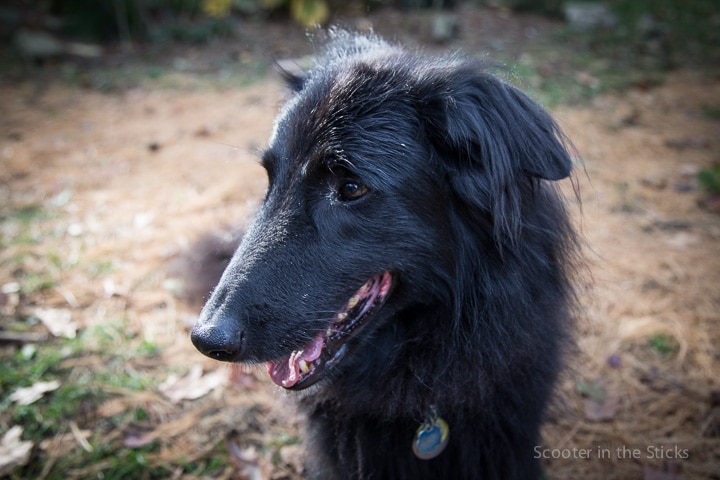 Junior, our seven year old Belgian Sheepdog (with faulty ears), saw more of me the past two weeks.  While I couldn't ride I could still toss a tennis ball and reach the dog cookies on the counter.  It's easy to understand the positive affect a dog can have on people suffering from myriad ailments.
Thank you Junior.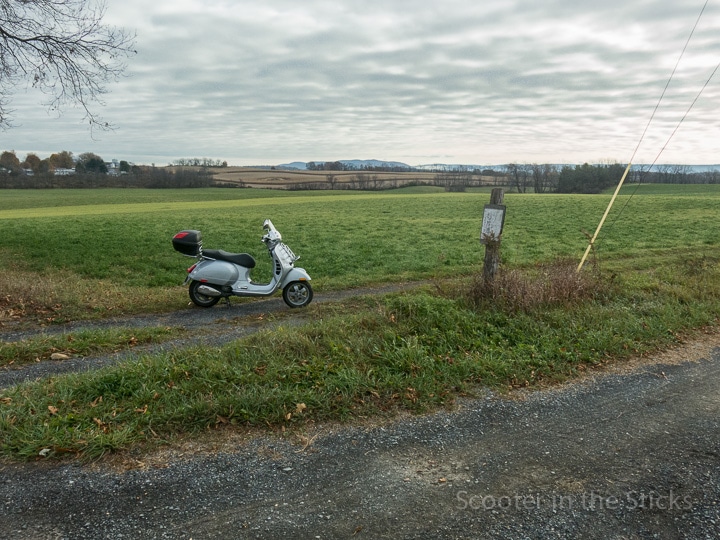 The biggest physical challenge to riding is sudden, jarring movements.  The kind of indifferent attitude I had to where I rode and parked the scooter now is a more careful, studied act.  I don't want to pull the scooter on and off the centerstand several times looking for solid ground.  My back demands I do it once.
It was cold during the ride — 37F when I departed.  The heavy sky didn't seem to matter save for add mood to the morning.  Any fear I had of not being as cold tolerant after the heart attack seems unfounded.  I remained warm save for the cold air striking my neck which my misplaced balaclava would normally protect and the expected cold hands.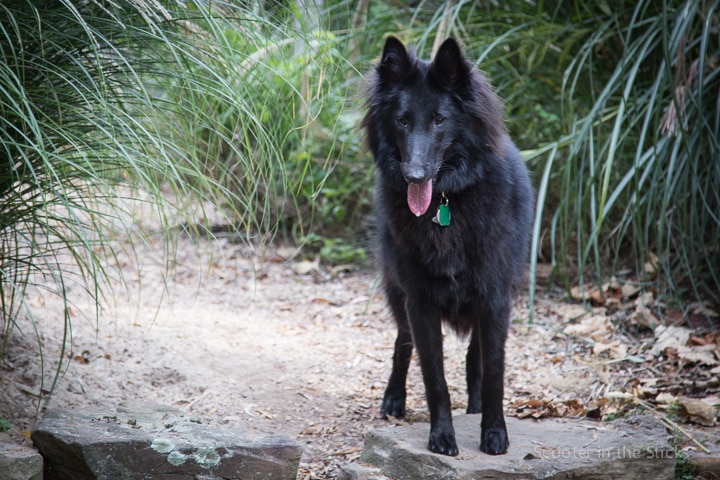 Lily is no Junior.  Not yet at least.  At almost 10 months old she's full of energy and has little time to comfort and console.  She will ram into you at breakneck speeds or relentlessly remind you of the need to throw the ball, throw the ball again, retrieve a treat, serve some food, throw a ball, throw a ball…
At least you feel needed.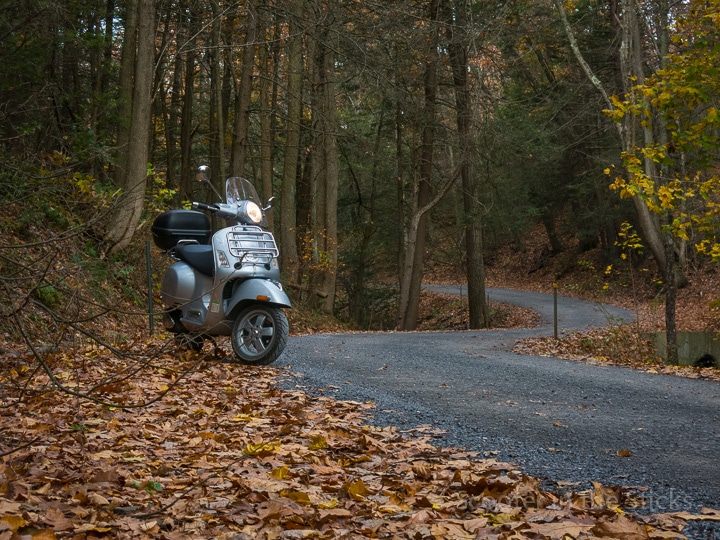 I've missed most of the flaming foliage this year.  Riding through the forest I could see much of the canopy is now on the ground.  Riding on the gravel roads introduced occasional ruts that provided striking reminders of my back.  Strong enough to have me make a note to self: "No off-pavement riding for awhile".
By the time I reached Bellefonte, Pennsylvania I had meandered for about thirty miles and decided my hands were cold enough to enjoy a cup of hot tea.  I still love the transition from bracing chill to cozy coffee shop.
Cool Beans Coffee and Tea provided a welcome respite from the riding experiment and enough distance from the gathered throng of Penn State football fans gathered just ten miles away.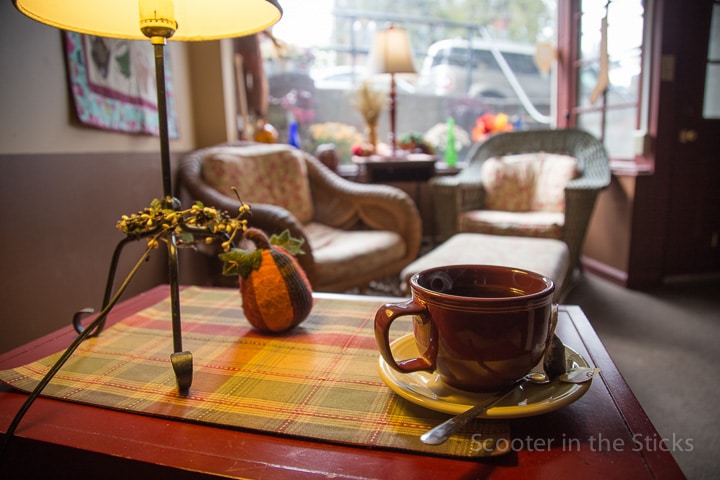 My friend Paul (somewhere in Kansas) is on his way to New Mexico with his Ducati in the back of his truck.  He sent an email in response to a query about the trip and he said he was sitting in a cafe, drinking his coffee and reading his book.  He's trying to have no expectations and just do whatever he wants when he wants.  Sitting in Cool Beans I was thinking of how difficult it is to reach that state.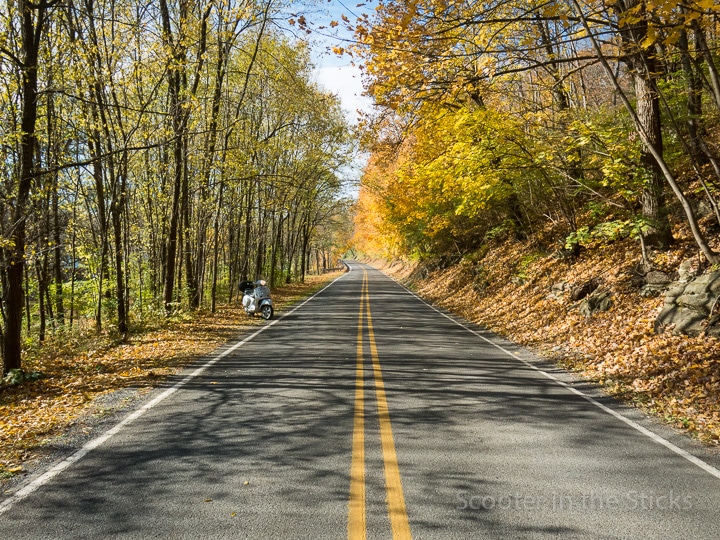 Moments after making this photograph I learned a lesson about bad habits — leaving the engine running while stopping for a picture.  That habit started some years ago when I was riding with a suspect battery which left me stranded a few times.  I started not turning off the engine.  Seems to work fine right?
As I walked back to the Vespa I could see it slowly start to fall over.  With my camera in one hand I grabbed the grip with the other — the throttle grip.  I wondered why the engine was revving so high and suddenly realized as the scooter fell more my hold on the throttle was applying more fuel.  Had it come off the centerstand the scooter would have scooted right across the road.
My pride would have been injured at the very least.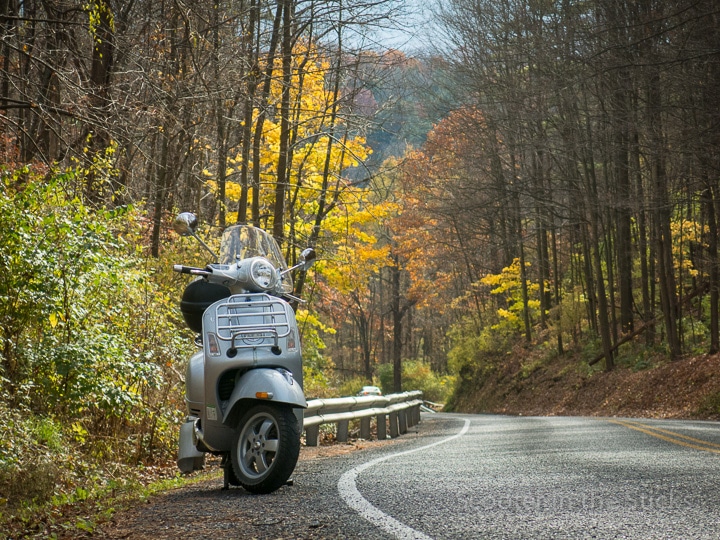 So my riding experiment yielded useful data.  My back is improving but not enough to ride with reckless abandon.  I don't seem to be less cold tolerant.  And I've learned to shut off the engine when I park the Vespa.  Add that to the still lovely riding landscape and it was a pretty good ride.