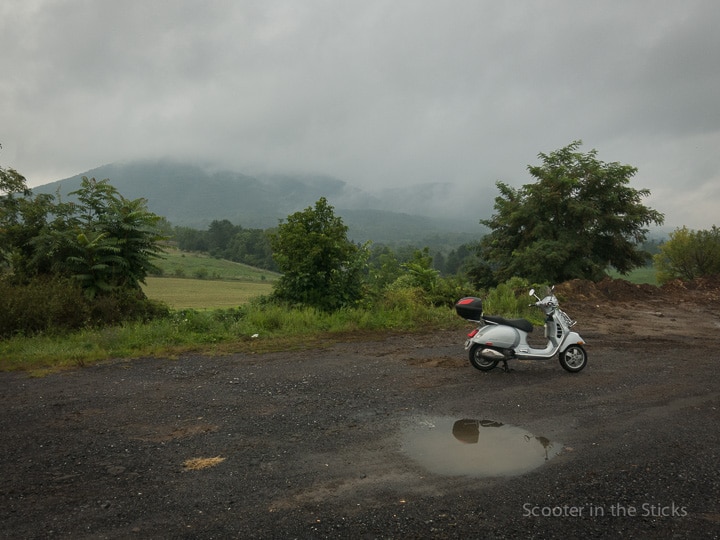 The soft light that paints the bedroom walls on a rainy morning is like a sleep drug, seducing the weak deeper under blankets and pillows.  Only a desire to ride the Vespa tears me from the next of dreams and into the day.  Still, looking out the window at the rain I ask myself, "Should I ride in the rain?".
At best, rain riding on a scooter or motorcycle in the rain means additional work — physically and mentally.  For a recently escaped prisoner of sleep a decision to ride in the rain is not easy to make.
While walking the dog I tested the road surface to see how much of the slippery scum that collects during normal road use was still there or if enough rain had fallen to wash it away.  Giving the road some test kicks with my riding boots confirmed that the roads were wet but not slimey.  So off I went towards town using detours of my own creation.  By the time I stopped to look at Mt. Nittany the rain was beginning to clear.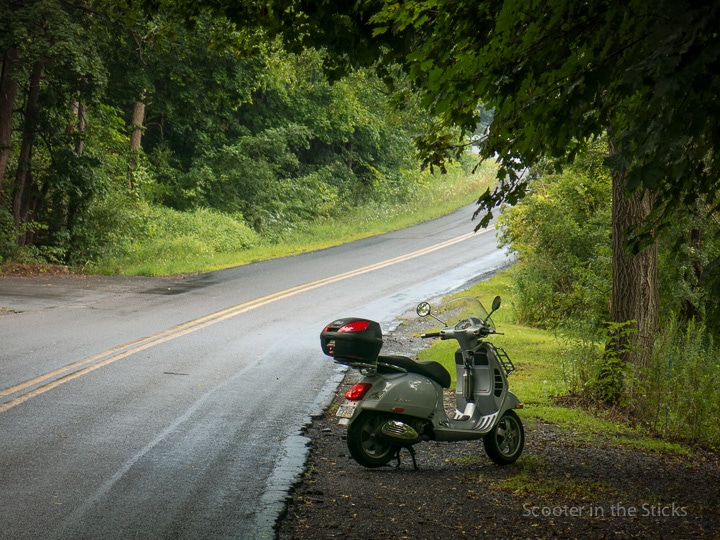 Out in the sticks the bigger issue with rainy roads is the country debris that can find it's way into a rider's path; dirt and mud from trucks and tractors, hay, grass and other crop debris that's fallen onto the road, and my favorite roadway nightmare — liquid manure that's dripped from a wide range of manure conveyances.  All of these things combined with a little rain can present like insidious traps designed solely to introduce rider to pavement.
This morning was a tough call.  I wanted to ride but was resisting the extra gear that makes rain riding tolerable.  One last check of the weather radar on my smart phone an I decided to take the risk.
Aside from the traction issues related to rain a rider must keep in mind the changes in visibility.  If drivers don't see you in the daylight who knows what they see in the rain.  As much as I love to see the weather changing as I ride I turn up the dial on watching the behavior of others on the road.   That's everything from the teenage driver talking on their phone to the squirrels and groundhogs darting across the road.
Riding into State College, Pennsylvania this morning was a small gift brought on by the decision to undertake a rain ride.  I may not always be excited by the prospect of a ride when I'm in bed but once I'm on the road, whether rain, or sleet or dark of night, I absolutely love it.
So, what about rain riding?  If anyone asks me if they should ride in the rain I'll have to tell them I have no idea.  But ask me if I should ride in the rain, I can only answer, "Hell yes!".