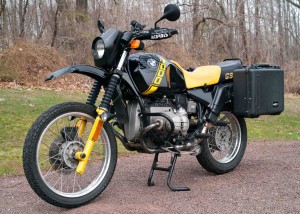 A couple days ago good old Charlie6 (Dom) of Redleg's Rides forwarded an email about the above bike. Overconfidence no doubt at having reversed my opinion about sidecars he probably thought I'd be vulnerable to suggestions about a vintage BMW. Here's his message.
Just in case you're undergoing Beemer withdrawals…..this one seems nice.
From: "Charles xxx"
Subject: 1988 R100GS For Sale
To: "Airheads"

We are getting ready to move so I am putting my Airhead up for sale and I
thought I would give the list first crack.

It is a 1988 R100GS, Black and Yellow, and is in great cosmetic and
mechanical condition. It comes with Caribou luggage system and a Marsee
magnetic tank bag. The GS has about 38,800 miles. I just changed all fluids,

checked the valves and will check the carb sync prior to delivery.

The GS has had the circ clip issue addressed by Tom Cutter. Some
modifications include Nippon starter, Moto and Hyper lites, Ohlin Adj. rear
shock (came from factory with WP rear and progressive springs in forks),
EnduraLast 450 watt alternator, and Acerbis handguards.

With the GS comes many, many spare parts (including a new-in-box BMW brand
drive shaft, two rebuilt bing carbs(missing floats as I borrowed them last
year and didn't replace), original working Valeo starter, a set of Cont. TKC

tires (currently has Avon Gripsters mounted). Also, the GS is wired for
handlebar mounted GPS and Gerbing heat. The BMW tool pouch is complete. I
will also include a Clymer manual in addition to the Owner's manual.

I am asking $5500 for all.

The bike is located in Pottstown, PA (about 35-miles west of Philly)
Nice indeed.
I had been looking at used motorcycles on eBaby, Kissell Motorsports, and anywhere I could think of when I opened Dom's message. Seeing that yellow and black motorcycle, reviewing the specs and price, I knew, absolutely knew, I wanted that motorcycle. I needed that motorcycle. The world would not be right, I wouldn't be right, until it was sitting in our garage.
Kim, my loving partner, wife, and knowing soulmate was sitting a few feet away in the window, writing in her journal. I let the words, "Wow, that's a nice motorcycle" ease past my teeth and into the room. Her pen kept pace across the page of her notebook as I added, "I've always loved the 1988 BMW R100 GS" and feeling a lot like Ralphie in A Christmas Story scheming to get a Official Red Ryder Carbine-Action Two-Hundred-Shot Range Model Air Rifle with a compass in the stock.
The R100 GS is that cool.
Being wise and knowing how to decode my meta-messages Kim asked if I wanted a motorcycle. I really became Ralphie as I quickly thought how to respond — not too excited, not too relaxed. I did not say I wanted a football. (Apologies to anyone who hasn't seen a Christmas Story)
Cutting to the chase Kim asked me a few simple questions. (My recollection of the exchange)
KIM: Do you like the motorcycle?
STEVE: Yes, I do, I have always loved the way these vintage BMWs look, especially the R100 GS.
K: Do you need a motorcycle?
S: (long pause) Hmmm, well, I don't really need a motorcycle. It would be nice to ride though.
K: What are you going to do with the Vespa?
S: I'll keep the Vespa. Never know when you might need a second machine to ride. (Suddenly I'm feeling sort of stupid)
K: If you want a motorcycle you should get one.
S: (silence)
K: What will the BMW do differently than the Vespa?
S: (I almost blurt out "it will go a lot faster") Well, it will feel different on the road. And it might open up more riding opportunities. (I am beginning to realize how little I have thought about this subject at all)
K: When will you have time to do this? You seem pretty busy right now with work, photography, writing, the house, friends, the dog. Are you really going to be able to use it? And you're getting all those motorcycles from Kissell Motorsports to ride. How's another motorcycle going to fit in?
S: (Kim's doing the thinking that I should have been doing. A light flickers in my head, dimly at first, then brighter when she asks the next question.)
K: Do you really need this motorcycle or are you just in your buying mode?
S: Hmmmm….. Well…. I… I just… (silence)
No need to go one here. I began to see what Kim saw in an instant. Things were pretty hectic after returning from Colorado. Lots of work to catch up on with lots of new things to do. When my head begins to spin at a certain speed I seek consumption therapy. Buy something and I'll feel better. Buy a motorcycle and I'll feel a lot better. Or so the irrational thoughts suggest. I have a really nice Bell Kevlar canoe hanging in the garage with about 4 hours of use on it. A Wisner 4×5 view camera, bamboo flute, assorted tools and toys, all purchases a direct result of consumption therapy.
Kim just saved us $5500. While I eventually come to appreciate her insight, at the moment it's being delivered I can pout at not getting what I want. I wonder at times how she puts up with me. I'm the only man who's like this.
I emailed the owner of the motorcycle on the phone to seek permission to use the picture on this post. He granted it with the statement "feel free to use my moto-porn". He knew.
The next day I went for a ride on the Vespa and honestly wondered why I thought I needed anything else. The thing is perfect for me.
Couldn't smile a bigger smile.