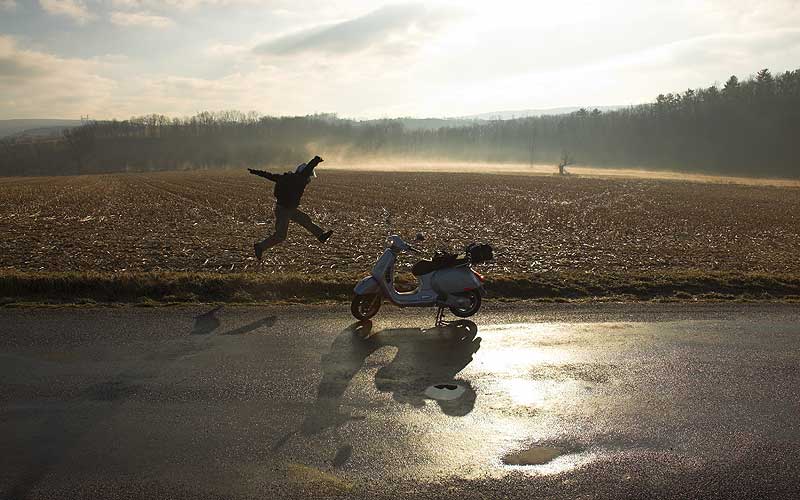 After colder and more precarious rides it was good to ride this past Sunday in warm weather. Leaving with my friend Paul just as the sun was rising treated us to one of those glowing morning that just make me glad to be alive. Paul showed his own feelings by leaping through my picture.
We had some general plans to ride south and east over several ridges into Amish country and then farther south for breakfast at Millers Diner along US 22. The rolling ride through field and forest presented an almost endless opportunity to stop and make photographs. Had I been riding alone I would have stopped more often but I think Paul was interested in making more forward progress which appeared as higher speeds. Now he knows what it's like to walk a dog that has to sniff every tree.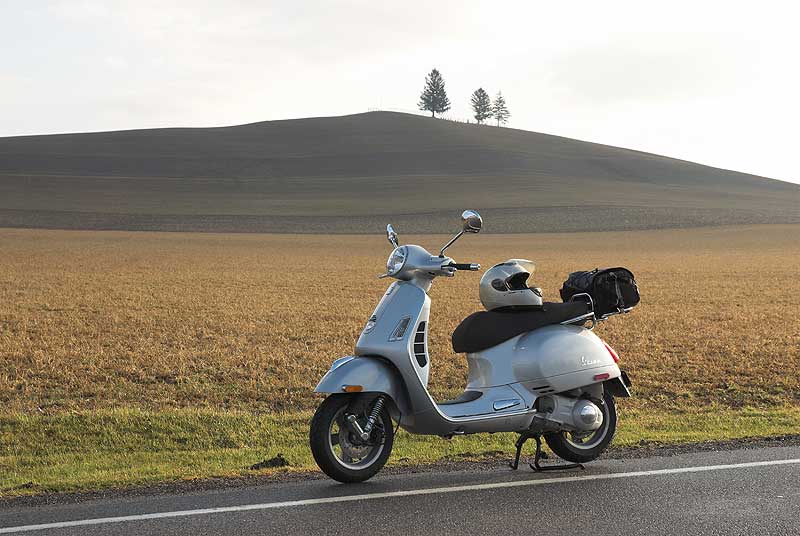 I had to stop at this hill near Mcalevys Fort – those lone trees always beckon to me. When I redo the little business card I have for Scooter in the Sticks that still shows the LX150 I may use this image.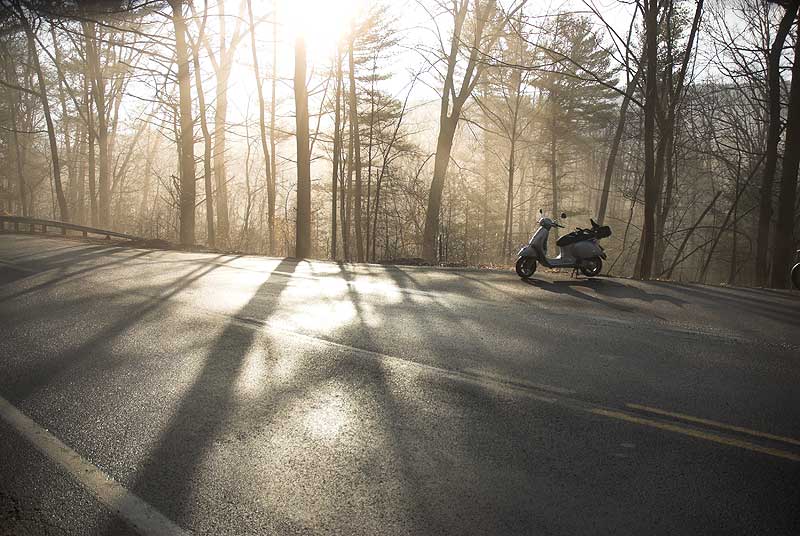 Riding over the first ridge towards Greenwood Furnace State Park took us along a winding road through Rothrock State Forest with a low fog burning away in the morning sun. It was a mental remnant of my own private Brigadoon. I get to go home after visiting though.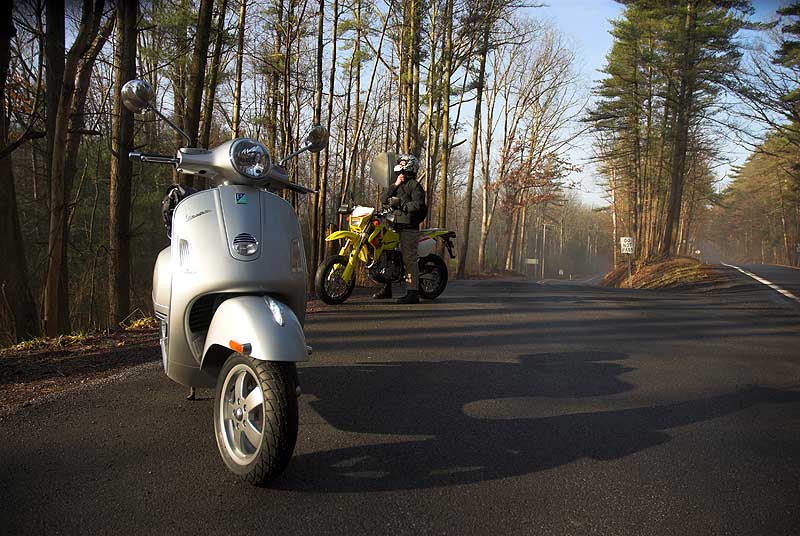 Paul's bright colored Suzuki DRZ400 Supermotard leaps out of the pictures and threatens the quiet elegance of the Vespa. The two seem at odds with each other on many levels.
Riding down into Belleville, a farm community with a large Amish population is wildly busy on auction days. On a Sunday morning it's quite and abandoned.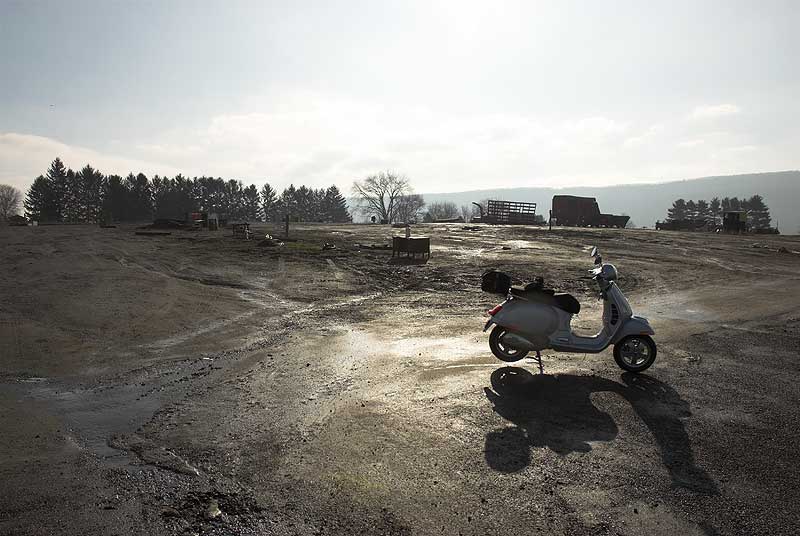 This picture was taken at the auction grounds that will find thousands packed in on Wednesday mornings. Here it looks about as nasty as a place can look.
Growling stomachs directed us 25 miles south to Millers Diner and a hearty breakfast. Paul had his coffee and was considering routes to take us home.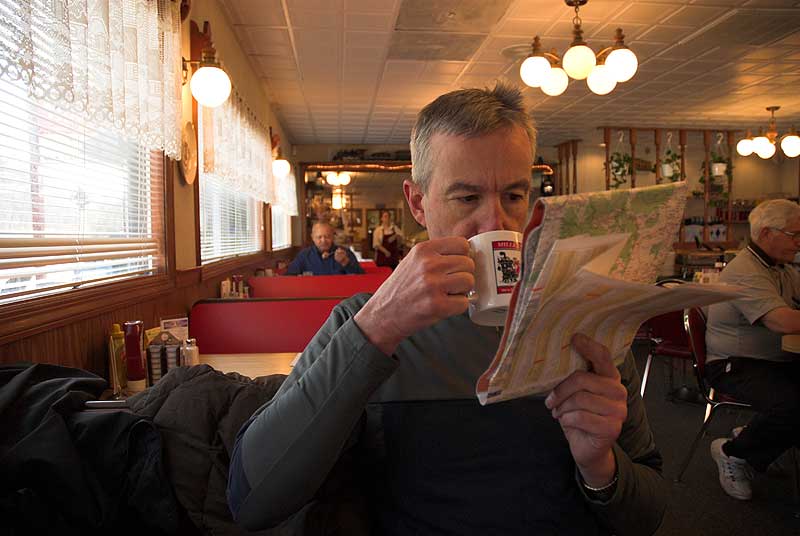 By the time we left the diner temperatures were above 60° F and the sun was bright. After a few wrong turns and circling back on ourselves we found a bucolic road through an area that I had not ridden through before that crossed back and forth over the Little Juniata River.
I returned home shortly after noon with another 106 miles on the odometer. I was content and the Vespa was ready for its break-in service at KissellMotorsports. Fluid changes, filter changes, valve adjustments and more. Now without the break-in period restrictions I can consider some longer rides to more uncertain destinations.