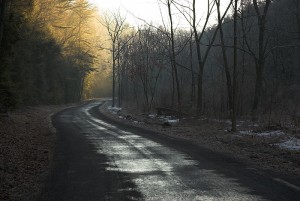 My default choice is to ride alone. This picture was made last Saturday morning on a short photo trip. It reflects the sort of solitude I seek out while riding. The road was glazed with ice so I was on four wheels instead of two but I would still stop to make those images I would while riding. Imagine the GTS in this picture. When I am looking for photographs I drive slowly in order to see the things that are easy to see while riding. This means creeping along at sub 30 MPH speeds.
Yesterday I rode with my friend Paul on the first long ride of the year and the first on the new Vespa GTS 250ie. I won't review the performance at length here other than to say the GTS performed wonderfully and I am nothing short of thrilled. The ride took us up and down through the mountains and it was really nice to ride with plenty of throttle left at all times. This scooter outperforms my riding style leaving plenty of performance in reserve. And it was nice to ride with a friend. It's different than riding alone but rewarding in its own ways.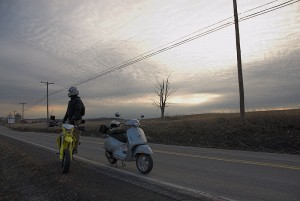 The sun was glowing just below the horizon when I left and the temperature was 39° F. I bundled up as I do for colder weather and rode off to meet Paul. With only a vague idea in my head of where I was going we started down roads that at this time of day call for a careful eye for Whitetail deer. The deer are active at dawn and dusk. When I choose a route I am usually moving towards less civilization and more open landscapes. At the first stop I told Paul I just can't pass a dead tree in a field and while half-kidding I do have a lot of photographs of single trees in empty fields.
Despite any plans to be healthy the scooter is drawn towards diner breakfasts.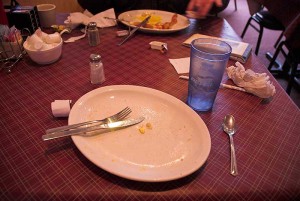 This was a great one. So good that I didn't think to use the camera until it was gone. You can use your imagination here. Breakfast was at the Family Chill and Grill, the only restaurant available traveling this day's route. I've been there before and will be again.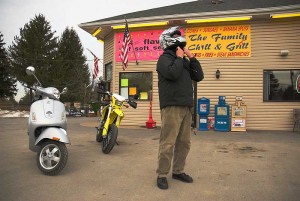 Paul was riding his Suzuki DRZ400 Super Moto today and testing his new electric gloves. By the time we left the temperature was 41° F.
Traveling east over the mountain and into Clearfield County we followed winding roads through land that not long ago had been stripped of coal. Nature is reclaiming much of that area but the remnants of that activity are still evident. I need to be there more before I can pick up the camera.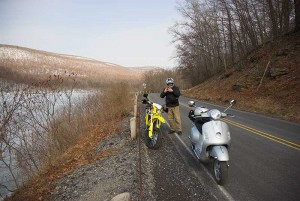 Coming down off the Allegheny Plateau into one of the community watersheds led us past the Tipton Reservoir. Snow and ice still covered the mountain and water but the road was clear save for scattered patches of gravel that always seem to heap up in curves. We stopped to take a few pictures and just take in the scenery.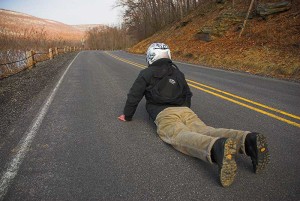 Paul has been recuperating from a recent back strain and took stops as an opportunity to stretch his back. Lying down in the middle of the road gives you an idea of how much traffic there is.
I wanted to be home by noon so the ride turned towards home. Good planning meant we didn't have to ride on any main roads and were able to wander along through the woods and fields.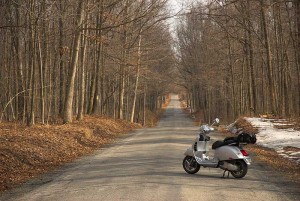 By 11AM the temperature was 60° F and the sun was out. The long roads the cut through this area seem magical to me and I often stop just to appreciate how they look.
The last stop was made so I could adjust my new glasses. For some reason the helmet tends to push them around in a way that makes them uncomfortable. I made this picture as a possible replacement on the little color business cards I made up for Scooter in the Sticks.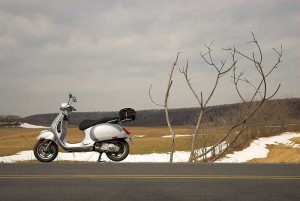 The ride was pleasant and relaxed. The GTS worked perfectly and I couldn't have asked for a nicer day. My body could tell I haven't ridden on any longer trips for a couple months. Four hours in the saddle caused a few creaks and groans to surface. Amazing how fast I can get out of shape. Commuting to work and making little side trips just doesn't prepare me for the longer rides.