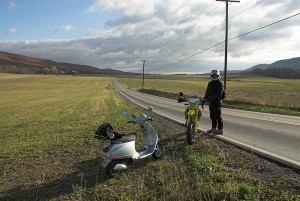 This past Monday morning my friend Paul and I decided to take a long ride north. His only requirement was that it not be raining when we left. At dawn the sky was heavily overcast and gray, the roads wet, the wind moving at a sustained 20 MPH and the temperature hovering around 34° Fahrenheit. And it wasn't raining. A perfect morning to ride.
I had gone over the Vespa carefully the night before and made sure everything was mechanically sound so I could roll it out of the garage and go. Paul arrived on his bright yellow Suzuki DRZ400 SuperMoto and off we went. We were only 10 miles out when we stopped to add some more gear. I put on a windproof Mountain Hardware jacket on under my First Gear jacket and Paul pulled on some waterproof and windproof covers over his gloves because his fingertips were getting numb. My hands were still fine but by midday I was looking at every motorcycle store for a pair myself.
We rode over two ridges and down into the Susquehanna river basin and the town of Jersey Shore and stopped for a hearty breakfast at the Penna Waffle House and Deli.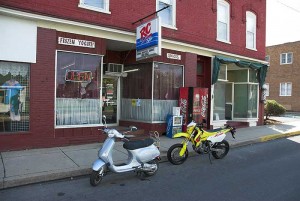 Afterwards Paul decided he wanted to check out a guitar store and Harley dealer in Williamsport, a definite variation from my desire to continue north into the wilderness. The Vespa had been in the lead until now but Paul took responsibility for finding our next stops and I followed behind on US220 at 55 – 60 MPH. Even with the crosswind the LX150 was fine.
We found the Harley dealer was closed on Mondays. And we never found the guitar store. So much for that detour which took up an hour. My turn to lead again so I jumped on US15, a limited access four lane highway that I knew would quickly get us out of town and headed north. We stopped at Bob Logue Motorsports so that I could look for a pair of those waterproof covers for my gloves. This unassuming motorcycle shop was home to the Honda Museum. Check out their Web site. No glove covers but a ton of vintage bikes to look at. And a change to warm up a bit too.
Eventually we rode north into the Tiadaghton State Forest to see the flaming foliage that Pennsylvania is so famous for. We rode through places like Trout Run, Steam Valley, Beech Grove and White Pine before stopping in English Center for lunch.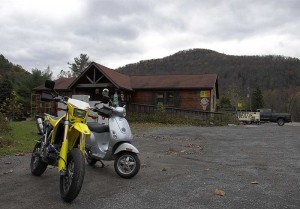 These little places make nice riding stops but my guess is they do their big business during buck season.
As mid afternoon approached we rode west along Pine Creek through narrow valleys.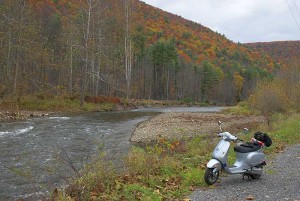 This is the kind of place I love to ride and the Vespa performed flawlessly and seemed up to the task of running along with the SuperMoto. Paul kept asking if I wanted to switch bikes and I finally did toward the end of the ride when we were making the run home. Here are my observations from riding the Suzuki:
The LX150 ride is luxurious ride compared to the SuperMoto. The Vespa seat is soft and forgiving compared to the hard, narrow seat on the Suzuki. The Vespa riding position is flat out more comfortable. I felt strangely exposed with my feet on pegs rather than hidden behind the cowl of the scooter. The bars on the Suzuki are extremely wide and I found my shoulders aching after a few miles. And shifting – I just found it annoying. I'm sure I would fall into the groove again but why bother….Finally, the big tires on the Suzuki don't allow for the quick and nimble movements of the scooter. I guess there is a lot of centrifugal force to overcome.
On the positive side the Suzuki shocks were a dream. Every road bump and bang just disappears. The sound and feel of the 400cc thumper engine was nice compared to the silence of the scooter. Not sure that I still wouldn't want silence tough. And power—geez. At 60MPH you twist the throttle and torque and acceleration is yours. I came upon a situation on the road where a car in the other lane was stopped to turn left across my lane while another car was waiting to turn onto the road I was on. With the scooter I slow and become ready to stop. With the SuperMoto I slow but when I got close enough I could haul on the throttle and "squirt" through the gap. With the LX150 there is no squirting.
When we switched back my first impression of the Vespa again was that it was tiny. Sitting lower, narrower bars it seemed weird for a moment but that passed. And I definitely noticed the loss of acceleration and torque.
I asked Paul at the end of the day if my limitations of speed and power prevented him from riding differently. He said that there were only two places where he would have ridden faster, both on 4 lane limited access highways. One I could only manage 45 going up a long grade and the other I was doing 60 to get from one exit to another and he said he would have rocketed along that stretch. For the entire ride through the woods though he said I was going faster than he would normally have gone.
I think I'll stick with the scooter.
I arrived home eight hours after I left. I was warm, dry, and smiling. I only rode 180 miles which surprised me for the amount of time I was gone. I would have stopped a lot more to make photos if I had been by myself. I think Paul would have strangled me if I did my every 300-yard stopping pattern. I guess I will have to ride back north for some pictures. I'm afraid the leaves will all be gone before I get there….