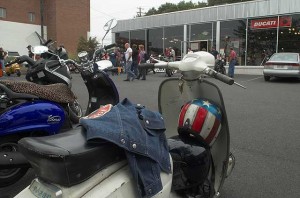 After much apprehension I decided to take part in the Top Secret Scooter Rally in State College, Pennsylvania. That doesn't seem like a big deal considering I am a member of the Top Secret Scooter Club and that the rally was taking place practically in my back yard but I just wasn't sure if a rally was my cup of tea. The quick answer was that I had a great time.
About 25 scooters made their way to State College either under their own power of riding on trailers. Everyone got together on Saturday morning at our local Vespa Dealer, Kissel Motorsports, to get ready for the ride out to Bald Eagle State Park where we would have a picnic. This was the first time I ever road in a big group and not only was it fun but I also have a better understanding now of why a gang might get together. On the road the group becomes a big organic organism of its own. You sort of take over the road. Real different from all the lone riding I do.
There was a diverse group a people at the rally and there were lots of interesting stories about rides and scooters. Mike Giblin rode his 50cc Vespa ET2 up from Gettysburg, a two hour drive by car over some pretty big mountains.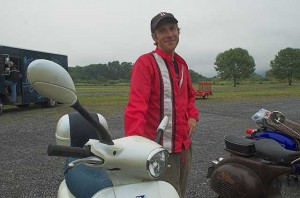 He described the ride on a 50cc scooter as an oscillation between motor vehicle and bicycle. I found a lot in common with his thoughts about riding. "The ET2 forces me to truly budget my time. Every choice of route and ride is important and you have to pay attention." It is exactly how I feel about my own riding. As a member of the Three Mile Island Scooter Club he also garnered the "Best Modern Scooter" award. His scooter had that beautiful pearl finish.
Sarah Sheber took top honors for the longest ride to the rally covering 207 miles traveling from Philadelphia on her Bajaj scooter.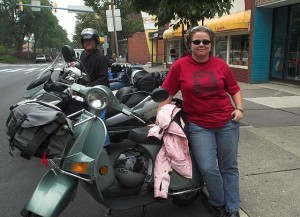 It was her first long ride which she described as, "Good, beautiful, challenging." When I asked what her next adventure would be she replied, "The ride home!"
There were a lot of vintage Vespas and Lambrettas at the rally. Anne Cox (right) is seen here with her blue 1976 Vespa TS125 scooter talking with Amy Wesa. (Amy is a Ph.D. cancer biologist who happened be driving the truck and trailer that the blue Vespa traveled on from Pittsburgh.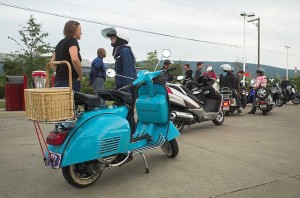 It was amazing the breadth of backgrounds of the people attending). Anne's Vespa took top honors for "Best of Show". Judging had to turn on the wicker basket mounted on the rear rack.
There is too much that went on to put in this blog. More pictures will be available at Scoot.net and I am working on an article to send to one of the scooter magazines. But if you are considering a rally I think you should move ahead with scooter speed!
The Top Secret Scooter Club did a great job putting their first rally together. A lot of credit goes to the core organizers and other members who helped make the rally a success. They're seen here in front of Paul Ruby's big blue van which served as the sag wagon for any scooters that died on the ride.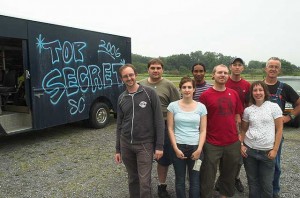 From left to right are Corey Maass, Ralph Womeldorf, Brooke DiLeone, Antonio Moore, Cliff Hixon, Ryan Badowski, Lindsey Cecelia LaBella and Paul Ruby.
Best Rally Ever!