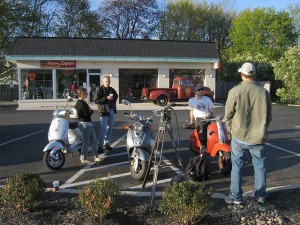 A young man from the local PBS affiliate, WPSU-TV, did a little piece on the Top Secret Scooter Club this evening. I listened carefully to the questions he asked everyone and those questions draw a little picture of what people think of scooters…
"Why did you buy a scooter instead of a real motorcycle?" and "How do you feel at the gas pump when buying gas?" And always "How fast can you go?" I'm not sure what they'll make if it but I'm always fascinated by how people perceive the Vespa.
This Friday evening at 11:30 PM on WPSU-TV. We'll see….