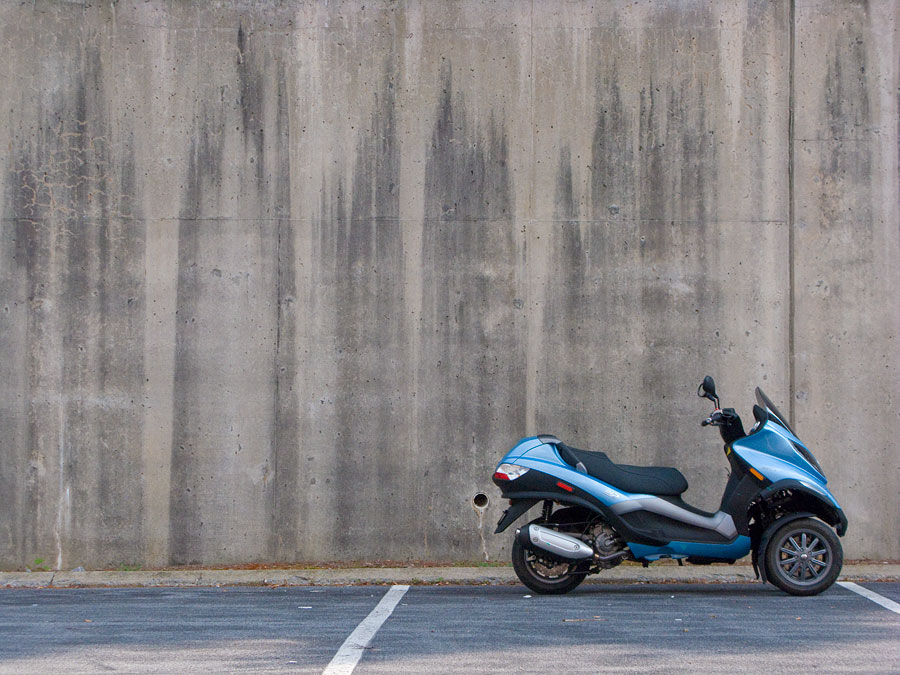 Craig Kissell suggested I take the Piaggio MP3-250 for the weekend. He must sense what I am ready to ride. Or ready to accept. So far each motorcycle or scooter has been a sort of minor revelation. The only problem I see having developed is that the next time I visit Kissell Motorsports I am going to want to try the MP3-400 and 500. (Note to Craig: Please reserve one of those big MP3's for me please)
From the first time I read about the Piaggio MP3 I began collecting a series of misperceptions. Until I finally had a chance to take it for a long ride last weekend I didn't realize how completely I misunderstood this machine. I was wrong about how it worked, about why someone might choose one, and most of all about the stability of the MP3.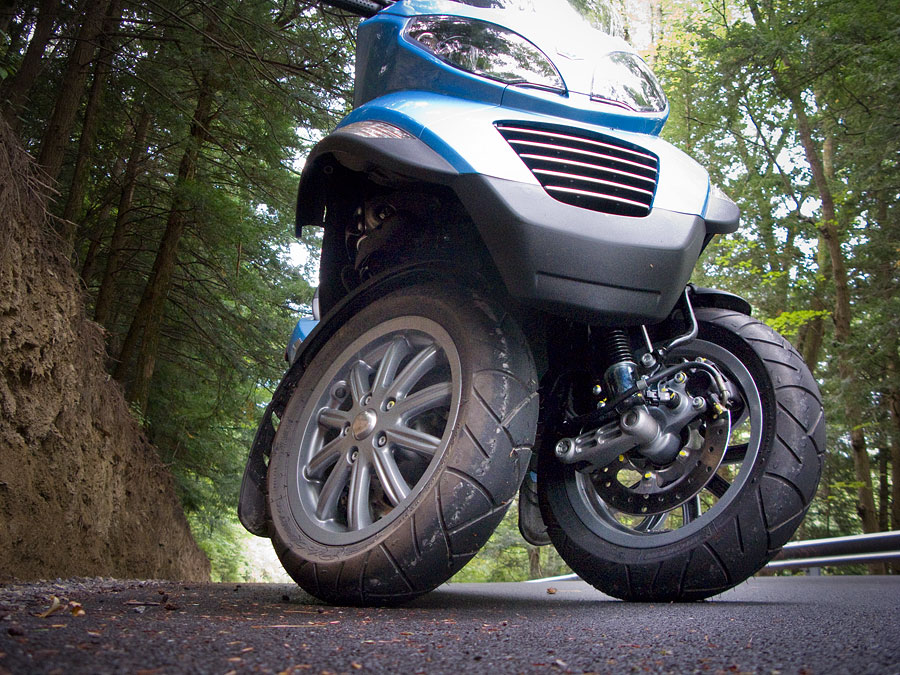 Stability. Looking at the extra front wheel I assumed the MP3 would have superior stability. It does. On the road the thing feels glued to the road. On rough pavement or gravel you almost don't notice any change with both wheels independently navigating what comes along. In turns the MP3 leans smoothly like a two-wheeled vehicle but has the advantage of an extra wheel and suspension system to keep things surprisingly surefooted. Riding along PA Route 45 at 60mph the MP3 didn't flinch in the air blast of passing trucks. Two-wheeled motorcycles and scooters can be buffeted about badly in situations like that but the MP3 was solid and did not seem inclined to be blown off it's chosen course. Nice. Very nice.
So where was I wrong about stability? I was wrong in my expectations of how stable the MP3 would be at slow speeds–I believed it would not easily fall over. I feel stupid admitting this but in my head the MP3 was going to be my ride of choice in old age when my legs were weak and balance fading because the MP3 would stand up by itself. After all you can lock the front wheels in the upright position and it won't fall over. To reinforce my perceptions I look to a trip by two gentleman in their 70s across America on MP3s sponsored by Piaggio. You can see the results on the Web site No Age Limit.
This idea of stability went so far in my head that I even considered the MP3 a suitable first ride for my wife rather than having her learn the more difficult process of riding on two wheels. What can I say? I was wrong. I'm an idiot. Just follow along a bit and I'll explain.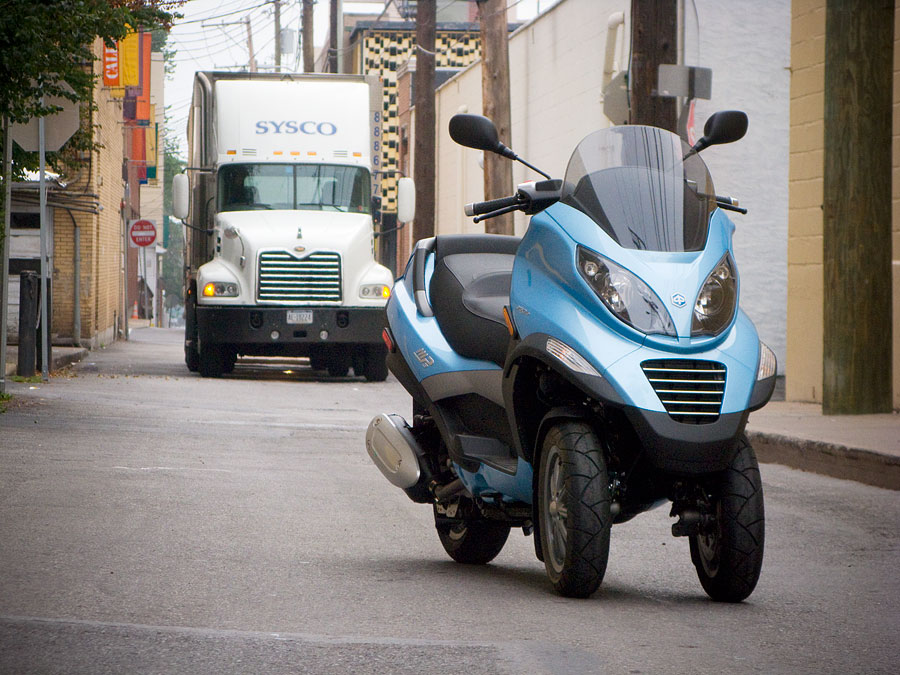 I planned to meet my friend Paul in town and ride to some exotic breakfast location as part of a ritualistic riding habit. Coming up Calder Alley on a Saturday morning means you will be faced with trucks blocking your progress as they unload their wares. The MP3 travels unimpeded past them and allows me to stop in the middle of the road for a picture. When you stop you can lock the front wheels with a touch of a button. A blinking yellow light becomes a constant yellow informing you that the wheels are now locked and the MP3 will stand up all by itself. As you slow down to stop the blinking light comes on the moment you are traveling slow enough to lock the wheels. With a bit of practice and coordination you can engage the lock without ever putting your feet down.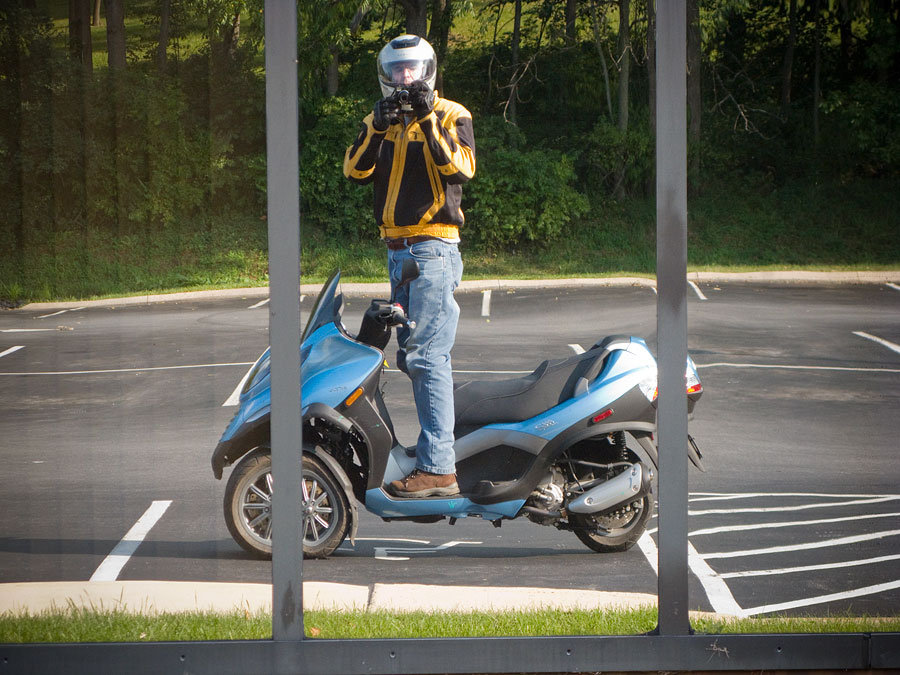 For an experienced rider used to balancing at slow speeds and manipulating a variety of controls it's a pretty simple process. But for a new or inexperienced rider it just gets confusing. Do it wrong and you are sitting there thinking the wheels are locked and they aren't and down you go. And even if you do have them locked don't touch the throttle. A little inadvertent twist automatically disengages the lock and if you are moving—down you go. I've read about lot's of new MP3 owners dropping their new machines. I could never understand this until I took one for a ride.
My advice–don't touch the wheel locking button at all until your are completely comfortable riding the MP3 without it. Then introduce the wheel lock.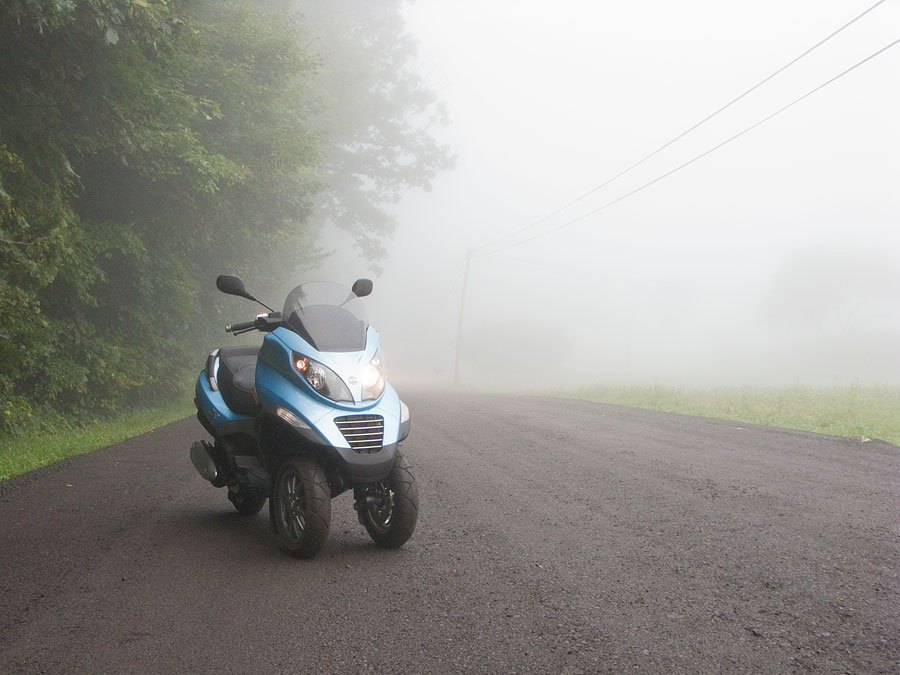 Paul and I left and after a bit of waffling on my part in terms of route we headed south out of town with plans to travel over Pine Grove Mountain. Fog was heavy in part of the valley and one of the less traveled routes out of town was closed for construction. As I stopped at the Road Closed sign Paul swung past me on his BMW and disappeared in the fog on the other side of the sign. So I twisted the throttle on the MP3 and introduced it to life as a scofflaw. Fortunately there were no pits to fall into. Just a smoothly graded bed of gravel awaiting truckloads of asphalt. The MP3 was unfazed by the gravel.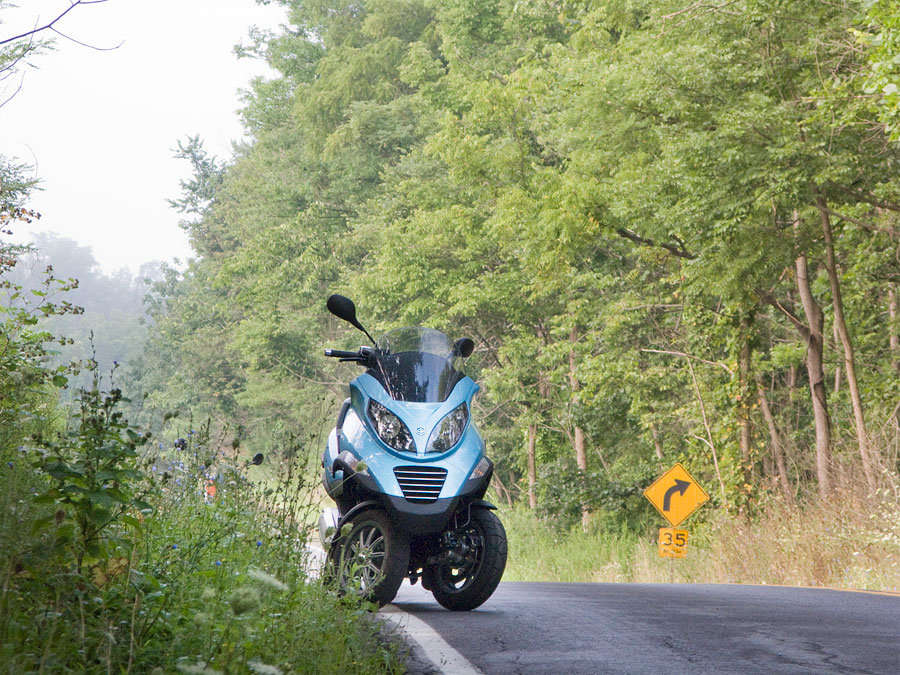 By the time we were over the mountain and traveling along the backroads I was completely enamoured by the MP3. The 249cc engine had plenty of power for these roads. Choosing one of the bigger MP3s, the 400 or 500, would expand performance and make freeway riding simple.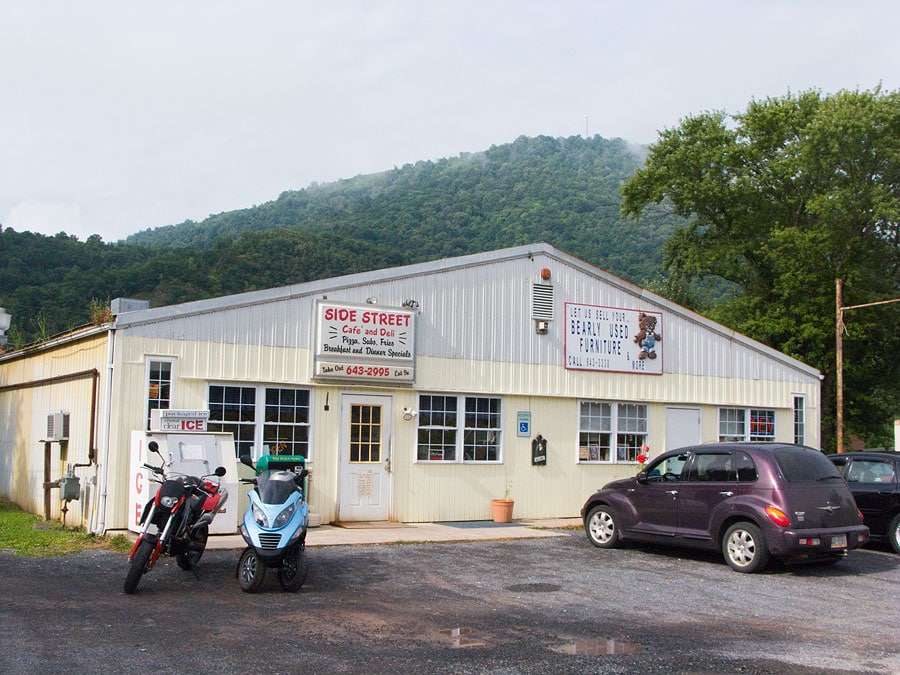 Paul and I stopped for breakfast just east of Huntingdon along US Route 22 at the Side Street Cafe and Deli. It's hidden off the road and not easy to see. I caught it out of the corner of my eye as we rode by and made a point to turn around and see what fare the local eatery offered.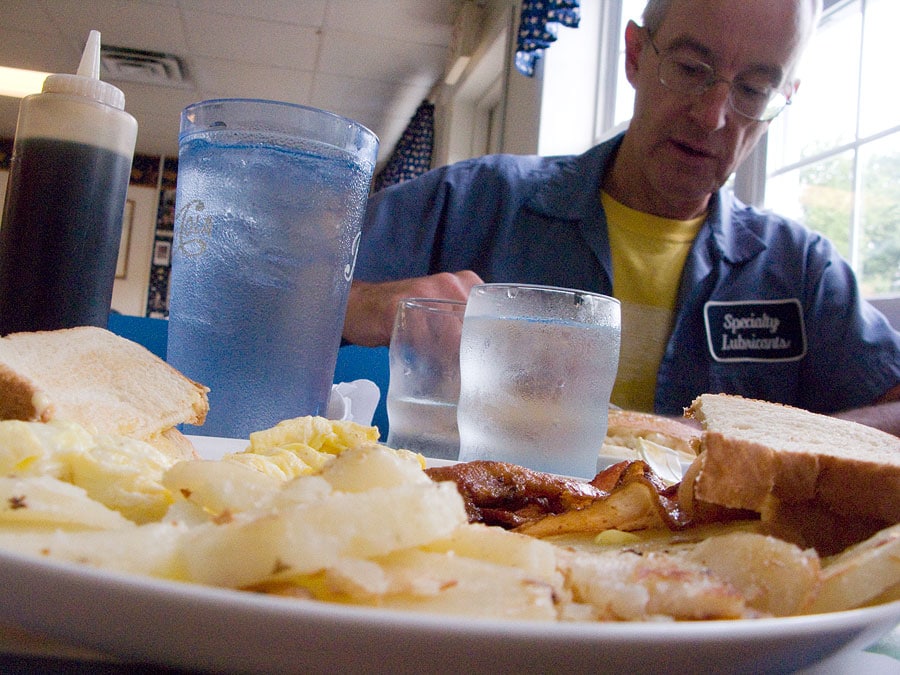 No surprises at breakfast other than the prices. Low. Paul wondered aloud how they could stay in business. I didn't care to have that question answered and focused on enjoying the bounty provided.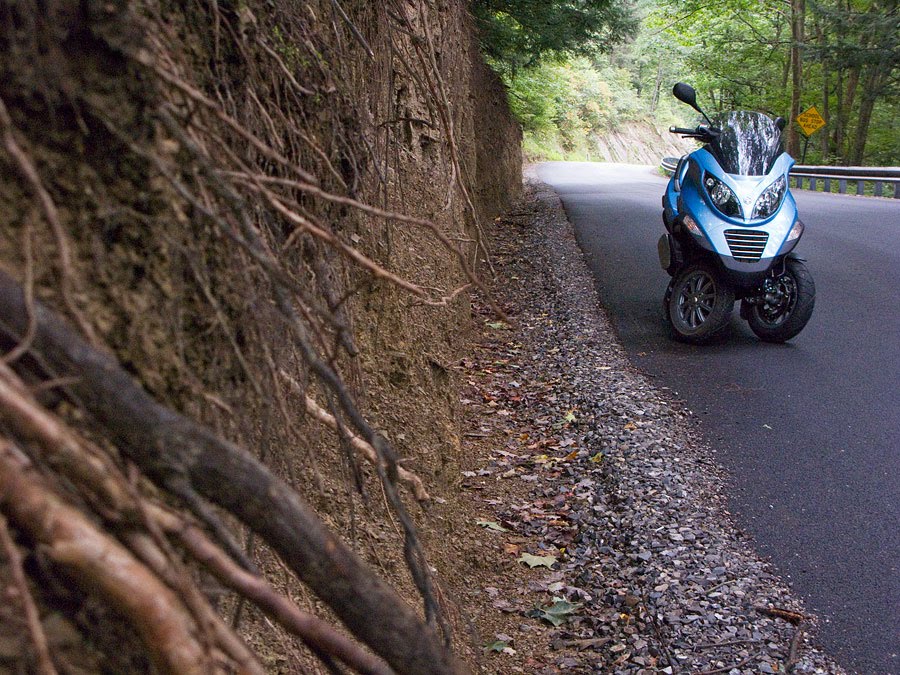 For me a big part of the enjoyment of riding is discovery. Sometimes things about myself but more often new places I've not visited before. We managed to find a narrow road running through gaps in the mountains that offered little traffic, mostly fresh pavement, and a chance to see a lot of natural scenery. The kind of things that can recharge my battery.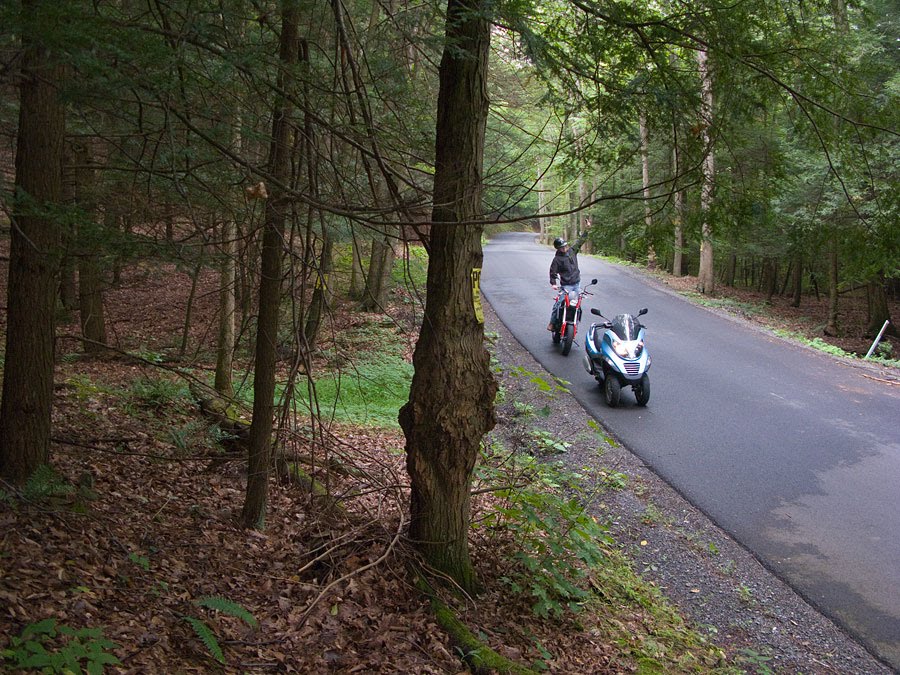 I suppose the search isn't the same for everyone. While I looked for new views and scenery Paul searched for a cell signal for his iPhone. Different strokes.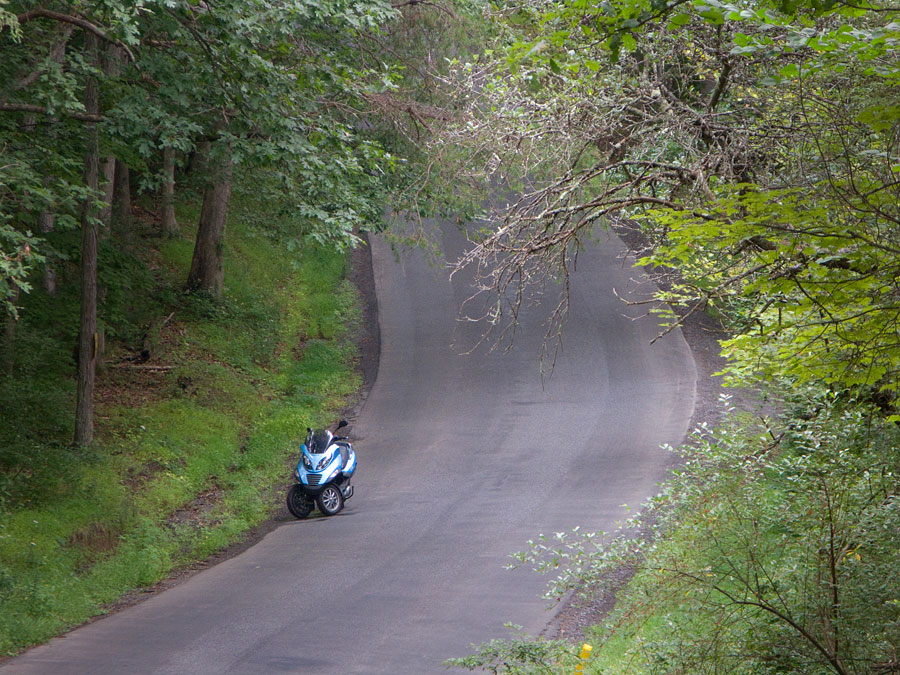 Looking at the picture above I'm not sure what I miss more as I write. Being out in the world or riding the MP3. Despite having a lot of ideas dispelled when it came to this Piaggio product I quickly became comfortable with this scooter and found myself imagining life with this being the only ride available. While I like a lot of things I wasn't finding myself upset at the prospect. There is a lot to like about the MP3 as a machine to support recreational rides and as a daily commuting and transportation ride. It's superior stability on the road is a big advantage in my mind as I think about gravel, manure, rain, snow and other elements working against traction on the road. And the locking front wheels I at first thought of as a safety hazard and then a novelty now seems useful in a variety of ways, not the least of which is how it affords quick dismounts for taking pictures.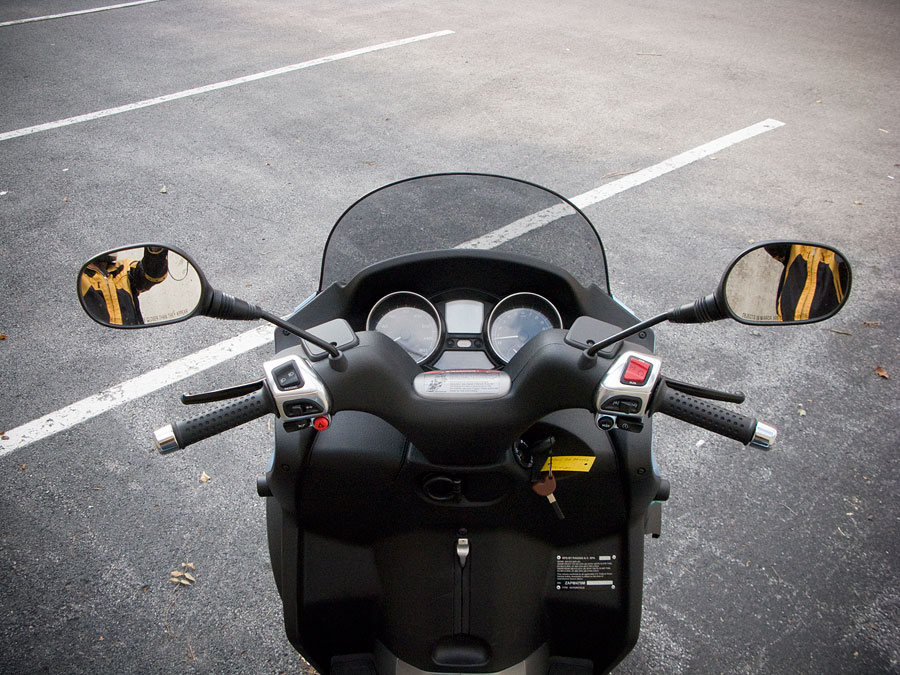 The Piaggio MP3 is a completely functional machine. The instrument cluster shows a lot of information including a variety of digital displays available at a touch of a button. Add to that the generous built in storage capacity and my scooter hauling abilities suddenly seem anemic.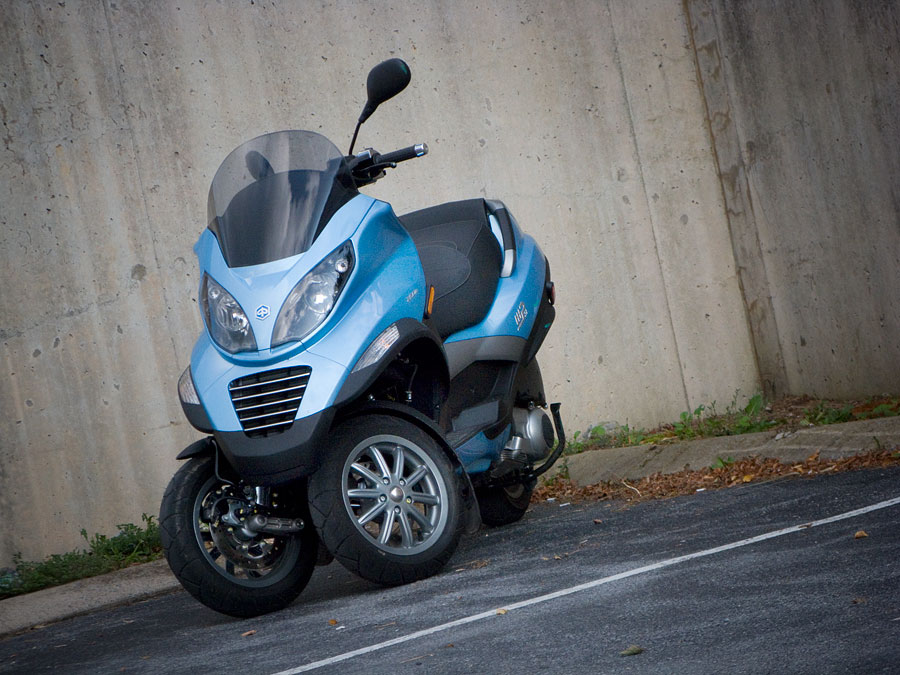 And it's styling and looks has started to grow on me. While it doesn't look like a motorcycle or scooter it embodies the best handling of them both. And it's definitely worth a look especially if you are looking for an all purpose machine.