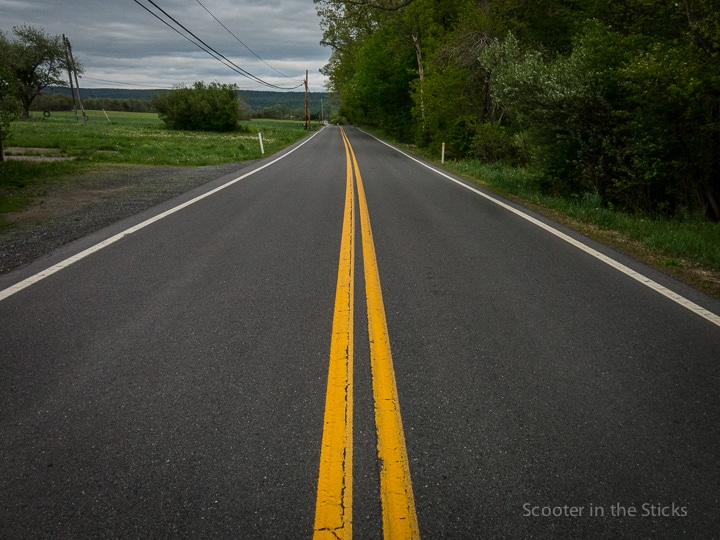 While the road may appear straight and the destination clear, there are endless possibilities for interruption – a tree limb, a vestige of a truck tire, a distracted driver or a sudden dash of a deer. A routine ride can suddenly become a tragic event. I've considered many possible challenges on the road and have worked through strategies to address them. Finding a measure of calm and focus is important and I have developed a sort of fateful acceptance of what I might face on the road and in life.
That fateful acceptance was tested when I walked into the Emergency Room at Mount Nittany Medical Center on Thursday evening.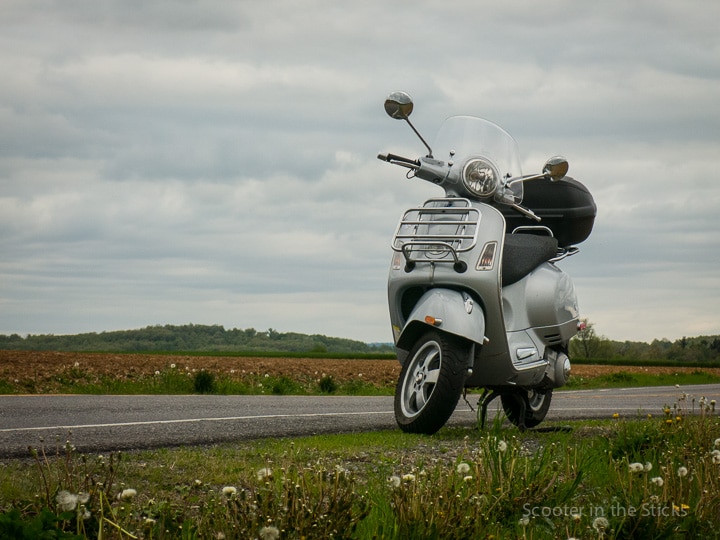 A few days earlier I had been riding the Vespa on a few errands with a minor detour to enjoy some of the more open areas of the valley. After a long day a ride offers an opportunity to clear away the noise of the day and focus on what's in front of you, excluding everything that doesn't matter to the riding task at hand.
Standing in the emergency room I tried to summon that ability to focus on the task at hand and push the anxiety and fear aside for the moment. As succinctly as possible I described the events of the day to the triage nurse that brought me to her. Extreme fatigue in the afternoon, early to bed only to awake to pain in my left arm, nausea, heartburn, and shortness of breath. At home my blood pressure measured 200/105, a marked departure from my usual 120/70.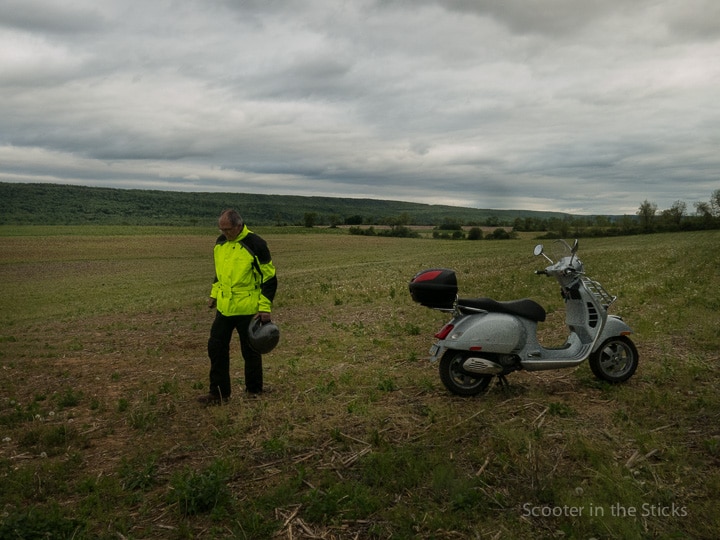 The solitary nature of riding has been instructive activity and has contributed to the unraveling of personal mysteries and shortcomings. I believe many non-riders think of two-wheeled life as a physical indulgence that's both ego driven and fraught with danger. And on the surface, I might not disagree. But in a complex, harried world it can provide the mindful rider with a haven for relaxation, introspection and escape from the well-worn grooves of everyday drama.
I think the triage nurse was surprised to see my blood pressure standing at 210/110 and immediately send me to a bed where a technician did an EKG.
Heart function was normal.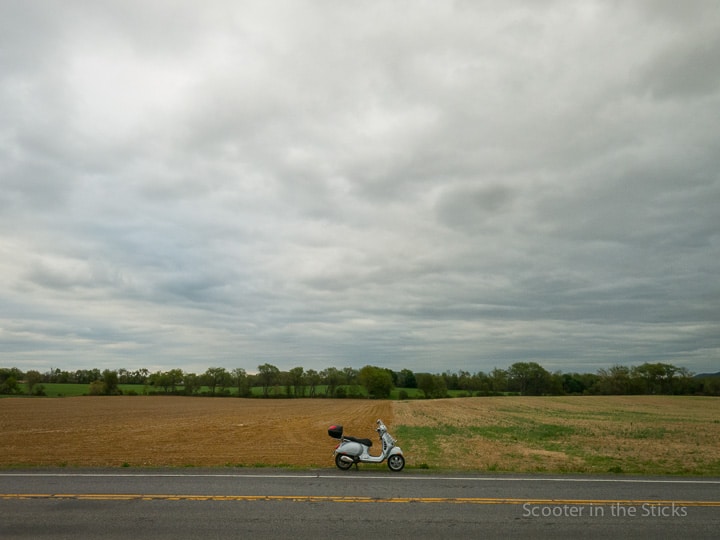 Riding under a gathering gray sky is probably my favorite time to be on the road. Knowing the weather is changing and not sure what I'll have to manage triggers a twinge of excitement as I consider how I might be tested. I'm certain it drives my encounters with winter.
The emergency room doctor questioned me on my medical history and symptoms as she worked to determine what to do with the high blood pressure while a nurse inserted an IV line into my arm and injected an anti-nausea medication that I could taste in seconds. Amazing how fast things move in the body. A minute later the nausea subsided and I realized the heartburn was actually pain.
While the doctor and nurse were in the hall discussing next steps I began to sweat and had trouble breathing. The pain in my arm and chest moved from annoying to something I can only assume was reserved for people who have lived on hot dogs, bacon cheeseburgers and little chocolate donuts.
For the first time in my life I pushed the red button.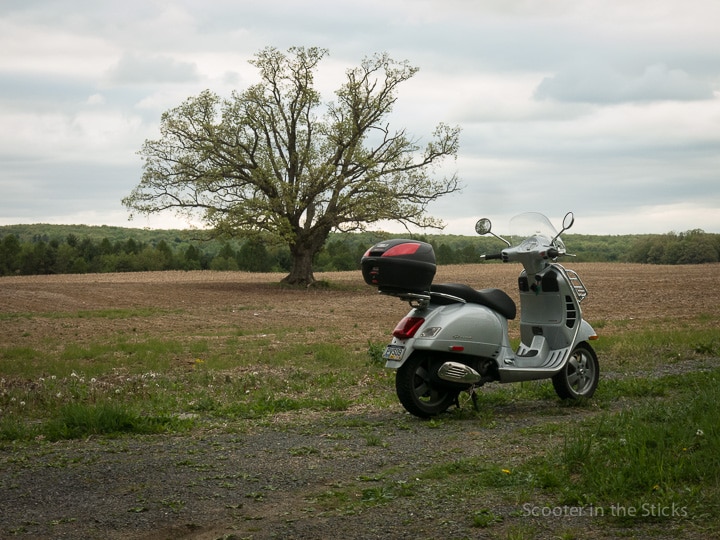 Central Pennsylvania's agricultural landscape is dotted with solitary trees that once served to provide shade for plow horses when farmers stopped for their midday meal. I see them as quiet testaments to life in a world where things change.  Not matter how many times I pass this particular tree I almost always stop.  I did this past week.
The ER doctor looked at me and asked for another EKG and it minutes it was apparent I was having a heart attack.
Things happen quickly in an ER when someone rings the heart attack bell. The rather mellow two person interaction suddenly swirled into a team of people acting in a precision dance of actions as they readied me for something yet to be determined. One person was shaving my arms and groin while another was placing a nitroglycerin tablet under my tongue. Morphine was pushed through the IV port and a cardiologist was on his way.
The pain got worse as I watched the ceiling lights on my way to the Cardiac Catherization Lab.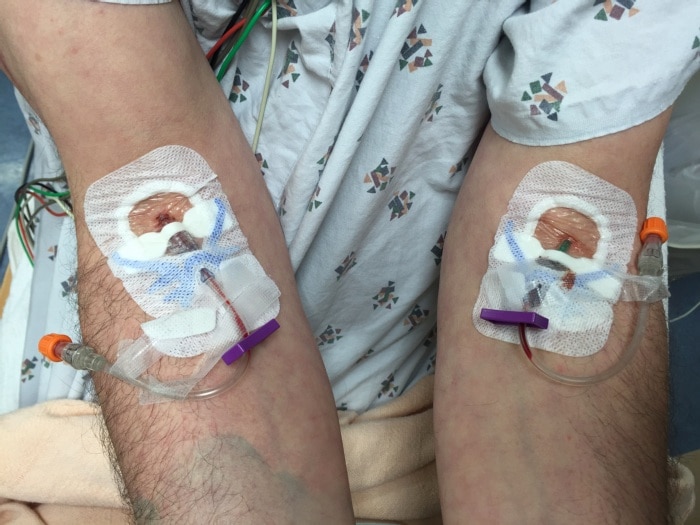 Remnants of my arrival at the ER – ports still in my arms in case they need to push drugs into me in a hurry.
The catherization team was outstanding – friendly yet undoubtedly professionally focused in ways I'll never understand. They were able to convert what could have been frightening into something surprisingly mechanical. At least for me, they kept me focused on what they were doing so I wouldn't panic with thoughts that I could die. I remember joking with them, thinking it would have been cool to have ridden the Vespa to my heart attack experience because it would have made a better blog post, but mostly thinking I hope they stop the pain.
A catheter was inserted into my wrist where the cardiologist determined my right coronary artery was 100 percent blocked. I remember feeling a sudden departure of the pain and muttering, "The morphine must have kicked in.". The doctor said we just restored your blood flow.
I'm not sure how long this all took but afterwards they showed me computer images of my artery before and after a drug-eluting stent was inserted. It looked dramatic to me and I felt like a new man save for some wooziness from the morphine.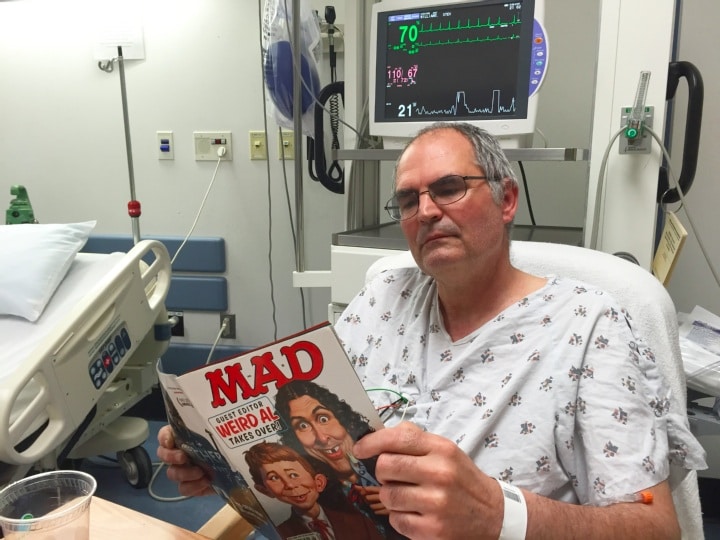 I've been in the ICU for about 36 hours now and feel remarkably better. The cardiologist said I'll probably feel better than I have in a long time since blood flow has likely been restricted for awhile. And it was good to hear that I could resume life as normal. Well, not quite.
I will certainly be able to do everything physically I did before and they actually expect a little more from me. The doctor stressed I am not fragile. Lifestyle changes are part of the adventure ahead that will affect medication, diet and exercise, two things I've fought a losing battle with for decades. Now that I have more concrete proof that I'm not indestructible I'll have to tap into some of the riding focus to take a little better care of myself.
There is much to be grateful for with access to medical care being one of them. Since I got in quickly there was little damage to my heart and the cardiologist expects I'll not notice any limitations. Accepting the path ahead is already done as I plan some changes. The devil is in the details though and Kim, our kids and friends will help to move things forward as we embark on another adventure.
And if I understand the cardiologist correctly, I can go for a scooter ride on Monday!