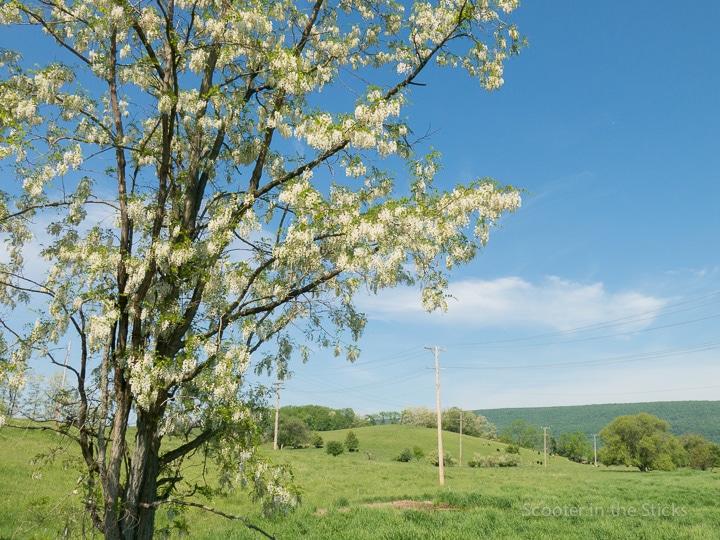 Aimless with a wandering mind, a difficult state to visit, a worthy goal to have — at least in my world.  As the Vespa moves slowly along path and pavement under a bright sun and blue sky most noisy ideas and concerns grow limp and dissipate leaving only the scooter and the road.  The mind floats along somewhere.  This morning the fragrance of honey locust trees filled the air only to be replaced by the scent of freshly cut hay.  A little further, as the hedge rows crowd the road, honeysuckle perfume, all like a spring dream stroking sparkling senses.  Not once does the Vespa roar or growl, not a hint of gasoline or oil. We're just silent partners breathing in the road.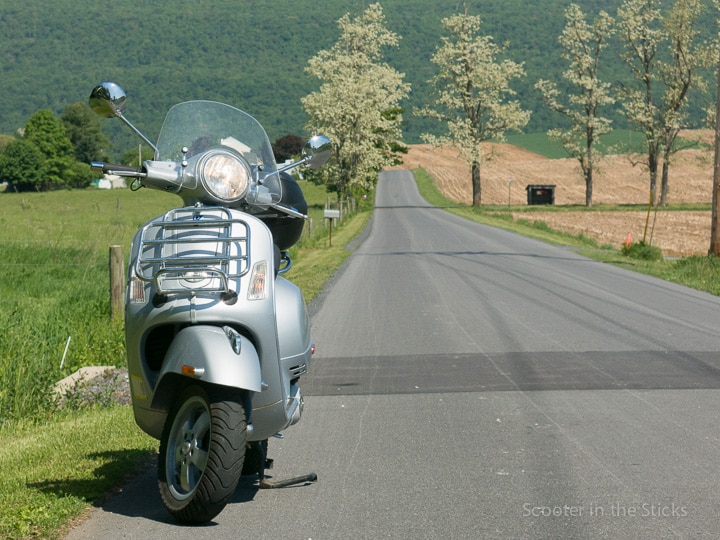 The agricultural valleys are flush with spring and looking towards summer.  Unlike the mega-droughts in the West we still have water.  Irrigation is rare as are water intensive crops.  Wandering through the countryside is an exercise in observation — finding something interesting in the ordinary.  I don't make mythic trips across multiple states or continents.  Circumstance requires I find adventure and satisfaction on the well traveled roads of my life.
I've explored this idea for nearly two decades as a photographer and found inspiration in the work of Josef Sudek and his personal explorations when trapped in his little cottage for years during the Nazi occupation of Prague.  Finding compelling subject matter to explore within arm's reach is difficult.  I've tried to apply this approach on the road.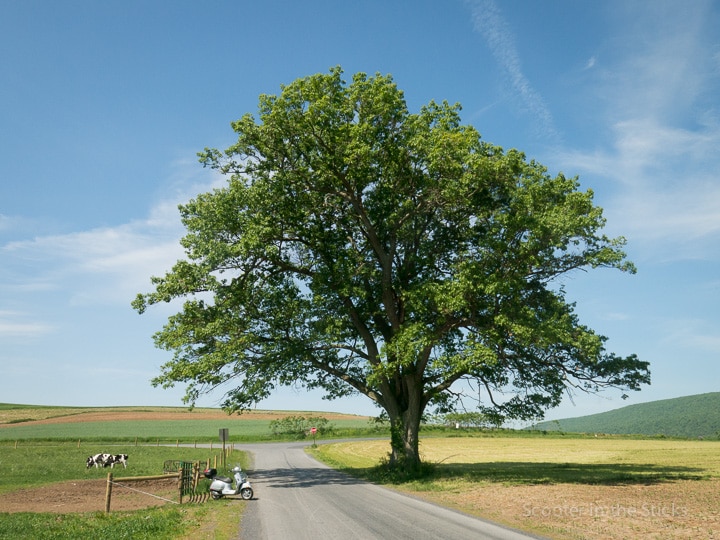 I've followed these small roads halfway across Pennsylvania.  The state is a patchwork of former farm lanes now paved by townships to form a dizzying challenge to anyone looking to find someplace specific.  For a wanderer they provide a welcome escape from the tightly managed roads of daily life.
I've passed this tree a hundred times or more over the years, one of many that stand out.  Some have fallen, victims of lightning, development or old age.  I see them as metaphors for life and childishly believe they'll go on forever.  Such is not the case though.
Egg Hill rises above Penns Valley in the distance, a small hill that divides the valley into two distinct areas.  My riding preferences usually take me to the left and on into more sparsely populated areas and eventually into Bald Eagle State Forest.
Standing here I can feel the draw of the horizon, to explore tracks and paths, and let my spirit roam with the scooter.  For now, I stay close to home and allow my body to slowly adjust my recent heart attack.  Later this week my cardiologist will evaluate progress and send me on to a cardiac rehabilitation facility to find out how much physical stress I can endure.
More adventures in life.  I hope they're as sweet as a ride in the country on the Vespa…