Comparing anything, motorcycles and scooters included, invariably leads many to the mental trap of "which is better?".  As I think about all the times I've engaged in that pointless battle — which is the better camera, tripod, paint, microwave oven, car, faucet, tile, window — you get the picture, it's been a complete waste of time.  I will battle on though to rationalize my decision making process though.  I'm that dumb.  And so it goes with the Ducati vs. Vespa as it turned in my head during a ride to breakfast that my friend Paul and I undertook over the weekend.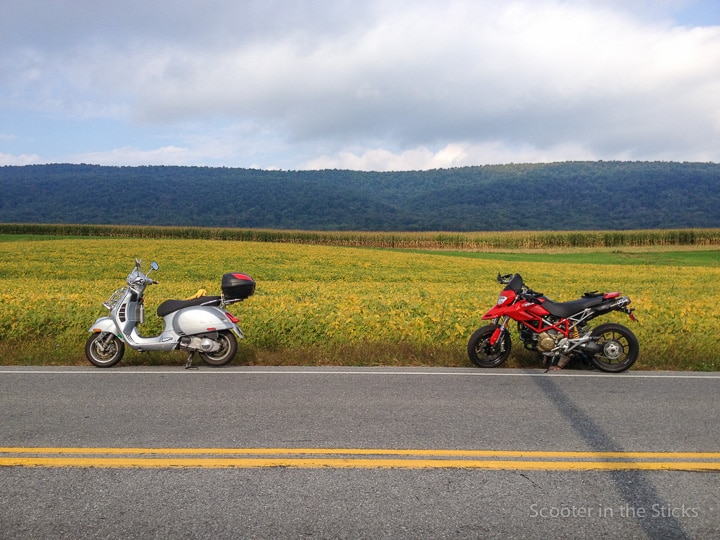 Before delving into anything related to the machines or the ride I need to say something about the photography, or more specifically, the camera used.  I've misplaced my trusty Canon G15 point and shoot and was left with only the iPhone to make images.  Normally I would have gone to great lengths to find something to shoot with but on this morning I decided to let go of image making.  It was not easy but well worth the struggle.
The iPhone 4 makes reasonably good images and I put it to use a few times during the ride.  But mostly I found myself riding unencumbered by any concerns to document or illustrate what I was seeing or thinking.  Many rides are filled with a mental narration that can consume the experience as I commit more and more mental resources towards photography.  On this day I found that I got to a point where my mind was, well, empty.  I was just on the Vespa flying down the road.
Paul's Ducati Hypermotard is a pretty thing.  He got rid of his Ducati 1198 to make room for this one in the garage.  A lot more fun and more comfortable to ride in my opinion though each rider has their own taste in machinery.  He acquired it on eBay and had to go to Mobile, Alabama to pick it up.  He really wanted the Hypermotard.  It does have a nice, throaty engine sound and can easily leave the Vespa evaporated in it's rear view mirrors but on a ride through the countryside for breakfast it didn't come up.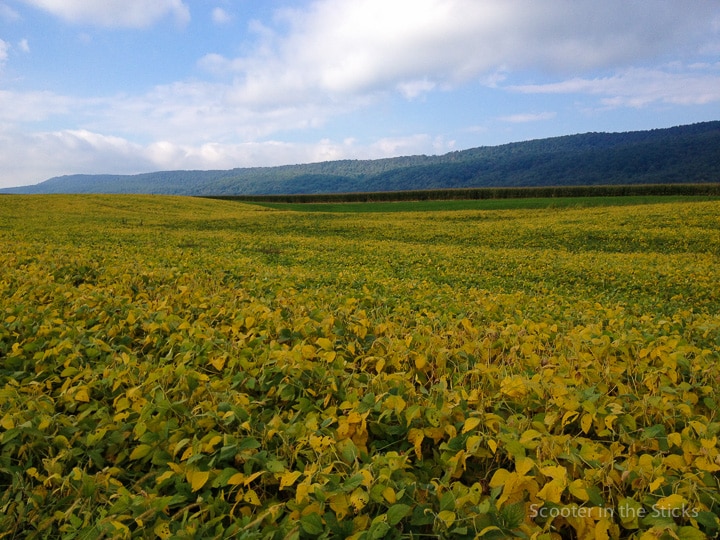 As fall approaches the world starts to change.  The soybean fields are turning yellow in preparation for harvest and the atmosphere is just perfect for riding. There's a trade off to keeping the power of the Ducati in check — foregoing dazzling speed for the dazzling scenery.  The Vespa isn't capable of dazzling speed but I suspect you can't pay a lot of attention to the roses when you are dazzled.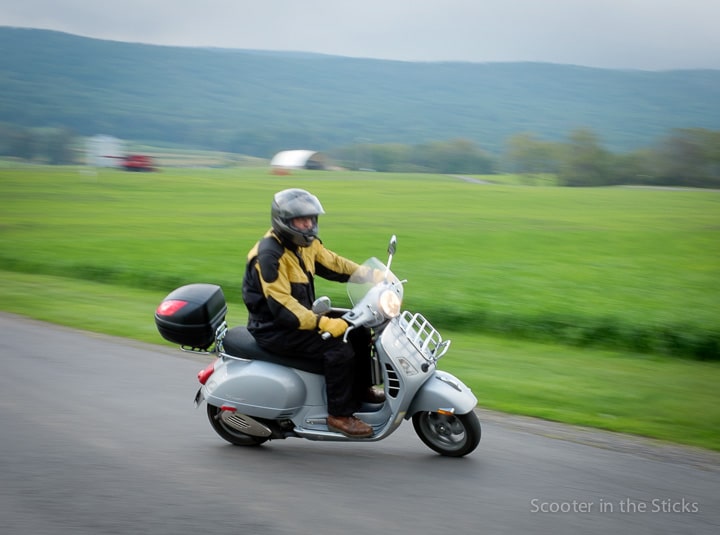 During a stop for pictures Paul had me ride circles around him so he could get an action picture.  I reminded him to make the scooter and I look heroic.  He succeeded in making me look like the circus bear riding a bicycle.  So much for heroics.  I will say the scooter looks really clean — a testament to the dishonesty of photography.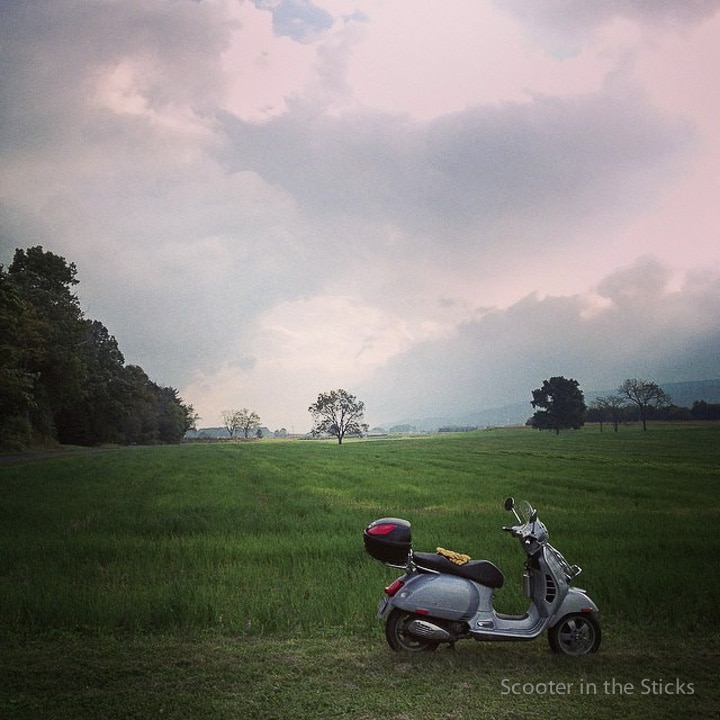 When we left State College, Pennsylvania there were a number of options for route and breakfast eateries.  Paul left it to me to choose so I thought I would surprise him by deviating from our normal 20 mile ride to breakfast by increasing the distance to 60 miles.  For a moment I thought rain might intrude despite the forecast calling for sunshine.  I didn't care though having not been on the Vespa all week.  And the Ducati, nice and shiny as it is, could use a bit of rain to humble itself.  Turned out things remained dry.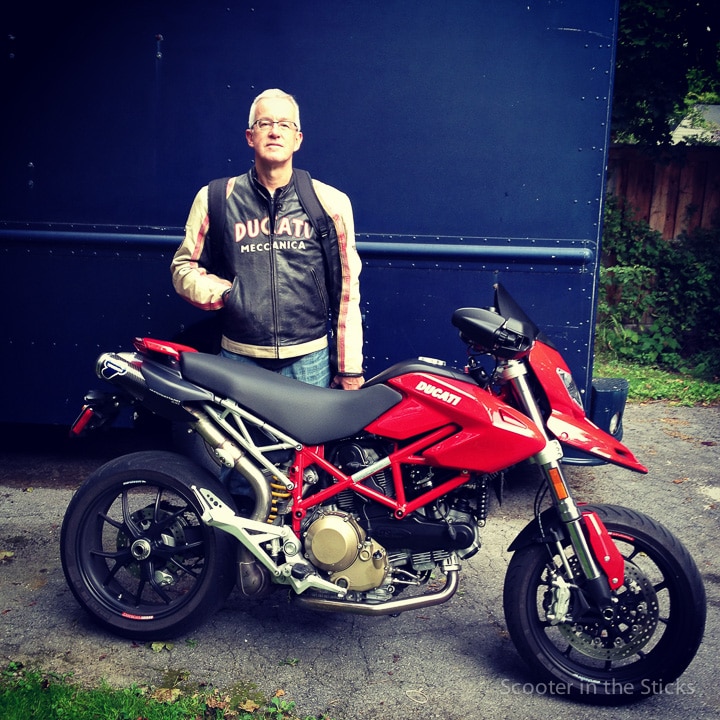 The official Ducati portrait for Paul's website.  I've been photographing him with his scooters and motorcycles for 20 years or so.  He has quite a collection.  I'll try and get him to pose again when I have a real camera available.
It is a nice bike.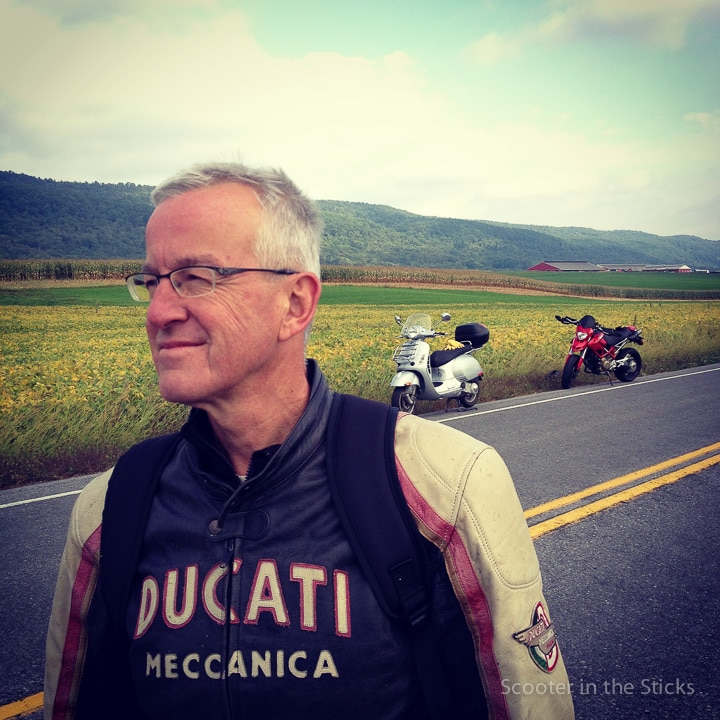 This portrait was made just a few miles from one of the breakfast establishments Paul has trying to get me to for the past couple years — Mamie's in Martinsburg, Pennsylvania.  Luckily, the surprise remained intact until we pulled into the parking lot because for all the riding in Pennsylvania Paul possesses a common talent of not really being aware of where he is.  Or so it seems to me.
Mamie's has great food and the fresh baked donuts are to die for.  I forgot how good they were.  If you pass anywhere near this part of Pennsylvania you must stop for breakfast or lunch.
The Ducati vs. Vespa question surfaced a few more times on the way home.  Once on a three exit run on Interstate 99 as I watched the Ducati in my rearview mirror as we tooled along at 70 mph.   Even though he could go a lot faster the beating by the wind wouldn't be any better than what I was experiencing on the Vespa.  Those naked bikes stick you right in the middle of things.
And a bee in my helmet and subsequent sting brought the Vespa to a rapid halt along a rural road with Paul following closely.  The Hypermotard seems able and agile in negotiating pavement to gravel in a hurry.
Damn bees.  It's been awhile since I had to content with that stuff.
All in all a great ride.  First time with the new (used) Ducati.  At this point I'd say the score is Ducati 1, Vespa 1.  Arrived home with just shy of another 120 miles added to the clock and a smile on my face.
Can I ask for more?