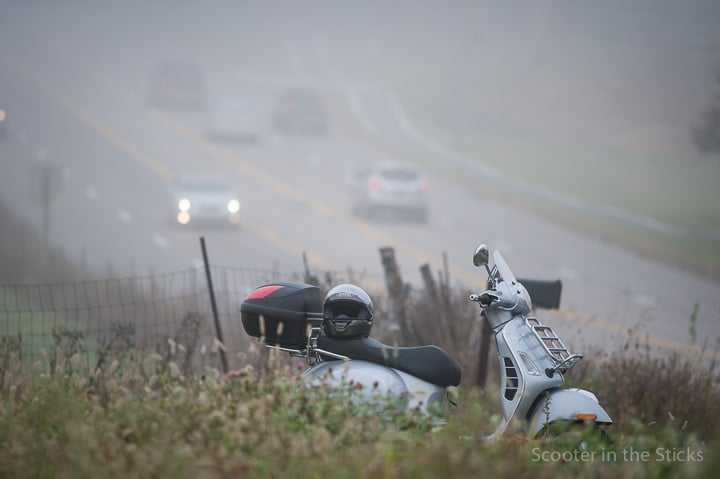 Morning rides to work of late have been made in fog.  As much as I love the visual and emotional appeal of the mist, I never lose sight of the risk associated with poor visibility.  Riding in fog, like riding in snow requires thought and practice to understand and manage that risk.  My advice to anyone considering a trek in pea soup?  Don't.
Much depends on where you ride — how much traffic, the nature of the traffic, the road surface and likelihood of unexpected holes or debris, that sort of stuff.  Riding in central Pennsylvania on a scale of 1 to 10 with the Nevada desert being 1 and the DC Beltway at rush hour being 10, I give our in town roads a 4 and the rural ones a 2.  If there were no deer they would be a 1.
I wouldn't ride in heavy fog anywhere beyond a 5.  Each rider has to gauge their own skill and risk acceptance.  It's the key to managing risk while riding in fog.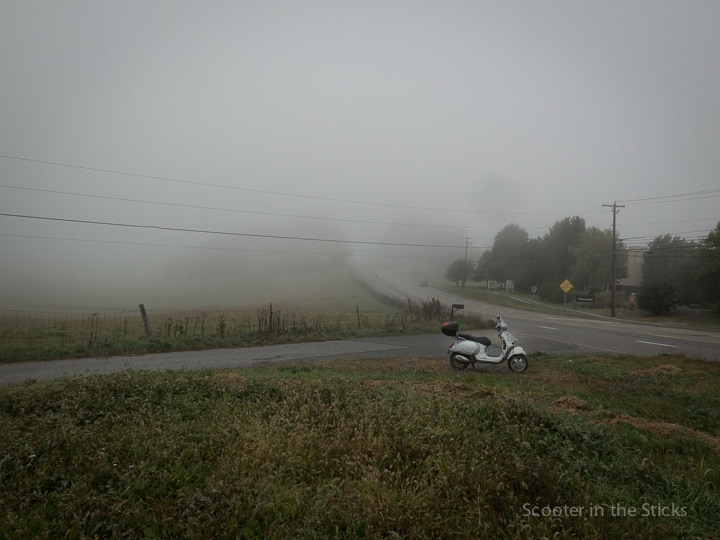 Thinking about special skills or abilities related to riding in fog the following come to mind:
Choose time and route carefully — look for ways to minimize interaction with traffic.
Adjust speed to account for acceptable stopping distances while not becoming an obstacle to be run down from behind — not always an easy calculation but one worth working on.
Don't tailgate — what is it about motorcycle and scooter riders that makes them want to follow a tail light on a car?
Learn how to pull over — there are times and situations you should not be on the road and you need to pull over and let the noise and chaos pass.  If your ego or stubbornness won't allow this then leave the scooter or motorcycle at home.
Know how to keep your visor clear while riding — this is harder than it sounds, especially in heavy fog.
Keep in mind the road surface might be slippery — especially fog when the temperature drops towards freezing.  Maybe just stay at home and if not, slow down.  Really slow down.
Just take the bus — don't ride.  This is the best choice.
Riding provides more than fun, it offers an opportunity to engage a personal puzzle that involves personality, common sense and problem solving abilities.  In a world bent on reducing risk to zero riding in general is an act of rebellion to that part of our culture.  Pushing into fog, rain, snow and dark of night, that creates a completely different character of rebellion.  Make sure you know what you're getting into.
Ride safe.