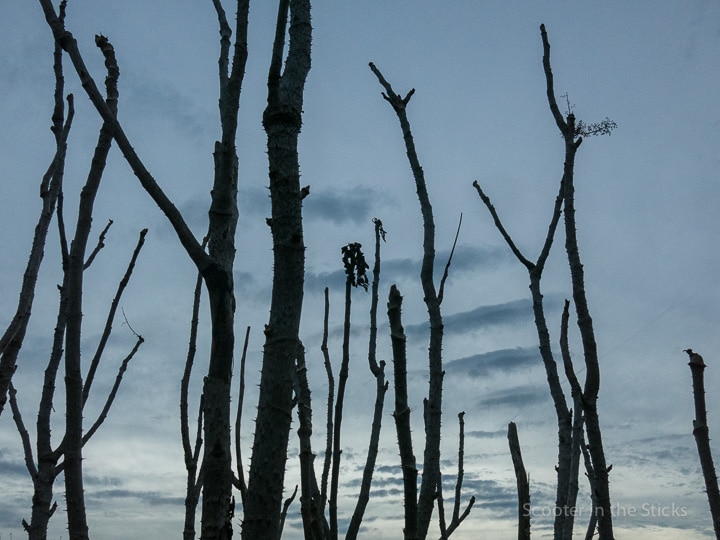 Any maintenance work on the Vespa puts my head in a mental jungle.  This picture of Devil's Walking Stick I made last night while Kim and I were on a walk does a good job illustrating the jagged tangle of thoughts that I have to wade through.  Came close to just handing off the scooter to a professional to do the install but decided to take the plunge and embrace the installing of heated grips.
Before starting I reviewed two resources to help reduce the chances of disaster — a blog post by David Masse on Life on Two Wheels: The Scoot Commute that details installation of another brand of grips on a Vespa GTS300. Figured it would be similar.
And a video produced by Scooterwest.com showing the installation of my grips on a Vespa S150.  Again, has to be of some help.

So this evening I started even though I knew I wouldn't have a lot of time. Made pretty good progress considering I was diverted to transplant a shrub and repair a garden hose.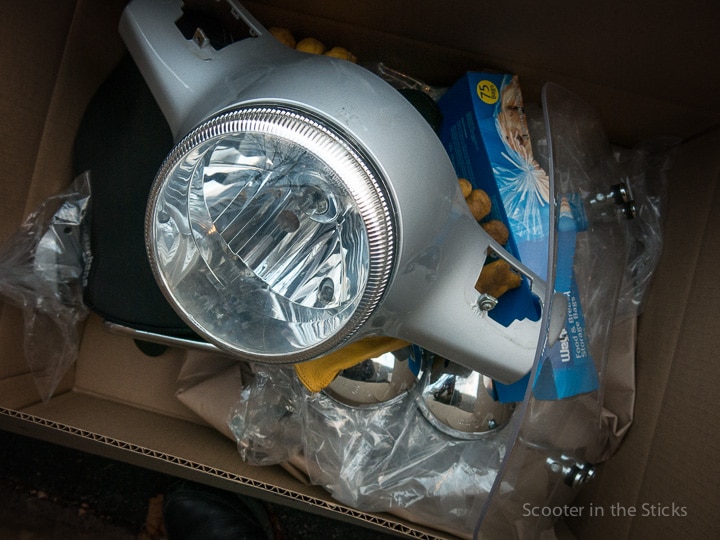 The dismantling was quick and easy.  Had the windscreen, front rack, mirrors and headset off in 15 minutes or so.  David's post pointed out a possible problem with a headset screen that could be dropped down into the bodywork and recommended a magnetic screwdriver.  I don't have any such things so I went to Sears to buy tools.  Unfortunately there were no Craftsman brand screwdrivers in stock so I had to go with a cheap knockoff brand they had.  Says "magnetic" on the packaging but I found no evidence of magnetism.  I did get the screw out without any problems.  Getting it back in will be another challenge.
I did find some issues with the headset though.  Three screws hold it on but only one was in place.  One screw just was gone, probably fell out or was never replaced during some past service, and the other side the plastic was broken.  Oh well.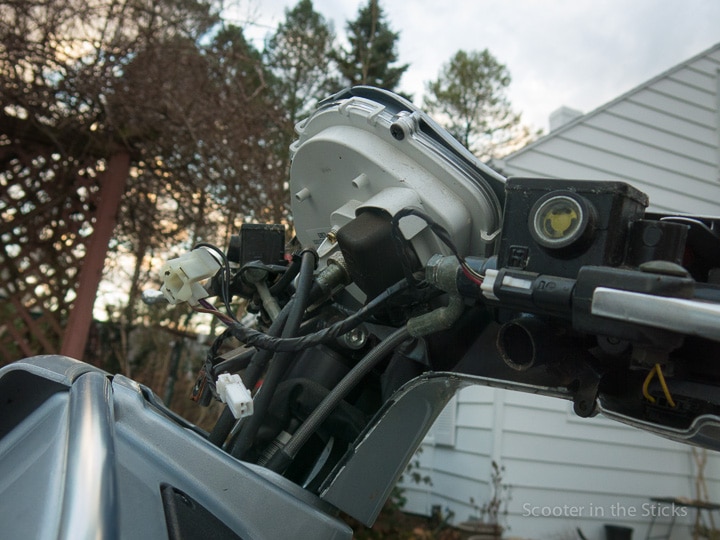 Once the headset was off all that was left in the dismantling actions was to remove the bar end weights and the stock grips.  David's post talks about using a heat gun to get them off.  I opted for the less nuanced approach and cut them away with a utility knife.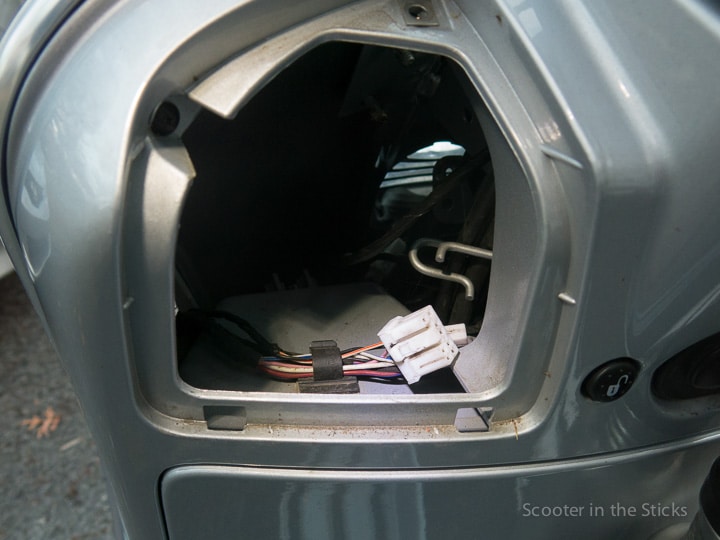 I quit after that because I'm not at the harder part of prepping things and figuring out how to wire the grips to a power source on the scooter.  Wires are wires to me so i'll have to concentrate.  Saw this connecter.  Wonder what it does.
More to come in the continuing saga of idiot meets heated grips.