A couple days after seeing my Consumption Therapy and Moto-Porn post Craig Kissell told me he would be taking a BMW R100 GS on trade and it would have my name on it should I want to buy it.  It seemed as if the universe was conspiring to have me become an owner of a BMW.  Who am I to argue with fate?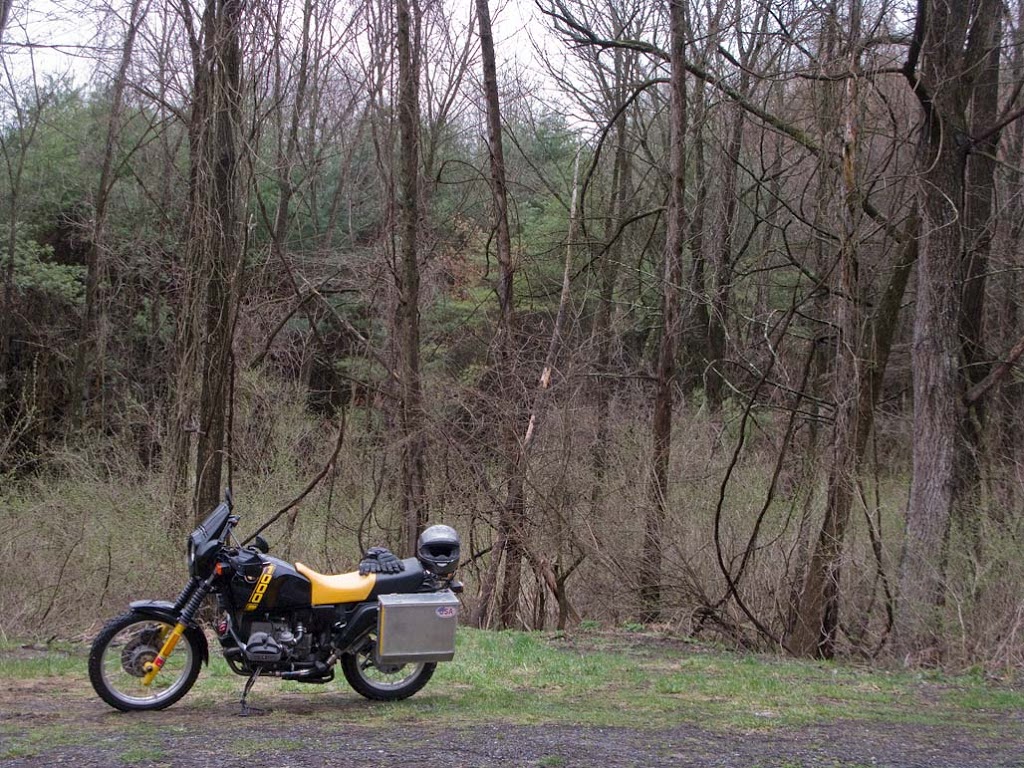 I took the afternoon off from work and despite the rain decided I would have to take the BMW (cover your ears Mr. Riepe) Airhead for a ride.  It had already passed the visual test.  All that was left was the road test.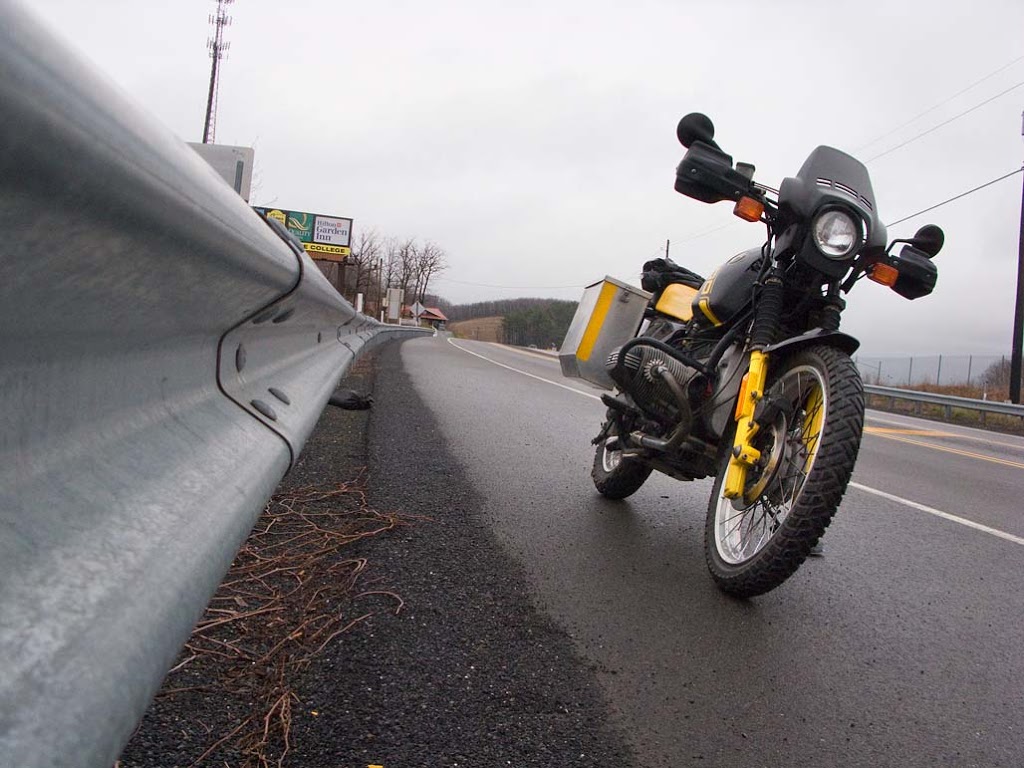 After Kissell Motorsports mechanic Tom Christensen went over the bike and made sure it was ready for the road I left the Vespa and headed out in a light mist.  The bike was, well, amazing.  Started easily, idled perfectly, sounded amazing, and shifted with ease.  Sales Manager Nate Mattern said the transmission had been rebuilt and the circlip and other issues corrected.  You could tell it was ready to hit the road and ride for a long way.  After some experimenting with the brakes and controls I stopped on Skytop Mountain to make a picture.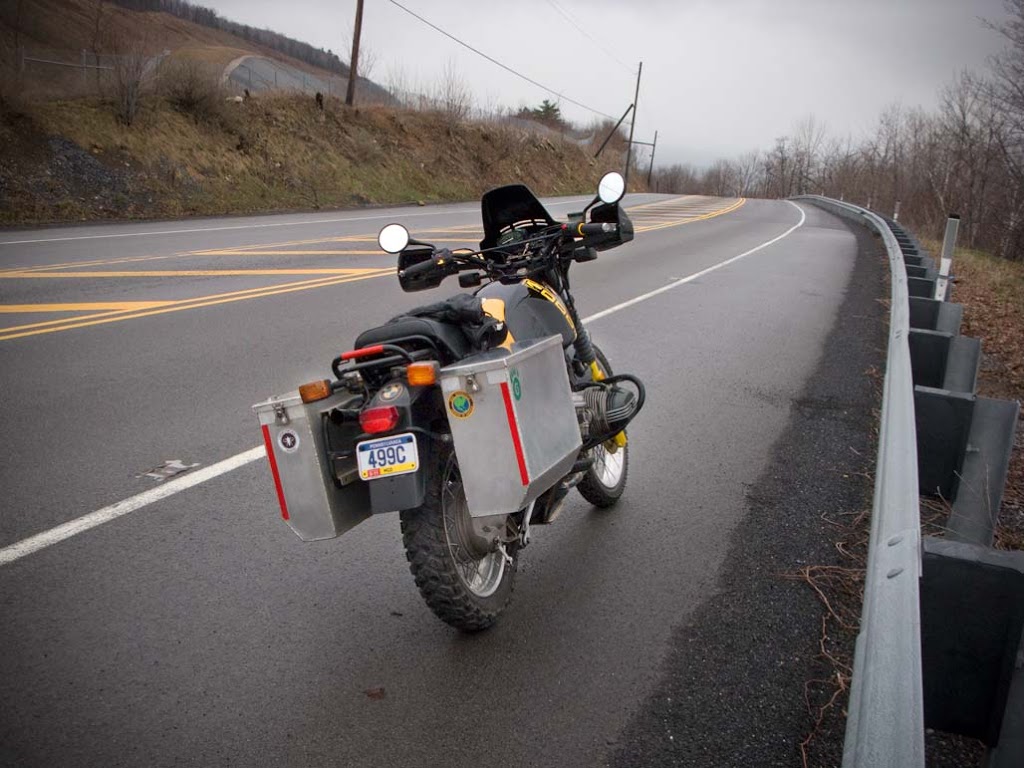 The two aluminum side cases were sturdy and functional — just like the rest of the motorcycle.  I was completely impressed by the mechanical feel of the bike and the sense of purpose and capability.  For a 1988 machine with 60K miles on it I would have thought I was riding a much newer motorcycle.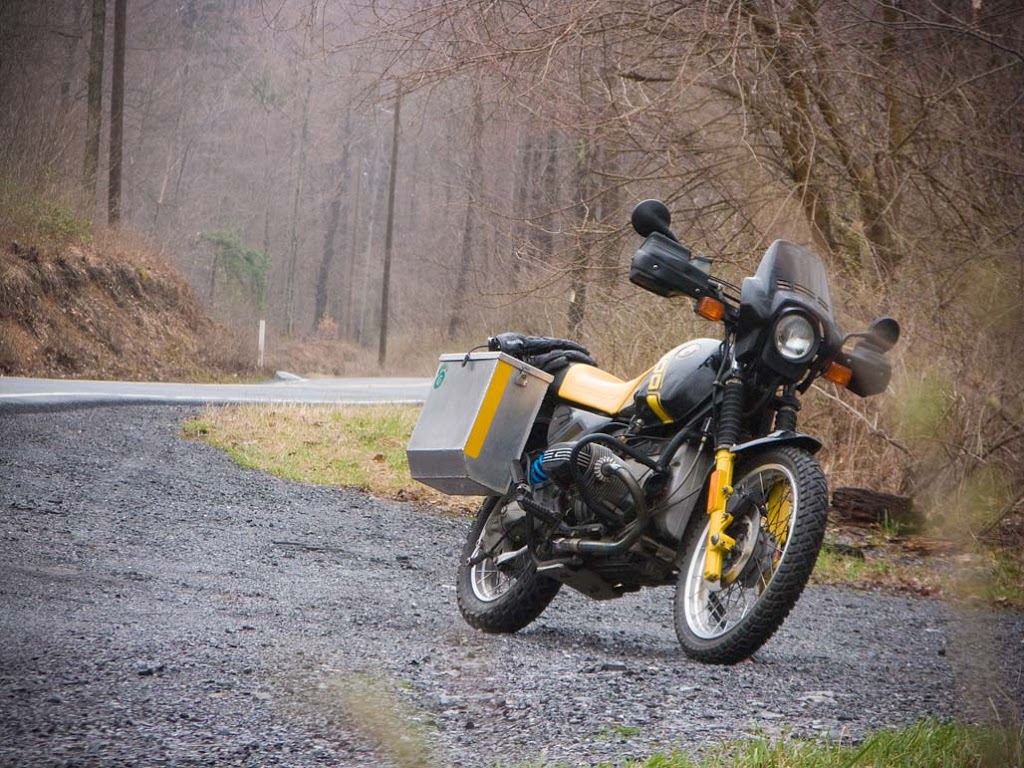 The BMW R100 GS is pretty.  As a photographic subject I could make use of it on Scooter in the Sticks.  It seemed like a natural partner for my Vespa and would lend itself to a new variety of riding.  Or so I was trying to tell myself.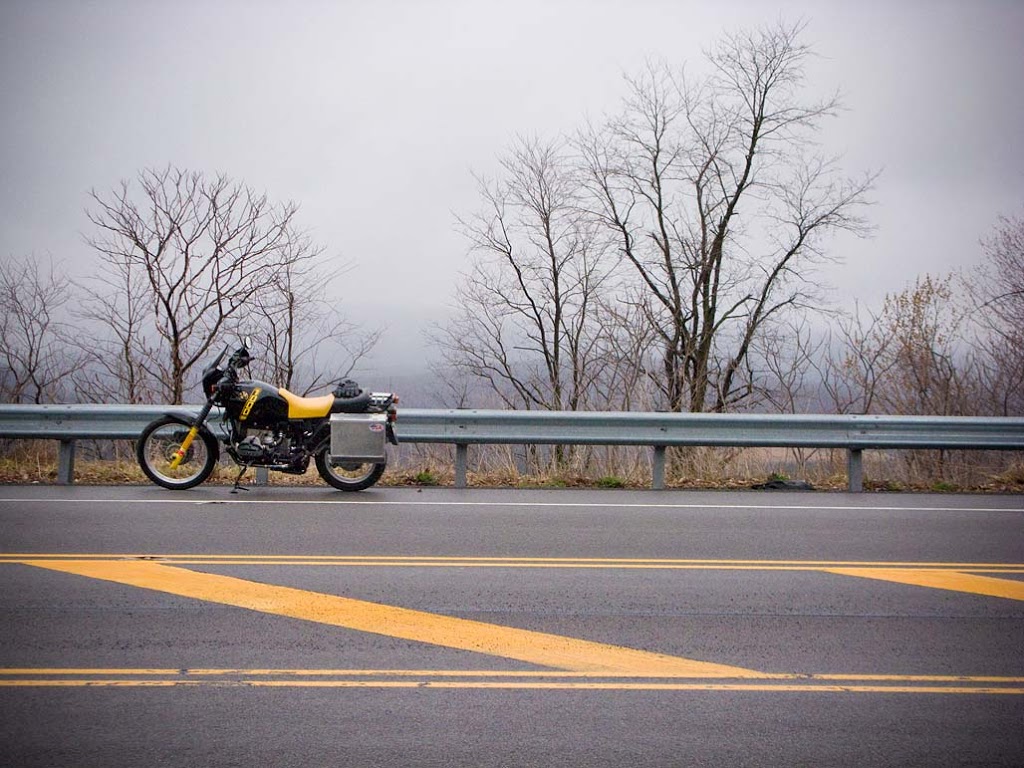 On the highway the power of the big boxer engine is apparent.  Even with the Metzler Enduro tires which were a tad too aggressive for a lot of pavement riding the bike was smooth and stable cruising at 70mph.  And there was plenty of throttle left.  If I had any concerns at all it would be the older brakes — disc up front and drum on the rear — I tested them on several high speed stops and while they worked well it's definitely not the same as modern braking systems.  It would not let this stand between me and the BMW though.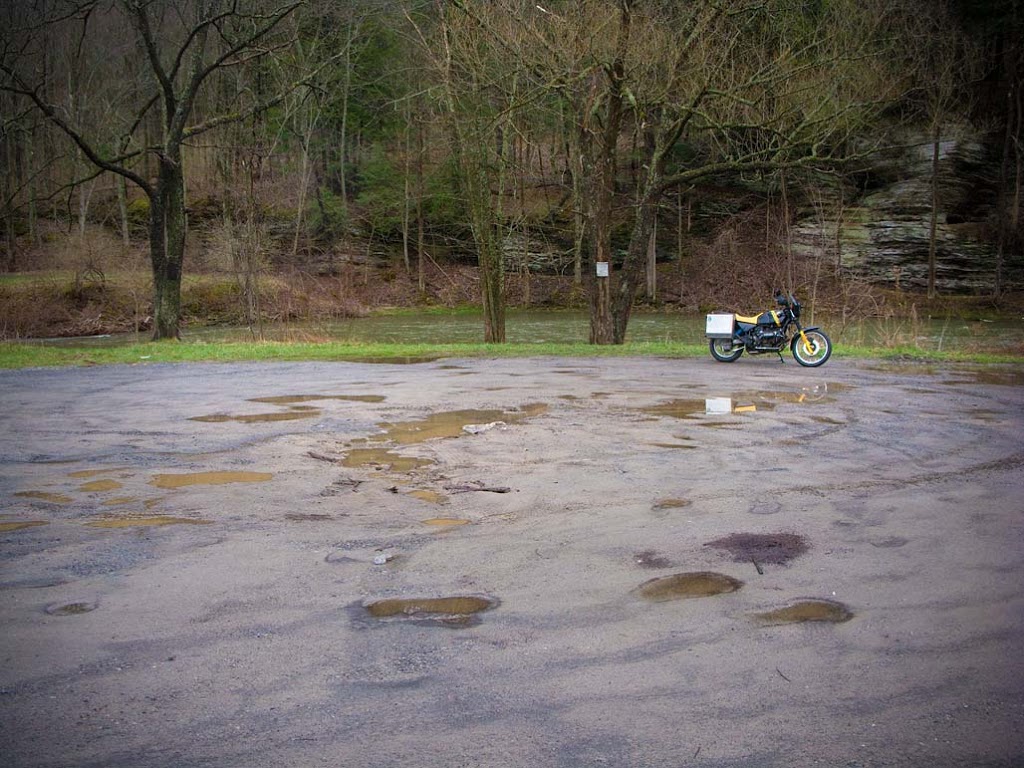 In dirt, mud and gravel the R100 GS was perfectly comfortable.  The bike feels heavy compared to the Vespa and takes a bit more maneuvering to get around.  It was about this point in the ride that I began to sense something wasn't quite right.  Not with the bike.  There was something amiss in regard to my riding needs.
1.  I ride to explore, look around, and take pictures.  This occurs at generally slow speeds, without destinations or geographical goals, and entails endless stopping and starting.  From this point of reference the BMW seemed like far more motorcycle than I needed.  And it is not nearly as functional in making quick stops, parking on the road in a manner than won't cause problems.
2.  The BMW would not be my first choice to ride to work.  Man, I tried hard to rationalize around this one — imagining all the times I would ride it to work.  I couldn't.  Bottom line — the Vespa is just too damn functional for my 8 mile commute.
3.  Last disappointing realization — it would probably sit in the garage most of the time.  This motorcycle is designed to travel.  To ride.  And ride far.  Why else does it have a gigantic gas tank and all that luggage.  Who was I kidding? My long rides are in the 200 – 300 mile range.  That's scooter territory.  It would almost be embarrassing to this noble steed to limit it to such short jaunts.
There is always something positive that comes out of this events and this one was no exception.  I learned something important — I am not a scooter rider by accident.  I ride a Vespa because it is the right machine for me.  And if there is any purchases to be make it would more likely be to trade the GTS on another Vespa when the time comes.
*NOTE FROM KIM*  Steve wants to believe this photo expresses my feelings about his machine which he described as "powerful and filled with machismo" but I am sorry to inform him:  the dark feeling is related more to the experience of all of the cars and trucks bearing down on my ass while I was trying to make pictures of the weeping willows.
The last time I had seen Steve he was on his way to pick up a bumblebee.  How peculiar?  I figured the buzz didn't last very long.  That silver Vespa was already back on the side of the road and he was smiling in a way that seemed like relief inside his big shiny spacesuit.