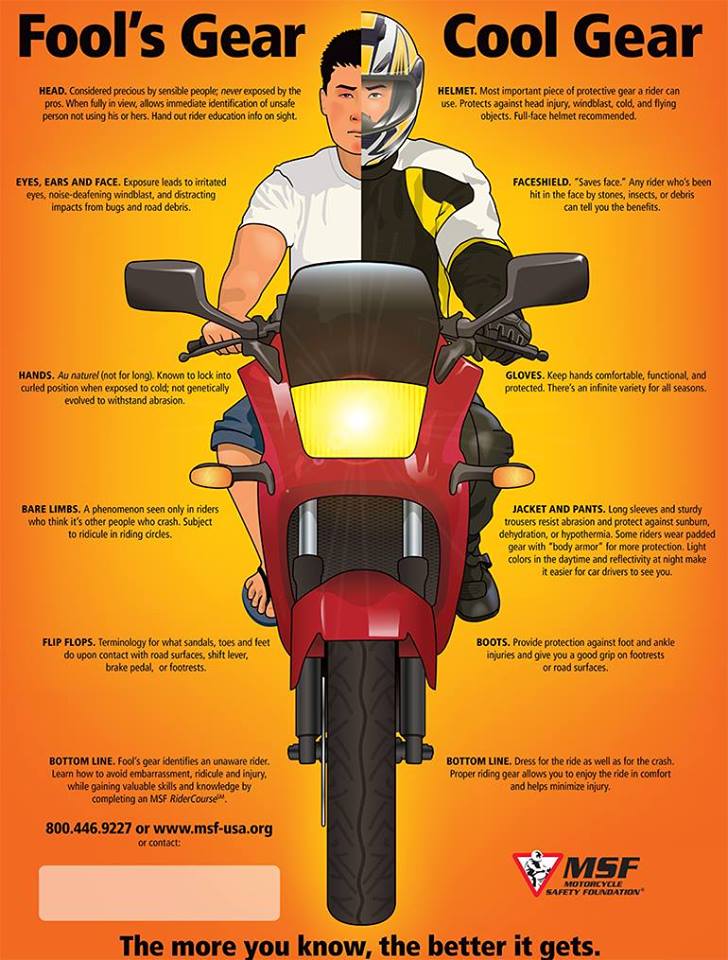 While I don't believe it's inevitable that every motorcycle or scooter rider will have a crash, I also don't believe any rider can say they'll never go down either.  I'm not sure what others believe in this regard.  What I do know for sure though is there is a range of belief and action in regard to utilizing protective riding gear.
Do you find yourself pretending you'll never crash?
I saw this infographic yesterday via FirstGear's Facebook feed and it reminded me again of the risk involved in riding on two wheels and the things that can be done to mitigate some of that risk.
You can download a high resolution PDF file of the MSF poster if you want to make a big print.
In the spirit of open disclosure I have to admit that I don't always adhere to the goals outlined in the poster.  I'll ride with jeans sometimes in warm weather and neglect pulling on the abrasion resistant armored pants hanging next to my riding jacket.  I lie to myself that they offer protection but the truth is they don't offer squat — I'm just lazy.  A slide down the road will shred them in a hurry to get to my tender flesh.
And that would be a sad event.  It makes me think of Brittany Morrow — founder of the Rock the Gear website and all the gear all the time (ATGATT) evangelist.
Have a look at her video and then ask yourself what you're doing:

How to Avoid Skinning Yourself Alive – Brittany Morrow from Brittany Morrow on Vimeo.
Rock the Gear Inc. is a national, not-for-profit organization that focuses on safety apparel education and provides a community of support for those who want to learn more and/or become involved. Brittany Morrow is the President and Founder of Rock the Gear. This is her story.
Visit www.RocktheGear.org to learn more.
This video is intended for informational purposes only. Visit the Motorcycle Safety Foundation's website to get trained and licensed and learn more about what it means to be a good, responsible rider. www.MSF-USA.org
Music: "Who Says" by Selena Gomez & The Scene. Music copyrights belong solely to the original artists and producers.
Works Cited:
Haynsworth, Leslie. "My Volvo, My Self. The (Largely Unintentional) Existential Implications of Bumper Stickers." Fourth Genre, 2008.
Hurt Report. Traffic Safety Center, University of Southern California, 1981.