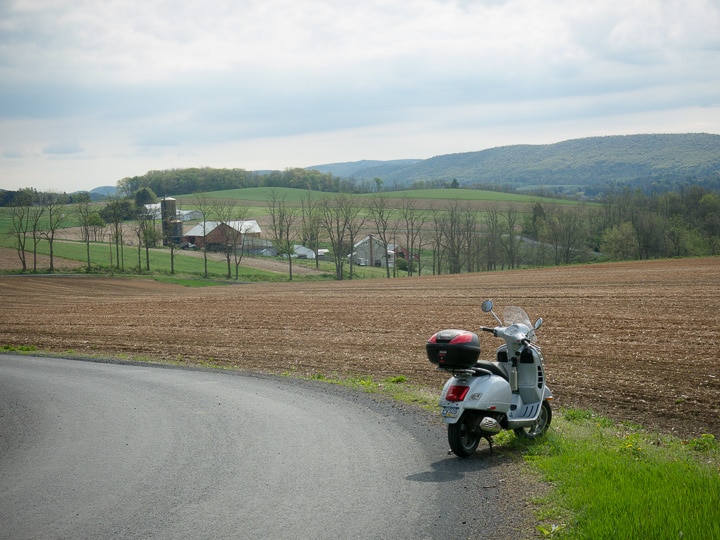 The Devil Made Me Do It
I believe in free will. I imagine living by a system of beliefs and being free to make choices that propel me along a path of my own making. There can be no doubt that I make choices. But more and more, I question the freedom in making them.
Yesterday morning the weather app on my phone suggested rain, perhaps heavy, late in the morning. After considering the evidence I made the choice to mount the Vespa scooter and head east across Penns Valley.
Just to ride, look and be alone. My choice.
The desire to ride is strong. Some might suggest an obsession. Creative colleagues describe passion and drive. I wonder if the mental and physical longing to be on the road is really an imperious engine that robs me of choice?
"The devil made me do it."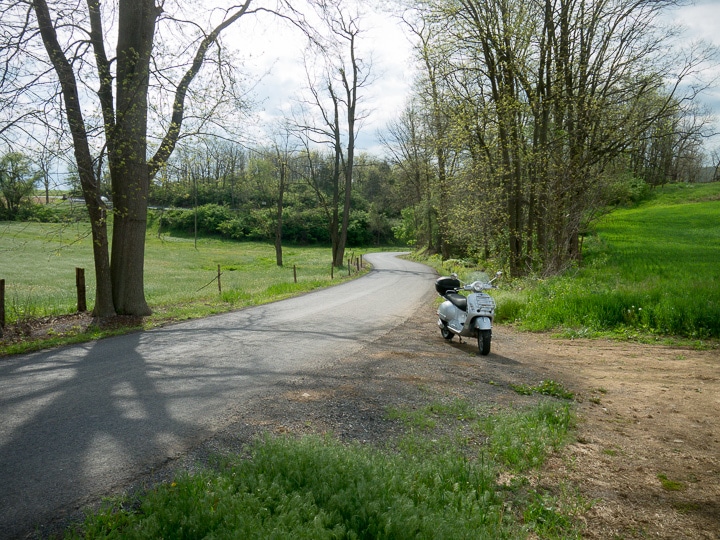 Traveling East
Spring is in full flush. Beyond the visual evidence of plants coming alive everywhere there are the heady fragrances of spring — honeysuckle and dogwood, lilacs, and the smell of fresh cut grass is everywhere as I meander along roads almost familiar after haunting them for over 40 years.
There is no better mechanicial partner for me than the Vespa.
Inevitably my mind wanders from the road toward slow, swaying waves of thought triggered my things I see and feel. There is no choice — they just arrive.
Not far from home I passed a housing development where I once made photographs of buckwheat fields and combines gathering a harvest. Now it's a collection of "estates" with garage complexes easily twice the size of my house. And lawns of three, five and ten acres — lush, green, weedless, mown and tended with precision. Natural deserts not fit for insect or animal.
Are these places the result of freely made choices? In the land of individual freedom and self determination the answer is "yes"! But I wonder.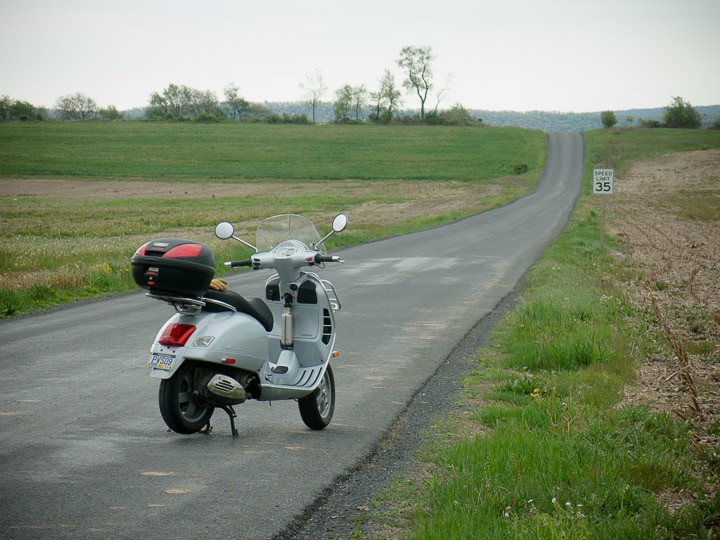 The Road Goes on Forever
Over and over I'm brought face-to-face with visual metaphors for the unknown ahead. What is over that rise? Where will I be this afternoon? Or next year? The Vespa is my faithful pony, traveling with me into a future full of dreams and nightmares, hopes and fears, thrills and boredom, all part of a mix that makes life drip with possibility.
And choices.
But what about those sweeping lawns and homes. Are they really a result of freely made choices or have them been poisoned by culture and the human need to conform to unwritten rules and expectations? And who created them?
Choices. And choices colored by industry and marketing burrowing into our subconscious to somehow make us feel less should our lawns attract birds or our homes not reflect our power.
Riding alone — it can be a harsh taskmaster and leave me questioning what I believe. Or commit time to.
I don't blame the scooter though. It's an unblinking, blunt companion always reminding me to stay awake.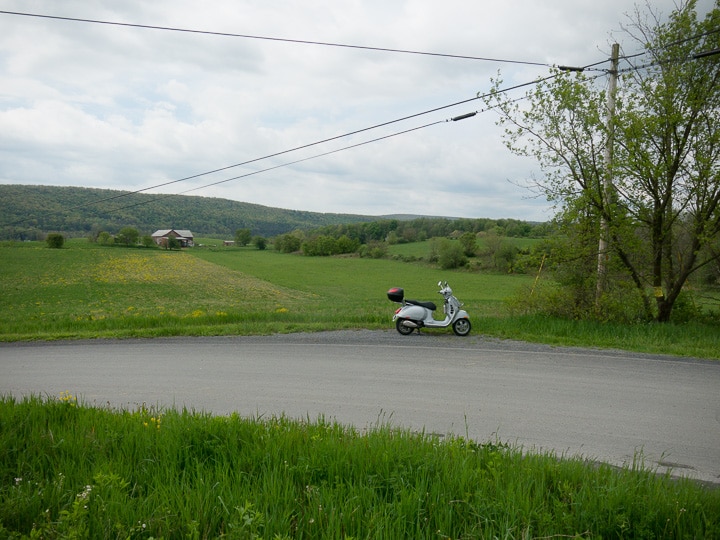 Love Life
There are times when I can stand in a place and feel like crying. The landscape shouts "remember when" and I feel the pain of choices made and not made. Time has swept it all away and for a moment I believe all things are new.
In church I listen to forgiveness and redemption. On some days I have faith. But on many others I long to be like other riders I talk with who seem to live without question or care, racing along consuming experience with smiles and a hedonistic pleasure I cant' quite imagine. It's not a choice I am free to make.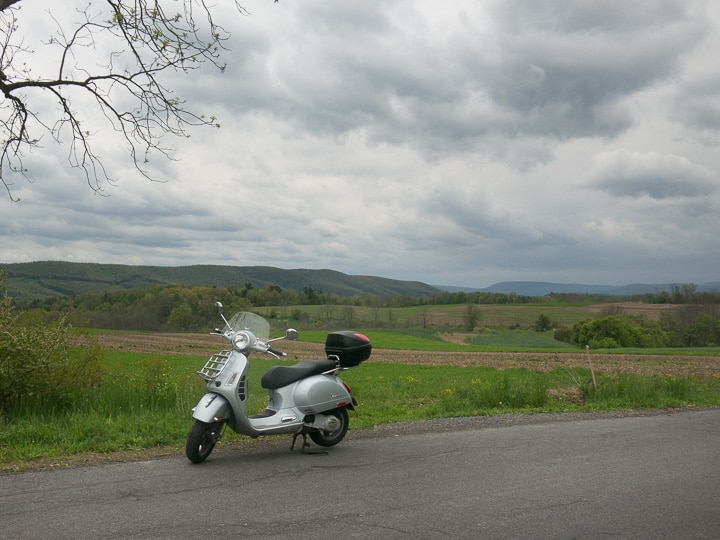 Investing in the Spirit
The scooter is running remarkably well since it's recent encounter with the Vespa technician. In a few days I'll celebrate a year of life since my heart attack. But both of us could die tomorrow for myriad reasons.
I feel blessed, no, I feel lucky that I've ended up where I am in this place. It's not a result of careful planning or choice — just dumb luck like the blind squirrel finding an acorn.
Riding along Penns Creek I saw a small herd of deer splashing across the water — a scene I've often hoped to photograph. But a short wait revealed no more actors for my play and I moved on.
Riding creates a tapestry of experience. But more important it opens the door for questioning them — an investment in the spirit of life.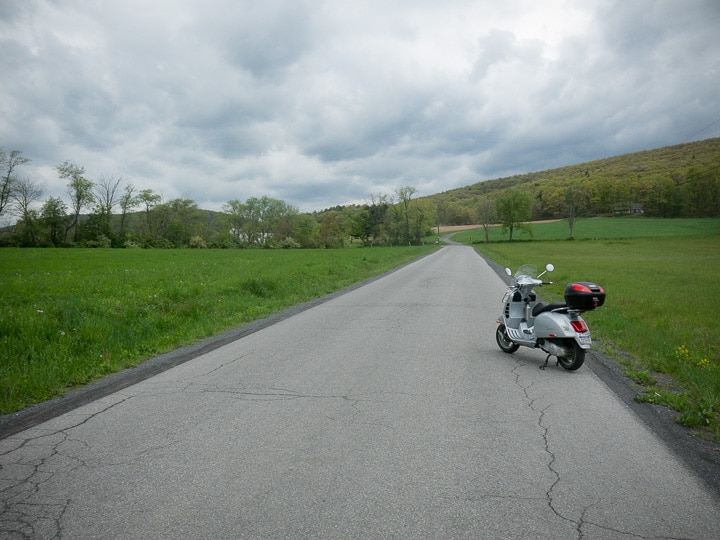 Small Scooter in a Big World
In a place where four wheel drive pick-up trucks, sport utility vehicles and powerful luxury sedans seem to be ubiquitous my choice of riding a Vespa scooter seems strangely out of place. Like the horse drawn Amish buggies common in the area. Aside from opportunity measured in available time, there is nothing that would limit me from riding across the continent on the scooter. And of course, the subconscious drivers that push riders toward big. Like those trucks and SUVs.
My choice to ride the Vespa is made with my own boatload of subconscious laws and rules.
I wasn't exactly sure where I was when I made this picture looking south toward Ravens Knob. Wasn't lost, just couldn't pinpoint myself on a mental map. I make a choice to travel without a GPS device or even a map. What little adventure is left in the East is largely destroyed by the digital caretaking of a Garman or similar device.
For me, it feels good to seem lost and confused. A choice.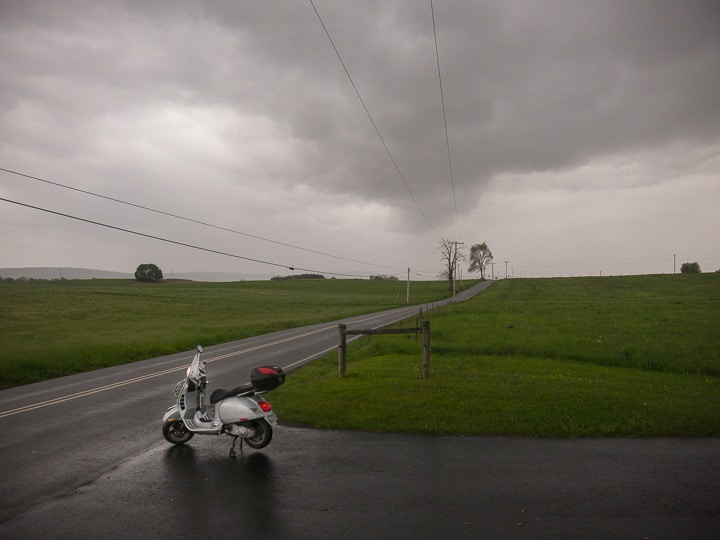 Into Every Life…
Rain. I knew it was coming yet I made a choice to ride telling myself that I would be home before it arrived.
Arrived in Millheim for breakfast at the Inglebean Coffee House and found the place delightfully empty. A continuation of the solitude of the road. As breakfast arrived so did friends, effectively dashing time with my journal.
I made a choice to have a conversation.  It is after all, the polite thing to do.  But I left wondering still about the nature of choice.  Mostly I was wishing I could put it all out of my head.
And then the rain came presenting opportunities for making choices — waiting out the passing rain showers, or donning my Rev'IT rain suit that I've been carrying around for two years without using.
I kept riding and put on the suit.
Maybe the important thing about choice is to make them to keep moving forward.