Kissell Motorsports
Arriving at your local motorcycle and scooter dealership, in my case Kissell Motorsports, I can be in one of two distinctly different frames of mind – the bliss of fantasy or the anxiety of the technician's verdict. The yin and yan of the two-wheeled life for those of us who are not committed wrench turners.
So begins the story…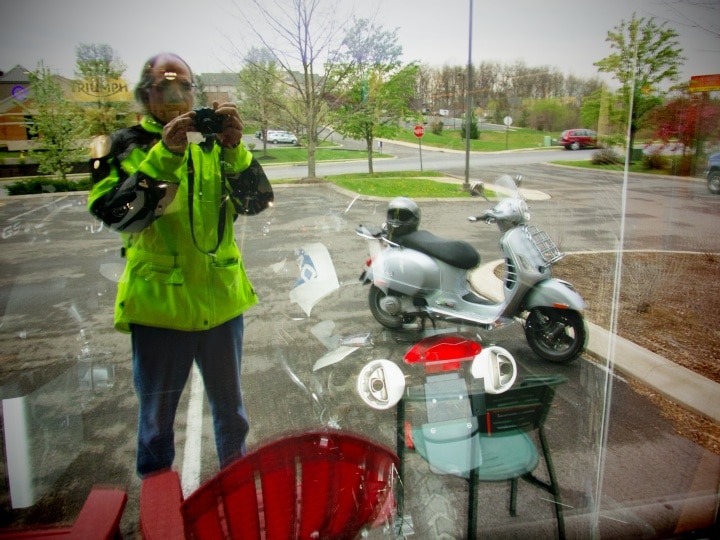 Confessions of Vespa Abuse
Reflecting on my poor scooter – nameless, subjected to indecent conditions, ridden hard and put away wet – is it any wonder it doesn't feel well? I don't care for machines very well. My friend Paul commented over the weekend that my van is the dirtiest vehicle he's ever been in. (He must lead a sheltered life – my van seems spotless compared to many vehicles I ridden in.)
Regardless, I confess to abusing the Vespa through neglect and indifference using it only for my own selfish, personal pleasure. In return I offer the minimum of care – fuel, lubricants, and the occasional bath. The Vespa has held up remarkably well considering nearly ten years of hard use.
Still, I approached the service department with a sense of dread.
The Verdict
With the help of the kind community of Vesparados on ModernVespa.com I had tracked down why my engine warning light was coming on under power. A quick voltage test at the battery revealed a failed voltage regulator. Echoing deep in my subconscious was a nasty voice telling me, "there's more son, you need to spend your money on something…".
As I thought about the cost of repairing my aging scooter I began to wonder if it would be better to buy a new one.
Madness. I know.

"Imagination is the only weapon in the war against reality."
As the Cheshire Cat said in Alice in Wonderland, I found imagining life with the Triumph Street Twin helped await the verdict on my scooter.  The funny thing about imagination — it's fickle.  Before long I was riding a Triumph Scrambler, then a Ducati Scrambler.  I even imagined a few miles on a URAL.  It was about then I heard the call from the service desk.
One thing is for certain.  When I think something needs fixed I'm usually right.  And it's usually far more than I anticipated.
My 2006 Vespa GTS 250ie is sitting quietly at Kissell Motorsports awaiting required Vespa maintenance. I was right about the voltage regulator.
And then some.  But that's a story for another day.