There are days when the universe conspires to make sure you understand how little you know. Today was one of those days.
Once upon a time there was a boy who had a Vespa. The boy loved his Vespa and would go to great lengths to ride it. He would carefully identify opportunities to undertake errands or commute to work on days best left to life behind the wheel of an automobile. Like this morning, one of the coldest mornings in years.
I knew it would be cold today and wasn't surprised to see the Weather.com app on my phone display -8F. The first arrogant thought — I've ridden in colder weather. And that's true though I was younger and healthier at the time, one of many little facts I would choose to overlook.
Walking up the street with the dog was pleasant. Walking back with my face to the wind I was muttering about the cold but realized it wouldn't be so bad on the Vespa at 50mph.
The scooter started right up but my riding gear was frozen having spent the night in the unheated garage. But I was only going 8 miles, I can stand a little cold.
Don't let anyone tell you that riding in the cold is simply a matter of the right clothes and the right state of mind. That's only part of it which I somehow forgot though was reminded of not far from home and throughout the day.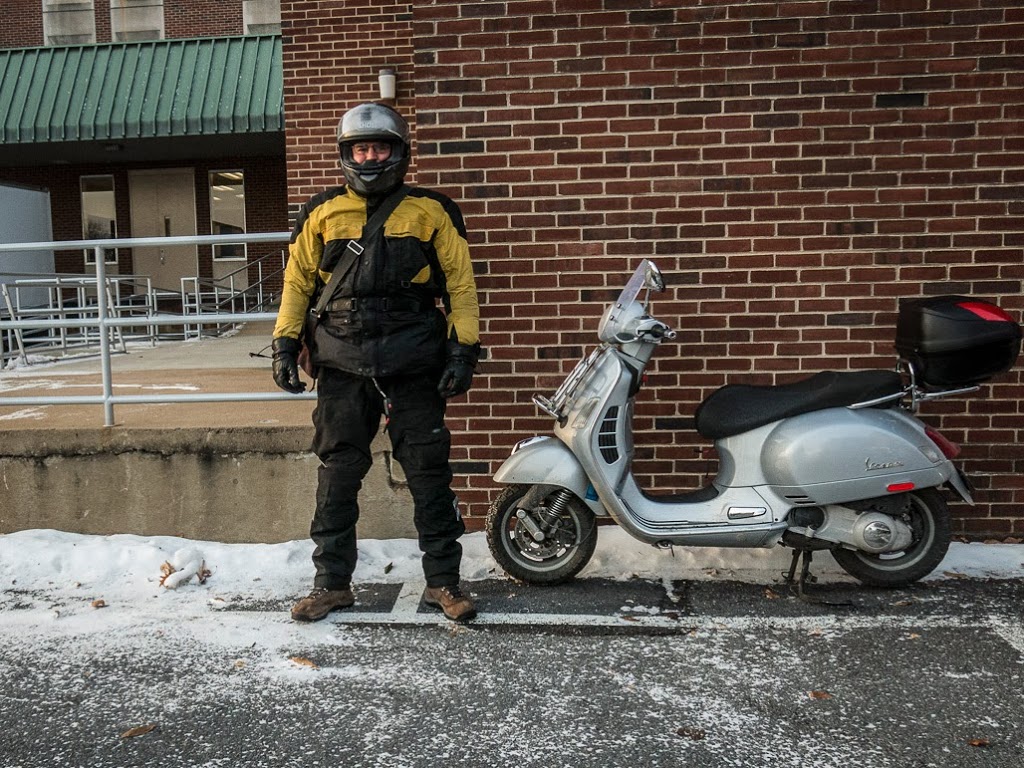 My friend Pete Kauffman, the Art Editor where I work and also an intrepid Yamaha Vino rider, made this picture when I arrived at the office. He arrived in a Chrysler product.
Pete will appear again later in this story.
So let's do a bit of deconstruction on this picture so I can share a few lessons I learned again on the way to work.
1. Don't forget that a Vespa sitting inside an unheated garage all night connected to a Battery Tender is not the same as a Vespa sitting outdoors for 8 hours not connected to a Battery Tender.
2. The multiple layers necessary to ride at -8F make you look fat.
3. When the temperature drops below zero you really should choose your Olympia one-piece winter riding suit instead of the jacket and pants you wear when it's 60F.
4. A lot of moisture drips out of car mufflers and freezes instantly on the road. With all the cars going to work there is a lot of slippery stuff around.
5. When you walk your dog through the snow at -8F the snow that's collected in the cleats of your riding boots freezes solid producing a sole of ice that you discover at the first stop sign.
6. You can't hold your breath all the way to work, you can't ride far with the visor open, and you can't get the frost off the visor.
7. You shouldn't let your fuel supply get so low that you have to stop for gas when it's -8F outside.
8. You should really pay attention when putting your gear on so all the little openings are sealed.
When I finally got to my desk I was grateful the heat was on and that I didn't learn any of the lessons the hard way. At least not until the end of the day.
Fast forward to the end of the day. Vespa cranks but will not start. Continued cranking drains the battery. I'm not riding home.
I call Pete and ask if he has jumper cables. A few minutes later the starter is cranking but no fire. We both suspect a fuel supply problem. Something has frozen up. Pete takes me home and I leave the scooter.
I return later and move the Vespa into a small workspace and attach it to a Battery Tender and hope the warm temperature will perform some kind of magic. One hour later the Vespa starts and I ride home in the dark.
I learned a few things today, got the subzero riding out of my system, and am now thinking about food.
Does it get any better than that?