Autumn is for the mind and spirit, the senses taking in the changing of the world. At no point during the year do I feel so exhilarated and sad at once. Falling leaves a sharp reminder of the impermanence of life yet the sparkling thrill of feeling alive amidst the sudden sea of color and fragrance makes this time a gift. Standing at the edge of the road I felt oddly parallel to the world around me, my body in sync with the autumn as I paused at the beginning of a ride to visit a rheumatologist at Johns Hopkins in Baltimore.
Still not sure why I chose to make this trip on the Vespa. By car on the freeway I can drone along at 75mph for four hours to make my appointment. The empty stretches of road are a moving meditation for the eye and the soul. Even though this trip would take 7 hours, an accurate estimate based on an assessment of the route and my propensity to stop to look, listen and make a picture. Or two.
My complaint is psoriatic arthritis, an inflammatory disease affecting the joints for which there is no cure. Looking at the field of corn transitioning into something else I couldn't help but see my own transition. One day healthy and the next barely able to walk. That was two years ago and I've been fortunate to find control of the symptoms with the tamest of the chemical interventions. Genes and luck may keep my liver intact for a long time and the ability to lead a more or less normal life for an aging man.
A handful over 200 miles separated home from Johns Hopkins. Paul Ruby and I both now wrestle with the various annoying maladies that grow more common with aging. Watching Paul stretch on his BMW had me asking myself when stretching wouldn't be enough for me. Precisely when would I know that I can't ride anymore? And would my willingness to stop arrive at the same time?
The kinds of questions that are perfect mind puzzles on a long ride through a quiet countryside and if not interrupted can turn gloomy.
No wonder why the National Military Park at Gettysburg seems eerie. Though I have to add that more than once I have wandered through the Devil's Den or along Little Roundtop along and sensed a restless energy among the rocks.
Paul and I paused only for a few moments along the road — all access to the park closed due to the shutdown of the federal government.
And then the first leg of the trip was over and I found myself sitting once again in the Arthritis Center filling out forms, submitting to some biometric tests, and going over the results of a series of blood tests I had done a couple weeks earlier.
Executive summary — I'll live to ride another day though admonished to take better care of diet and exercise lest other insidious metabolic tragedies rear their heads.
I want chocolate so bad right now while I'm typing that I can barely concentrate.
Camping outside Baltimore in Patapsco State Park. I needed to sleep on the ground again for some reason I think is related to convincing myself that I still have a few years of life in me. Or maybe it's just a cheap refusal to spend more money to sleep in a motel and worry about bedbugs.
The front rack on the Vespa was handy to carry a sleeping bag and tent and I was pleased I remembered how to put the think up.
It was a fine campsite.
The morning came quickly. Paul spent a few moments with a book while I took one last look with the camera before we began the ride home.
Breakfast, ice water for the road, and a few minutes of charge time for the iPhone as Paul and I reflected on our collective health or lack thereof. I can hear my father, "It's hell to get old boy.".
I understand the joke.
I've not ridden across the border from Maryland into Pennsylvania in the Appalachian Mountains. It's beautiful and left me wishing I could spend days rather than hours exploring.
That's a fine desire.
Two days and 440 miles of riding on backroads and byways at leisurely velocities. It's the perfect formula for the Vespa and I. I think Paul was comfortable as well and appreciated the chance to embrace slow travel.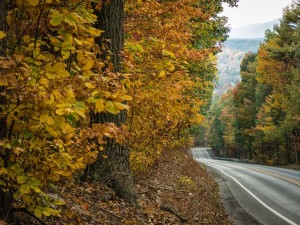 A week has passed and autumn is in full bloom. The desire to ride is strong and the roads are calling.
I wonder how many rides are left…