Note: Please accept my apologies for the decidedly untimely nature of this post. Circumstances beyond my control have me behind in my writing, riding and other creative enterprises. Hopefully this will be a welcome reminder of a summer fast evaporating and the real riding weather to come…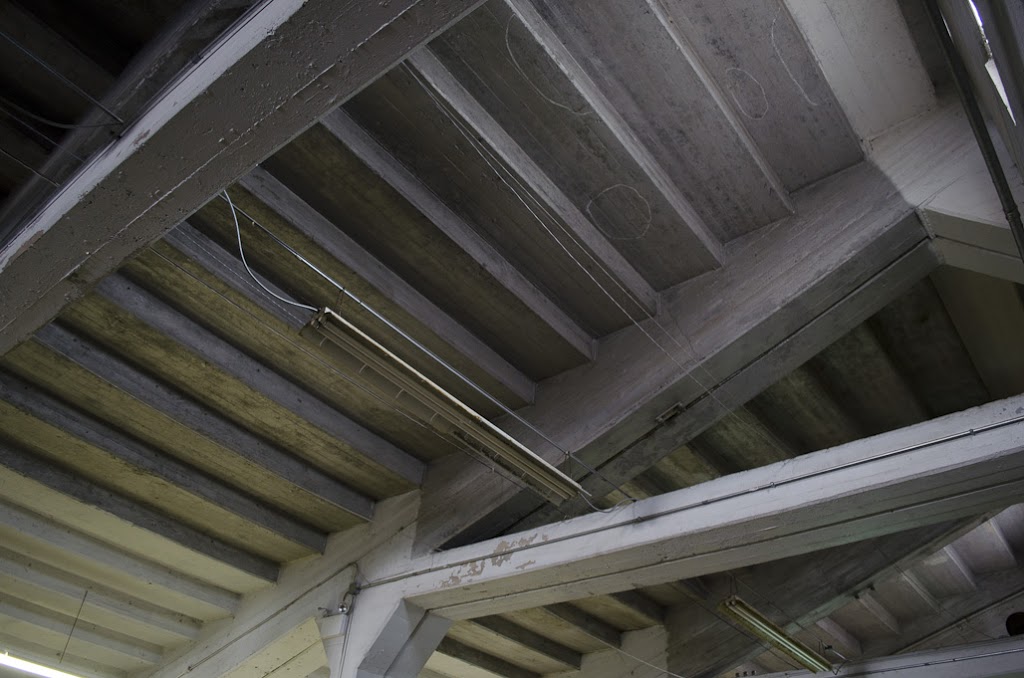 Staring at the concrete underbelly of the grandstand I was wondering if the ride to Bloomsburg to witness Jack Riepe was a good decision. The air was thick and the BMW rider sitting in front of me must have been one of the unfortunate souls who combined an all the gear, all the time philosophy with temperatures soaring near one hundred degrees and life in a little tent pitched on the scorched earth of the Bloomsburg Fair Grounds. With tears in my eyes, unprepared for the fragrance of a serious rider, I got up to explore other photographic vantage points.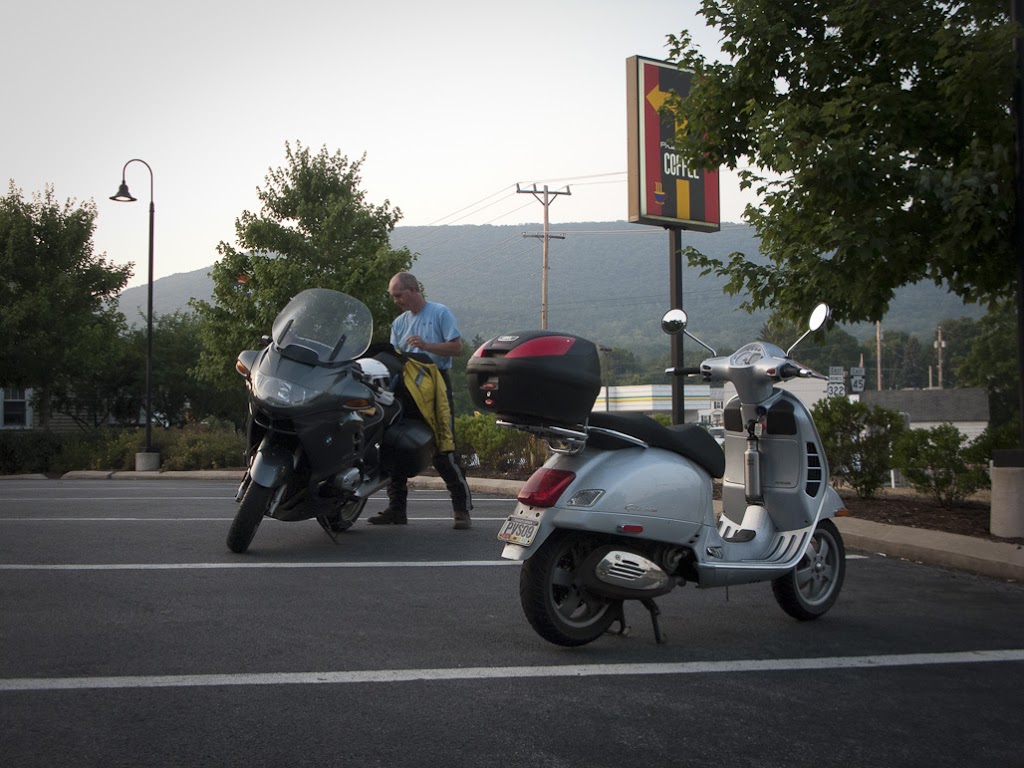 Three hours earlier I met my friend Dan, a committed BMW rider, at the Pump Station in Boalsburg. We would be riding together to the BMW International Rally in Bloomsburg. At 6:30am I was already baking and feeling sheepish that I had abandoned my armored pants in favor of jeans for the ride. Dan has made the blood oath to always ride away fully clad and armored regardless of situation or circumstance.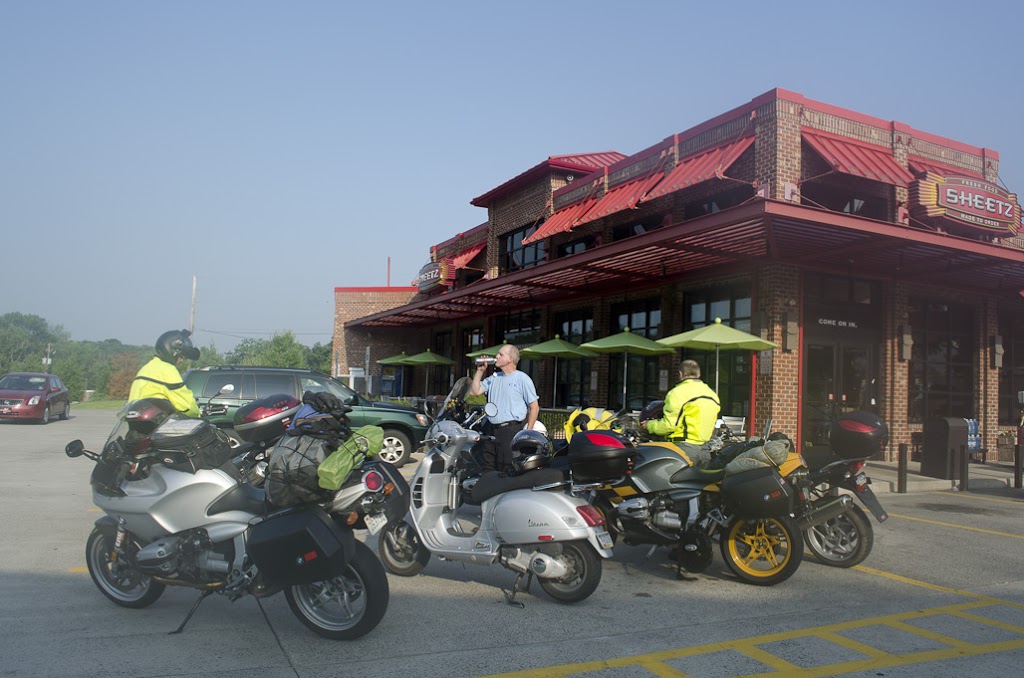 Along the way we pick up two more travelers, Dave and Jeff, friends of Dan and also adherents of the German way of road life. Sixty miles down the road I sensed a tear in the BMW space-time continuum as the Vespa intruded on a host of German motorcycles. The heat was rising when I made this picture. Telltale fogging on the left side resulted when the wide lens which had been stored overnight in the cool, dry, environment at home fogged when exposed to the hot humid air. It wasn't even 9am and the temperature was in the 90s. I had to remind myself of why I was out in weather that I normally avoid. One reason—The Jack Riepe Riepe Show. He better be good.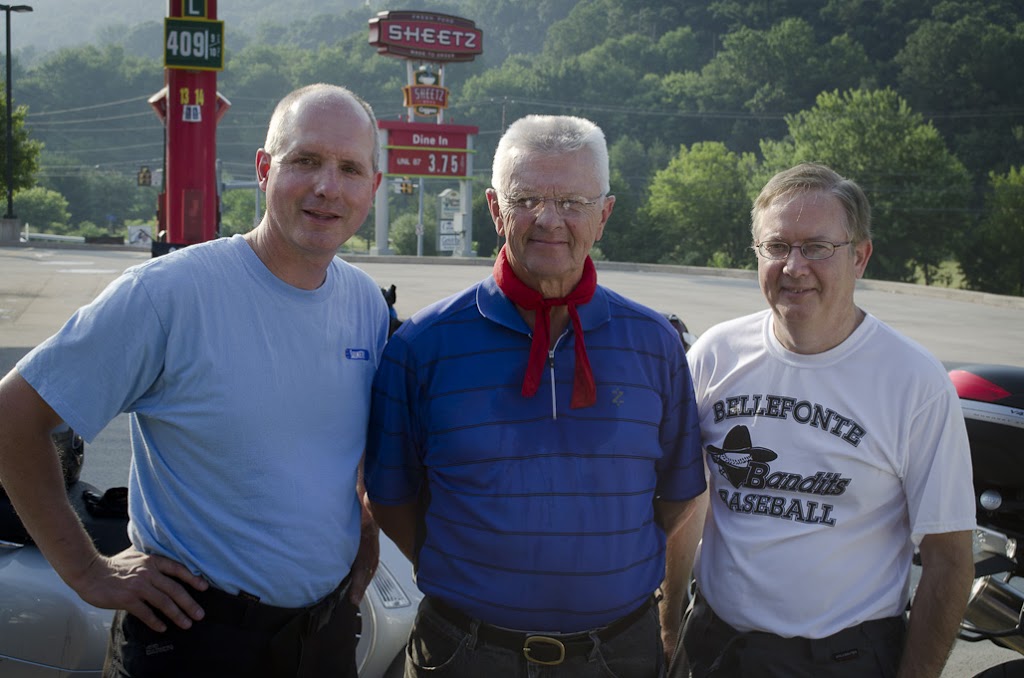 Dan, Dave and Jeff.  Real BMW riders. You could see these three faces along the Autobahn or in a small cafe in the Bavarian Alps.  Except for the Bellefonte baseball shirt.
Jack Riepe is the author of the Twisted Roads blog and monthly contributor to The BMW Owners News (Dan "forced" me to subscribe) with his column Jack the Riepe. Riepe was at the rally to expand the creative skill and consciousness of would be writers, bloggers and motorcycle adventurers from across the continent. To pass up the chance would be like passing up the chance to have a guitar lesson with Eric Clapton, photography advice from Ansel Adams, or a talk on writing from Hunter S. Thompson.
This was my first motorcycle rally. And maybe my last. While I could see the attraction for riders at this well organized event I generally move in the opposite direction of gatherings of more than five people. I found myself mumbling about the decision that had me standing in the heat.
Thankfully there was no line at the registration area as we moved through quickly and we were through and on our way towards the grandstand. Parking was available just a dozen yards from the door and I began to get nervous at the prospect of meeting the man himself.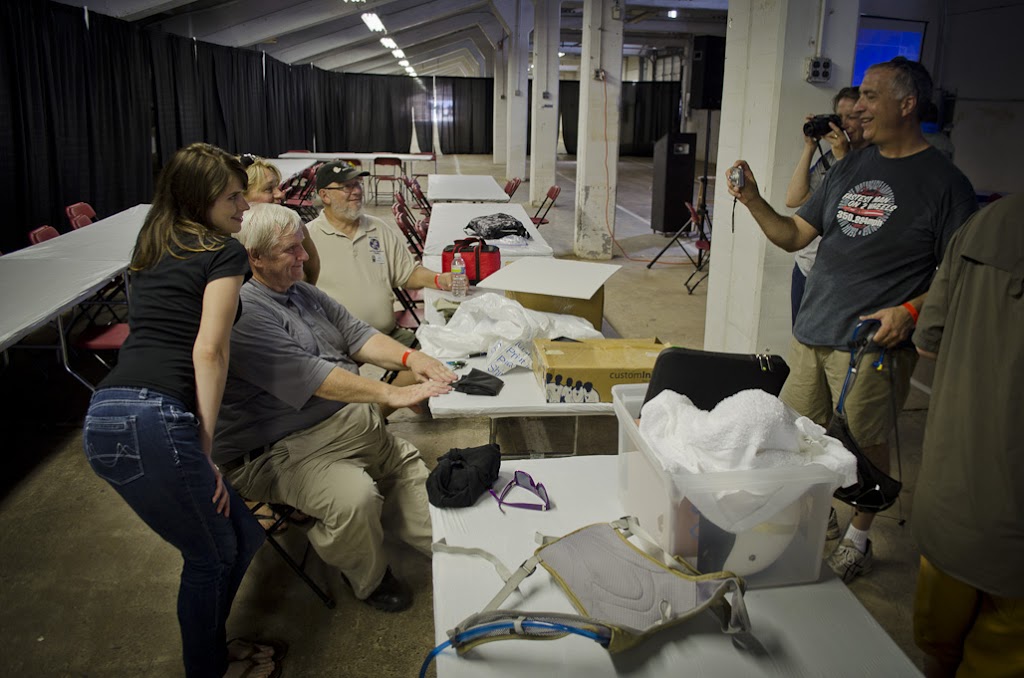 Stumbling in about 15 minutes early I could see Riepe posing for pictures with who I later learned were some of his ex-wives. I thought they would be banned from attending but there must have been some sort of last minute reconciliation. Except for the Russian one who still must bear a grudge. As I walked towards this scene he must have recognized me and indicated his excitement at my arrival by elevating his middle finger to signify that I was number one in his book. He exudes kindness. Had I been a bit faster on the draw I could have recorded the moment with my camera.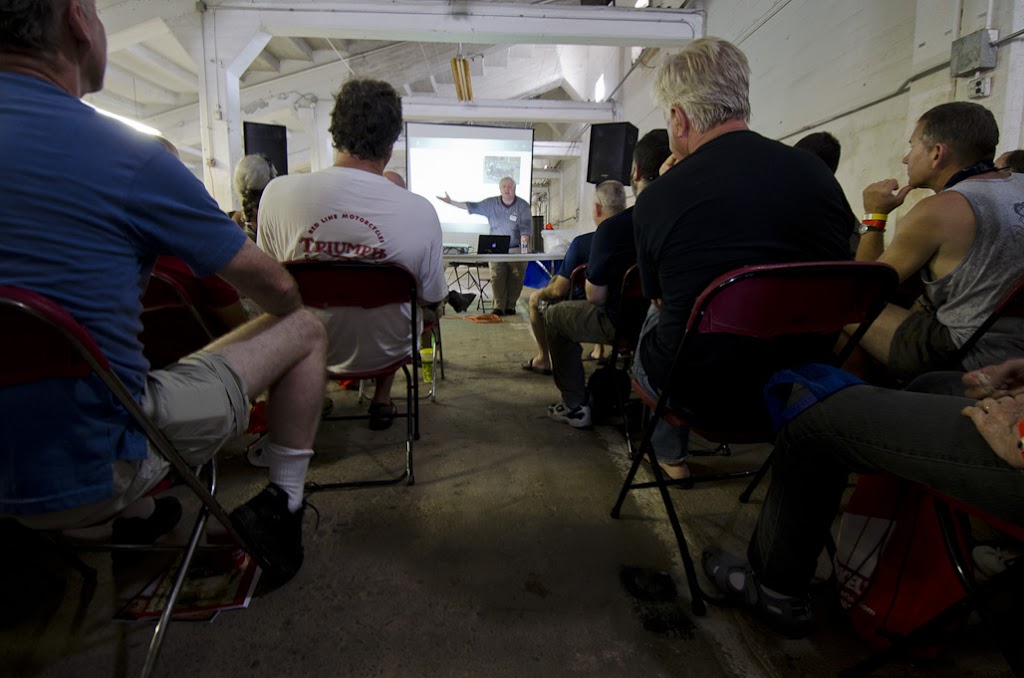 I didn't count heads but attendance had to be in the hundreds. Things were getting close and the roadies where frantically trying to get the computer to talk with the projector so we could view the performance that was about to occur. To make matters worse the sound system was not working either. Riepe waited patiently, his eyes sweeping from his notes, to his watch and across the gathering throng of riders and would be writers and bloggers gathered from across the globe. As the minutes ticked by the screen lit up with his presentation leaving the roadies to wrestle with the lack of audio. I saw Riepe's jaw clench once, twice and then him rise in front of the audience and roar through the hall, "Can you hear me in the back!?"
In the heat, above the din of voices, the roar of fans exchanging stale air for hot, I suddenly realized he was going to address the crowd like a traveling evangelist in a tent on a hot Alabama night using only the power of his voice and the strength of his will.
The teutonic riding gods must have smiled at the scene because the microphone suddenly came to life, Riepe settled into a more comfortable posture, and the mass hypnotism began.
Falling into photographer mode I moved around the crowd to find intriguing vantage points and to try and keep myself insulated from the magnetic pull of the speaker. The gathered mass of faces followed his movements like a cobra charmed on the streets of Calcutta.
"Don't give ride directions in a story!" boomed Riepe. Several times during the presentation I became nervous when I thought something I'd written would be used as an example. Stressing how boring a long list of routes and turns can be I was reminded of how often I see it done in magazines and on blogs. I've done it a few times myself.
No more.
Magazine editors are notoriously hard cases, skeptical of everything and assume everyone is trying to violate one of their fervently held laws (things they read in the Chicago Manual of Style. The AP Manual if they are heavy drinkers). Mary Baker, editor of the BMW MOA Owner News was right up front, smiling, laughing and acting in a manner that could have her editor card revoked in the wrong setting. I guess she was glad to hear Riepe charge would be writers with writing interesting first sentences and to have a little respect for readers. Weave an interesting story.
If you would like to learn more you can download Riepe's BMW Rally Handout.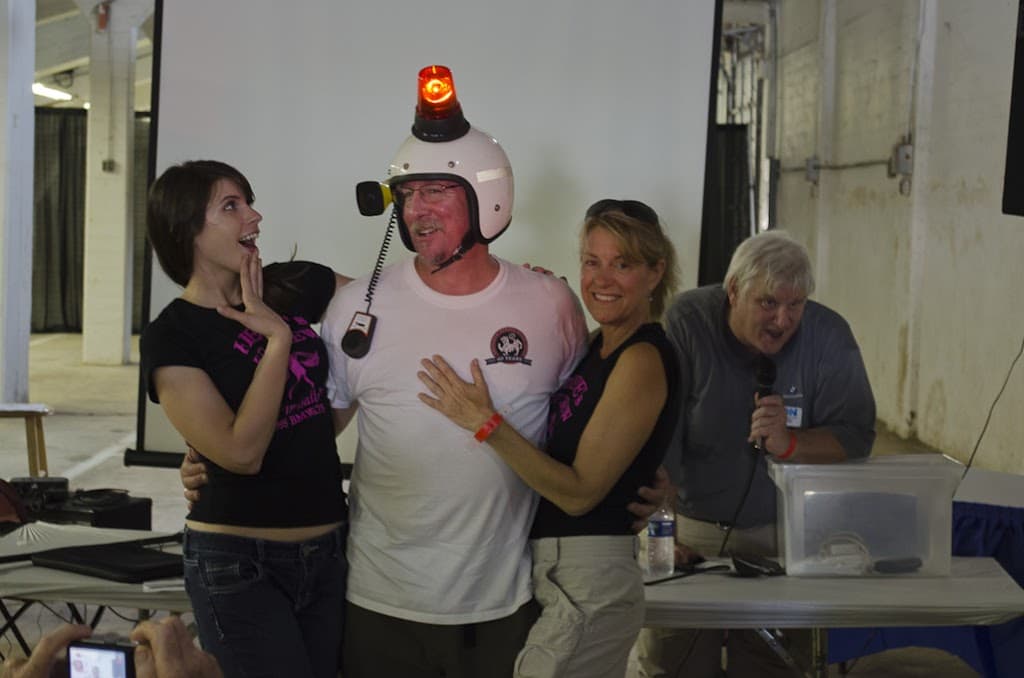 After the presentation jack had one more trick up his sleeve. I don't like to apply the term "hair-brained" but this situation came close as Riepe introduced the "Twisted Roads Enforcer" helmet.
As all good things come to an end so did the presentation. It took a long time for the crowd to filter out with everyone seeming to want a piece of Riepe. After the crowd filtered out, something that took a long time because everyone wanted a piece of Riepe, a few other bloggers and myself cornered him for lunch.
Writers have a voice, a persona projected from the page streamed to the minds of readers creating a real or imagined experience. It's hard to know what's real or what's created, true or false. Maybe it doesn't matter. Still, I'm always interested in the man behind the curtain. Especially this one, weaver of tales, silver tongued devil, who bridges the gulf between a mainstream column and a more jagged presentation on his blog.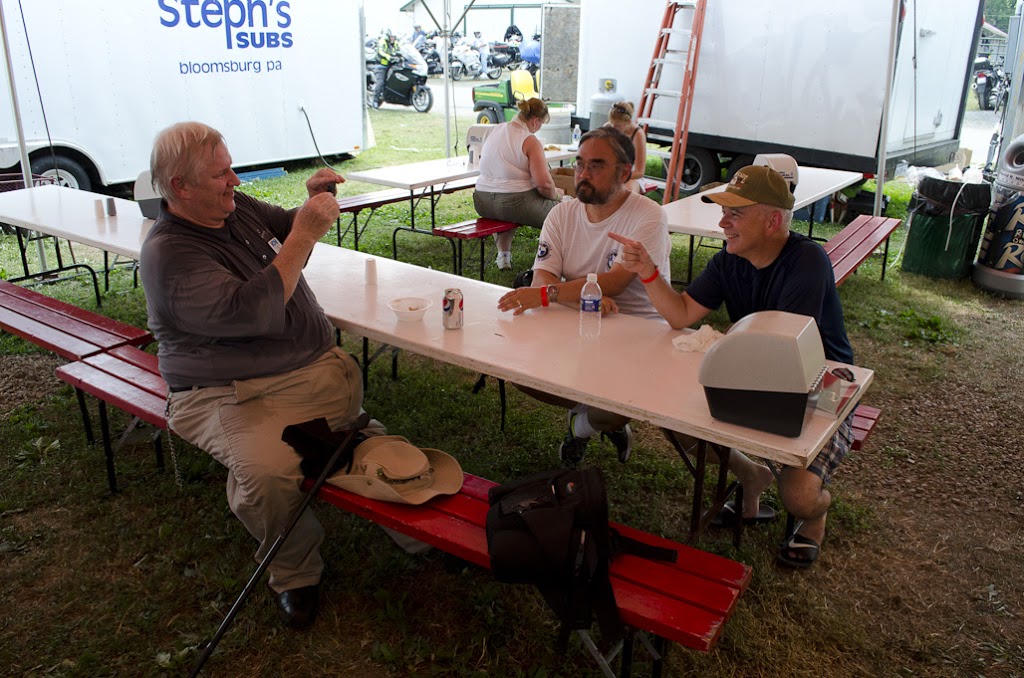 The heat dogged everyone the entire day. Under a tent serving apple dumplings with ice cream, pulled pork sandwiches and bottles of icy water George, Richard, Jack and myself sat down to solve the problems of the motorcycle world and rationalize why we spend our time laboring over a blog. The discussion dissolved recognition of heat and sweat gave way to stories of people, places and rides to come. Our lunch together was worth the price of admission.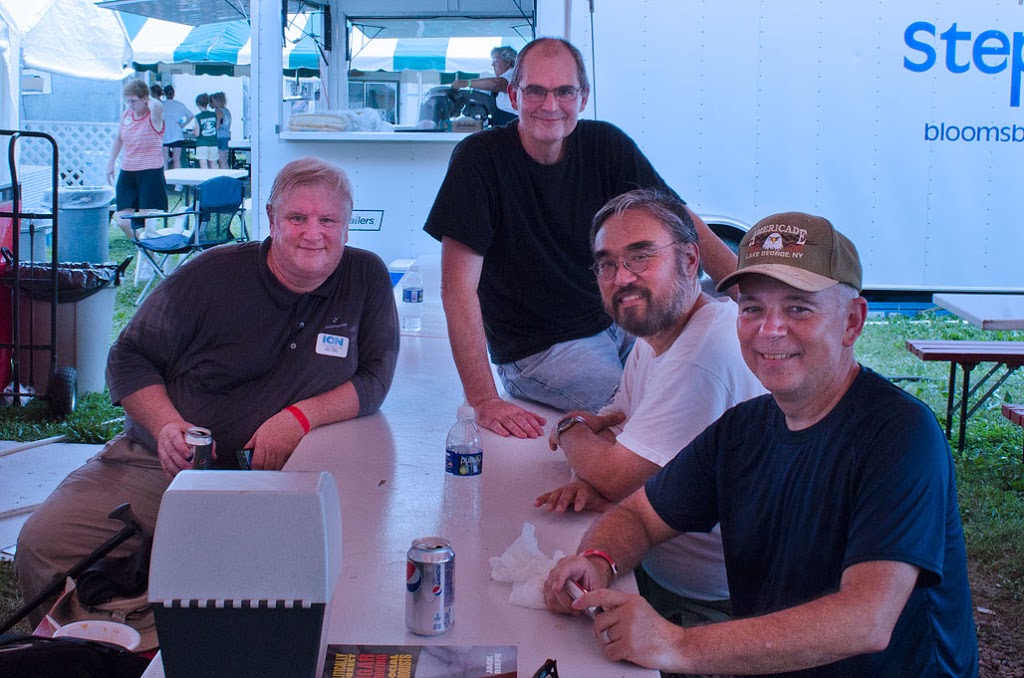 From left: Jack Riepe (Twisted Roads), Steve Williams (Scooter In The Sticks), Richard Machida (Richard's Page), and George Ferreira (Riding the USA).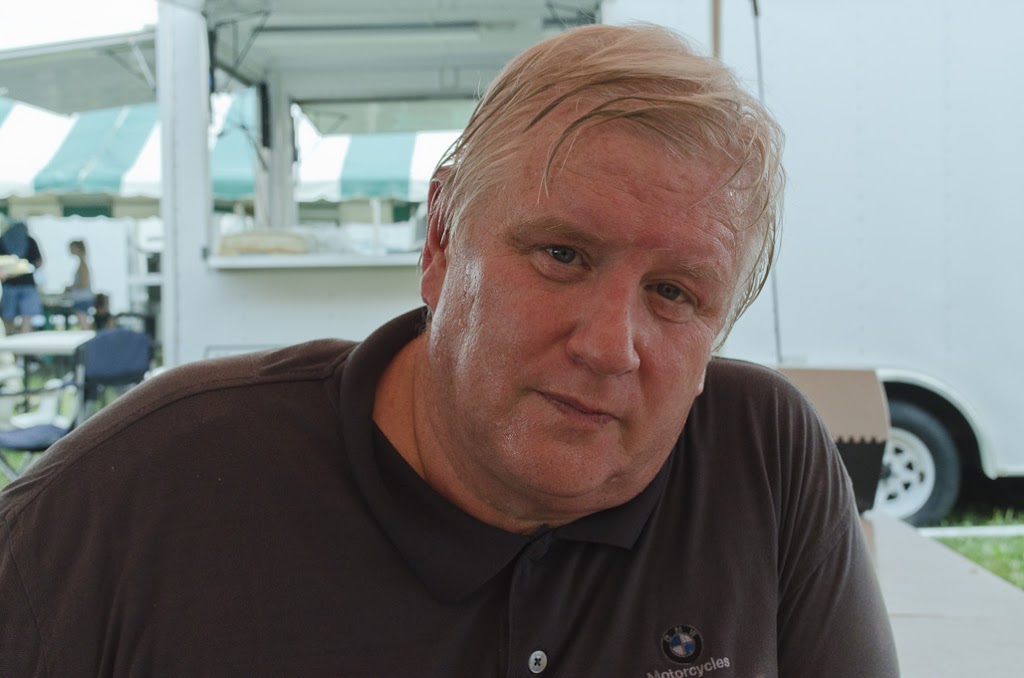 Vanilla Riepe
Regular readers of Twisted Roads will be familiar with the battered baby seal, a legendary look so powerful that it reduced women to putty in his hands. Like a vampire glamoring a helpless human. Amidst the heat and humidity I asked for a demonstration. Riepe looked over at me and switched it on.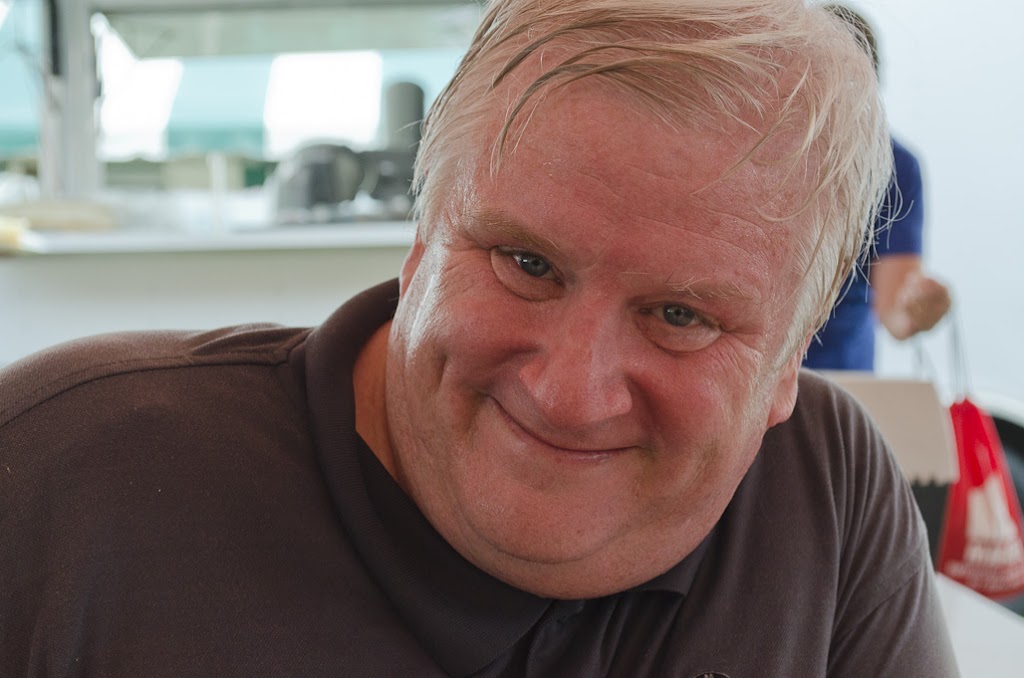 Battered Baby Seal
Two waitresses working nearby cooed involuntarily, caught in the energy flow. They brought him free bottles of water and soda and more had he wished it.
After George and Richard departed Riepe and I continued to talk for a couple more hours. The MAC-PAC, machines, life, family, challenges, health, writing, and postulations on why we do what we do. Despite the temperature near 100F I was happy to be there.
Later in our conversation Riepe expressed concerns that his audience might not have been engaged with his presentation that morning. I've been to a lot of talks over the years and in this instance, the crowd was mesmerized. The message, the delivery and the performance were perfect.
No need to tell him that though.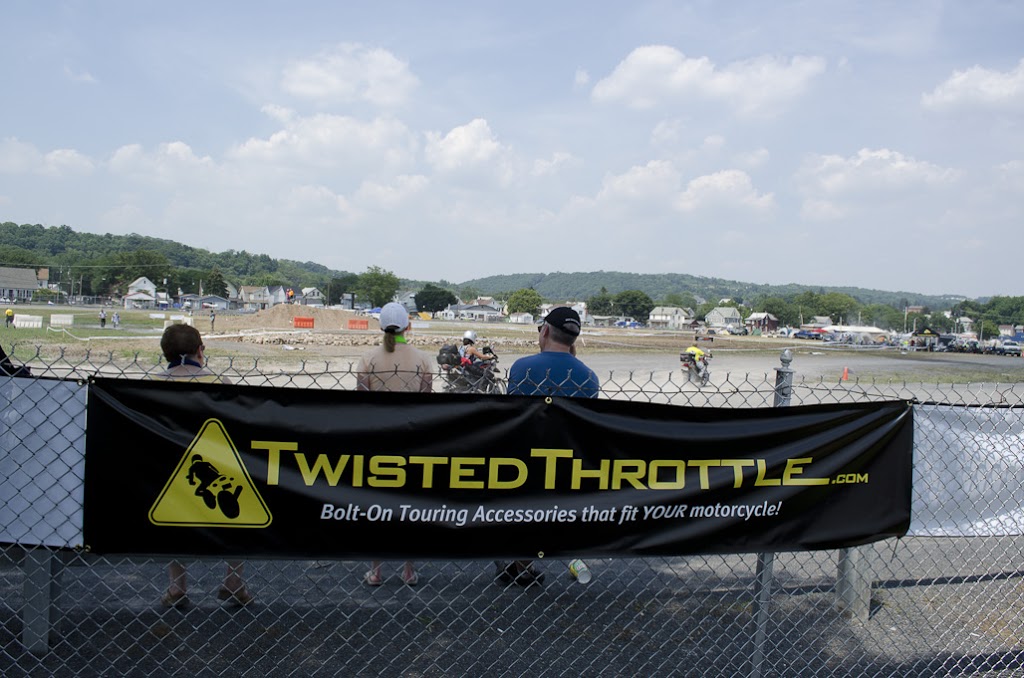 Dan, Dave and Jeff were somewhere on the sprawling fairgrounds. Phone calls and text messages finally brought us together at the GIVI tent just before 4pm.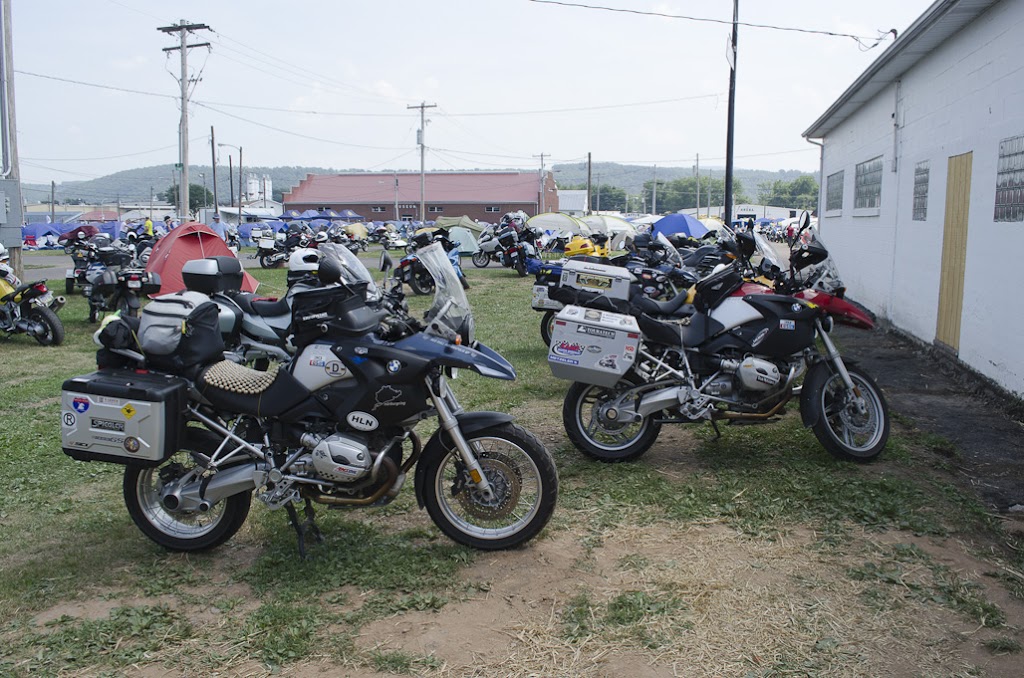 A BMW rally is a massive coming together of like-minded people, connected by style, culture and machines in a manner unimaginable to anyone not impassioned by something. Vendors of every possible real or imagined need wait patiently to sell their wares, plant the seeds of desire, do their part to support the civilization of BMW riders.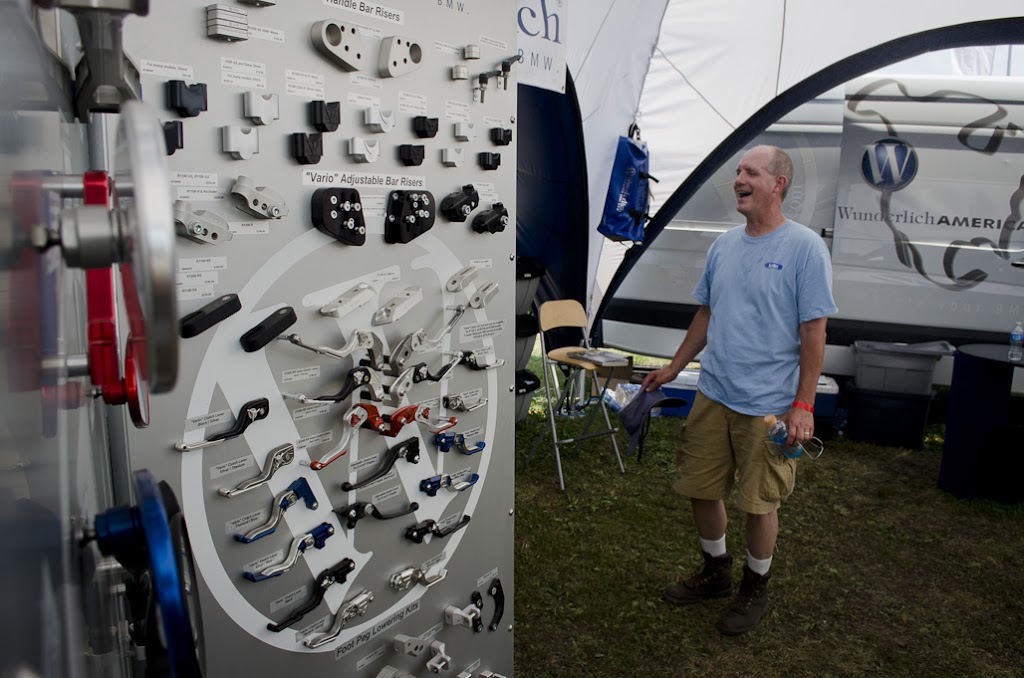 At the Wunderlich tent gazing at the mesmerizing display of finely machined parts and pieces to build a better motorcycle I wonder what I'm doing here. Everyone looked normal. No bikers or tattooed scooter riders. Nothing weird. Despite Dan's best efforts to explain the strategy and meaning of the event I am left feeling like I'm at the mall.
I never go to the mall.
Still wanting to make an appearance at the Kissell Motorsports pig roast and eventually find the living room couch for a long nap I parted company with the guys and struck out to find my Vespa. I felt a little bad not spending time with the guys, especially Dave and Jeff who I had pretty much just met earlier in the day. Perhaps on another ride we can get better acquainted.
Hot isn't the right word for that afternoon. Brutal, oppressive, deadly seems more appropriate. I stopped under a water sprinkler and thoroughly drenched myself and the scooter before departing. Sprinklers were everywhere to help people keep cool and out of the emergency room. The ambient temperature reading on the Vespa measuring the air just a foot from the pavement indicated 109F, the highest I've ever seen. I'd been advised to hydrate carefully, without a windshield the air would be eliminating body moisture quickly.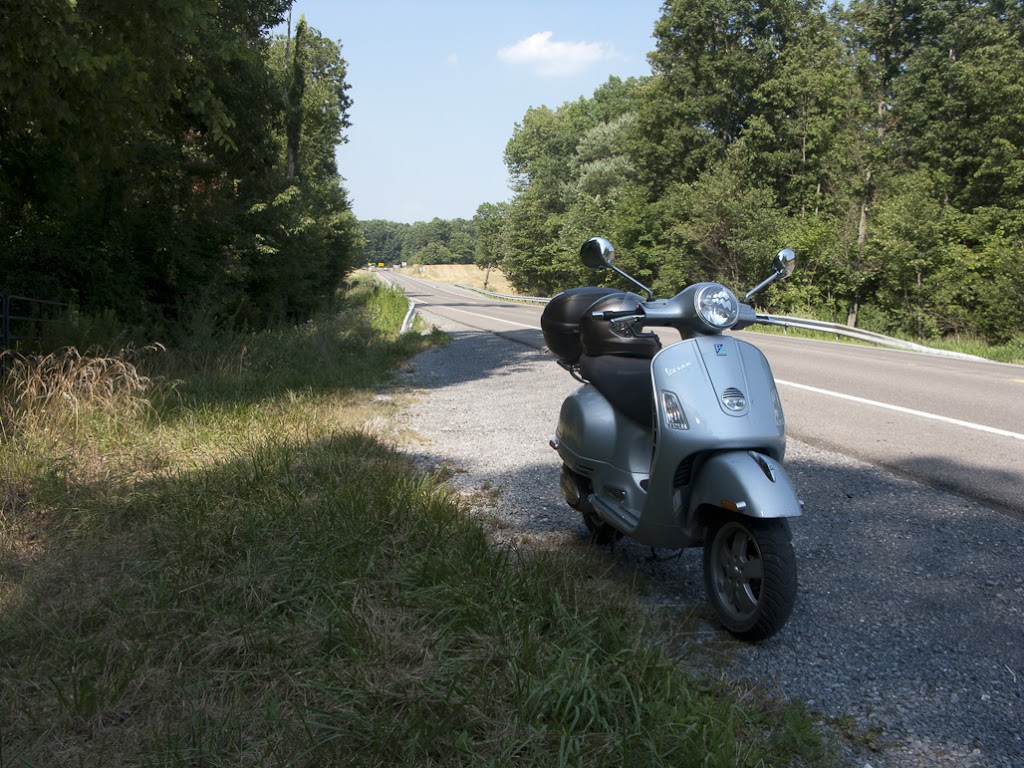 Eight miles down the road I'm bone dry, lips parched, teeth, gums and tongue dry. Heat strikes my face and chest like a convection oven with no airflow relief at 60 mph. During the 80 mile ride home I'll stop four times to drink a 16 ounce bottle of water and pour another over my head.
The heat remained steady with the temperature readout rising to 114F on one stretch of black, newly paved stretch of asphalt. I began to wonder about my blood pressure when I stopped in a patch of shade for a drink. Later in the day, when I arrived at home, my pressure was 116/72. The heat didn't seem to have much effect on pressure.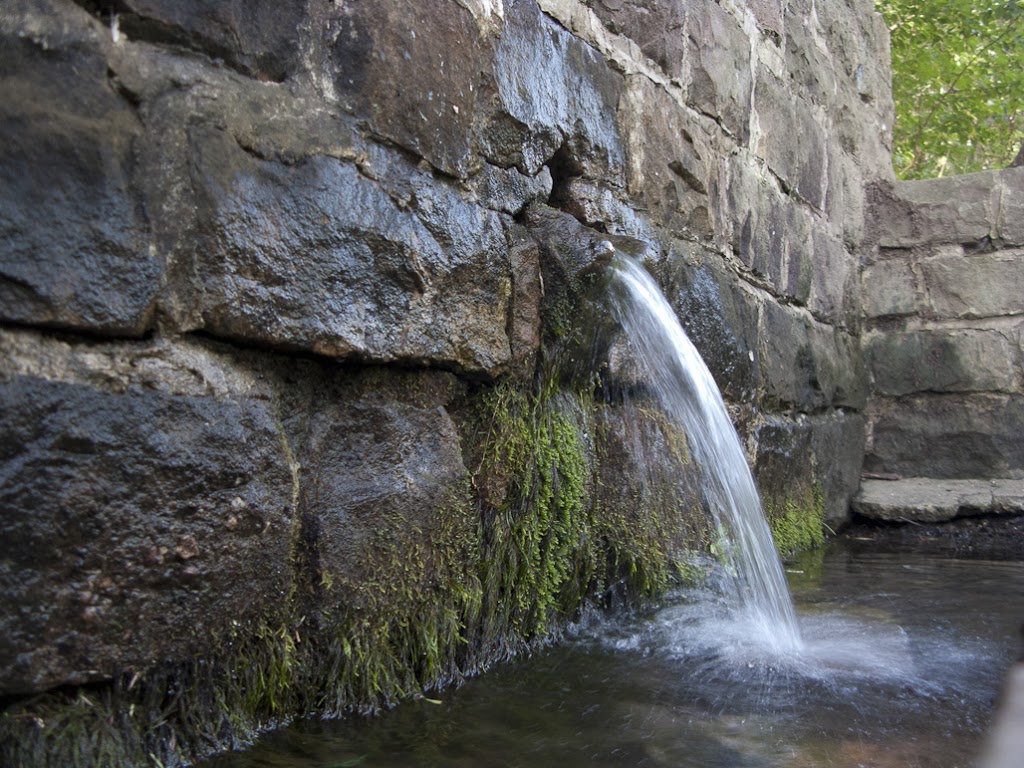 I don't usually drink from roadside springs because they aren't tested and these days who knows what might be in the water.  But the heat allowed me to abandon my reservations and enjoy the icy cold water.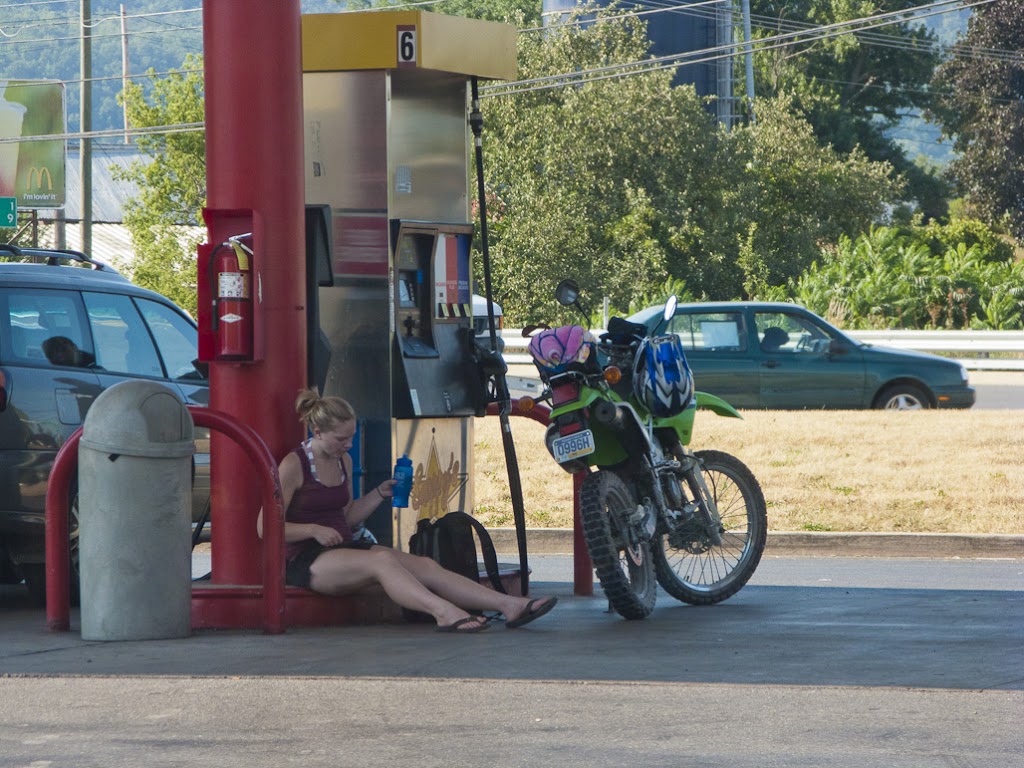 Other than a handful of riders close to the rally I only saw one other motorcycle when I stopped for more water in Centre Hall. I made this picture because I saw a dog driving a VW Jetta. Look closely, click on the image, you can see him in the distance. It was only the next day when I downloaded the images that I realized I captured the woman and bike in the picture. Her boyfriend had gone inside for a few bottles of water which he devotedly poured over her head and back. As hot as it was, you'll never see me riding with so little protection.
Bob and Tom. (Serious riders– Bob on a Goldwing and Tom on a BMW RT1200)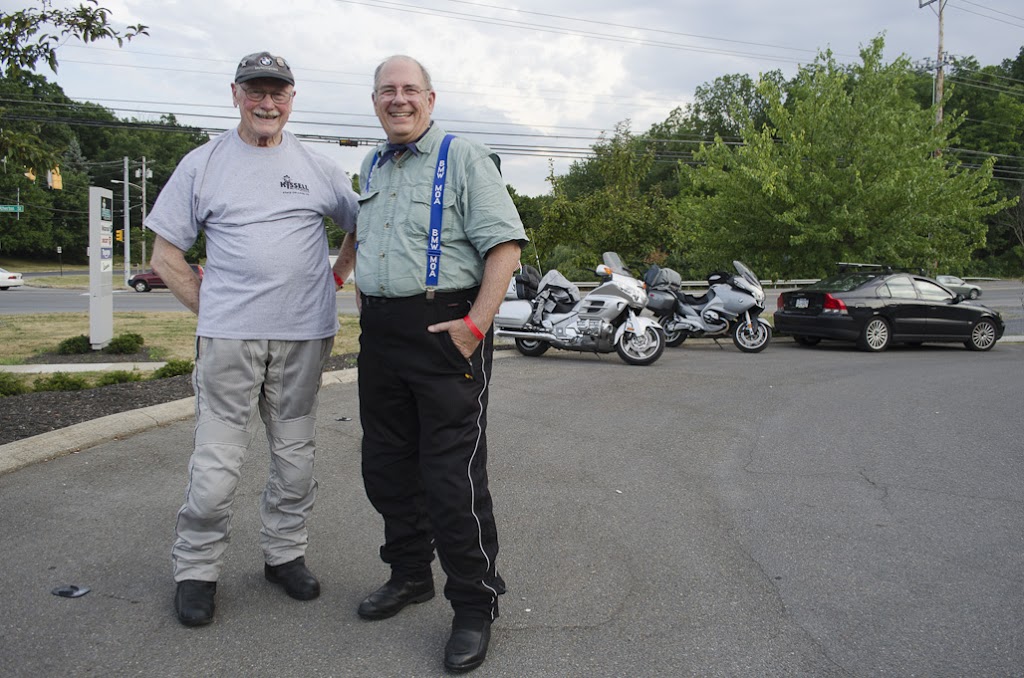 They had ridden from Bloomsburg to the pig roast at Kissell Motorsports. And that was after they rode from Seattle to Bloomsburg. Serious riders. We talked and when I asked how they knew about the pig roast they told me they read about it on Scooter in the Sticks. Turned out they had been reading for years. It's always odd to meet people who actually read this stuff. Tom and Bob are intrepid riders and have had adventures I can only dream about for now.
It was a long day made longer by the withering heat. I've not fully recovered yet. Might explain the dearth of postings of late. Or maybe it's all Jack Riepe's fault that I've not written much. He set the bar so high in my head that I can never bring myself to hit the publish button on the half dozen pieces waiting to appear.
He should have talked more about courage. That's what a writer needs.