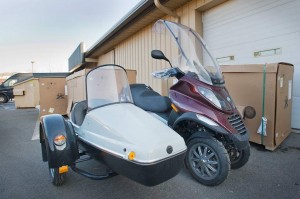 I stopped at Kissell Motorsports after work today and Craig Kissell showed me this Piaggio MP3 with a sidecar. A lot of people have been suggesting I get something like this so Junior and I can adventure together. Now that the opportunity has presented itself I'm not so sure. Would Junior really stay in the sidecar or would he leap out at every squirrel and dog?
And he doesn't have any Doggles!
Regardless, I'll take this rig home with me on Friday and see what it's like. Anyone have any advice for a sidecar newbie? Or riding with canines??
Check with Kissell Motorsports if you're interested in this unique set up.
All content, text and images, copyright 2011 by Steve Williams.
All Rights Reserved.