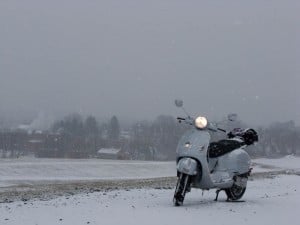 Winter riding holds different meanings for different riders. For some it is the epitome of idiocy and others the cold reality of daily transportation. I've ridden my Vespa through several winters and have refined my own limits and sensibilities in a range of cold-weather conditions.
I've compiled stories and pictures posted over the past couple years for anyone interested in venturing out in the cold on two wheels. It may not be for everyone but with a few modifications to gear and riding habits you may find that you can extend your riding season. You may even find an unexpected enjoyment.
Feel free to post questions if you have them. If I can't answer them directly someone else may or I can point you in the right direction for an answer.
Below are links to some of the more interesting posts about winter riding: