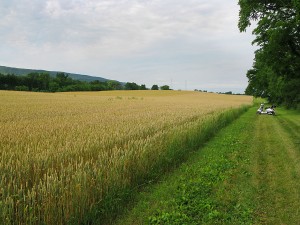 From time to time I wonder how long I'll be able to ride. It happened today while slogging along a grass road. Grass does a good job hiding ruts, groundhog holes, and other jarring obstacles for little scooter tires and nice taps and twinges to aging joints. It's during those episodes that I can start feeling old.
This past year I've noticed subtle changes that affect riding. An active imagination can easily construct a doomed future. The end of riding and beyond. These changes come in the form of increased hand and wrist pain, reduced tolerance to cold, and increased resistance to riding in adverse conditions. When occupied in this mental arena I search for evidence of continued activity and accomplishment. At an art museum recently I was doing age calculations of the artists – subtracting their birth date from the date of a work's creation hoping for evidence that good things continue to happen.
When I stumbled upon Piaggio's marketing project – NO AGE LIMIT – I was thrilled to see two riders in their 70's riding across America.
Buddy and Bob are riding MP3 500's from San Francisco to New York. Last time I checked they were in the Midwest. It's a nice story and they have lots of pictures, maps and information about the trip. For many the ride is the most interesting part of the story but for me it's the fact that these guys are still out there riding. I've always had in the back of my mind that when I got older or less sure on my feet that I would opt for one of those three-wheeled wonders. I guess Piaggio was thinking the same thing.