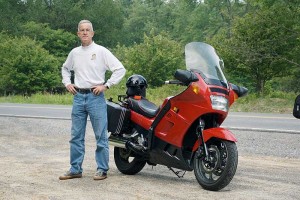 Last Sunday morning I rode 153 miles with my friend Paul Ruby to see how the latest addition to his two-wheeled fleet performed. Paul just purchased a 2000 Kawasaki Concours which joins his Vespa and Ducati as riding options.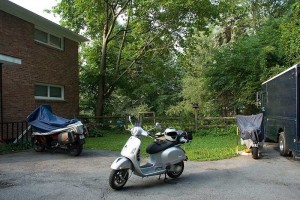 Arriving at his place at 8AM found the Concours still under wraps and the Ducati up on a jack. Paul came out the door, cast aside the cover and we were on our way – almost. Before the ride could commence fully he had to stop to pick up the Sunday New York Times.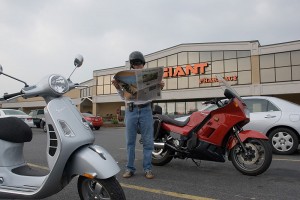 Paul lets me lead so I can stop when I want to take pictures. I worry a bit that I am traveling too slow but the Kawasaki seems content in my rear view mirrors. Heading west into the Moshannon State Forest I stop to look at some cimicifugia racemosa.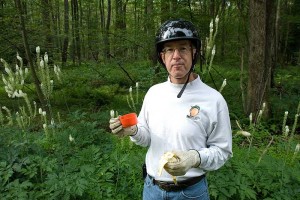 Kim calls them fairy candles and they are also known as Black Cohosh or Black Snakeroot. Paul takes the stop as an opportunity for more coffee and a breakfast banana.
From there it's on through Black Moshannon State Park and northward over Red Moshannon Creek. The history of coal mining in the region displays itself in the bright orange streams fallen victim to acid mine drainage. This damage will last pretty much forever I'm told.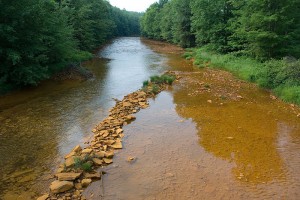 During a stop to look out over the West Branch of the Susquehanna River you can see some of the contamination seeping in but the greater water volume seems to dilute it.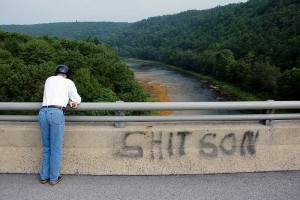 A growling stomach and short discussion points us to a small eating establishment about 30 miles away. Riding up the Quehanna Highway the Vespa cruises comfortably at 55 MPH until we turn off onto Wycoff Road to head towards Sinnemahoning and a hearty breakfast at the Willows, the only place to eat for miles around that I know of.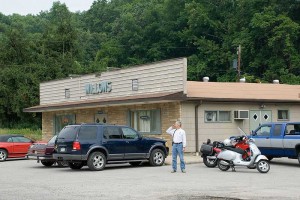 I was hungry so I didn't get any pictures of breakfast. You all know what bacon and eggs look like. It was good. If you get up this way stop here to eat.
Getting ready to leave we see a pack of BMW bikes cross the bridge and head towards Renovo. They are packed and riding fast somewhere. Following their path I think about how fast I am comfortable riding and it's pretty slow. Traffic on these rural roads still wants to go fast and I tend to let the occasional car or truck go by at 70 MPH. Those 55 MPH signs are a waste of tax dollars.

As always I want to see things and tend to move along at a more relaxed pace and Paul seems content to do the same.
I pull over to look at the river and Paul makes a portrait of me.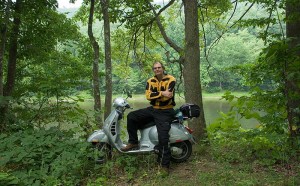 While I'm looking around he amuses himself with a short piece of lumber he finds along the road.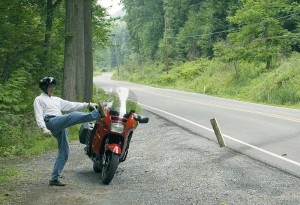 I guess the ride just isn't enough.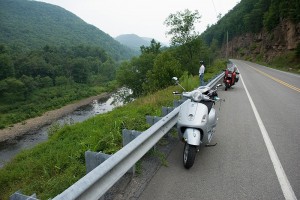 We stop one more time so I can look out over the river and valley and take a few pictures. My low fuel light comes on before we get to Renovo but I'm not worried—gas is just a few miles away. The gas station is closed. The only gas station around is closed, probably because of the fire that must have just occurred in the past few days.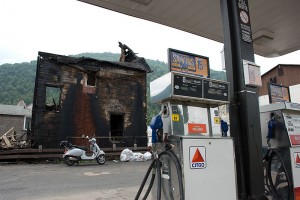 With the low fuel light on and two bars showing on the fuel indicator we cross the river and head south to the next gas station in Snow Shoe about 36 miles away. I'm comfortable that I have enough fuel and the fact that there is little traffic and no cell coverage doesn't bother me. When the fuel indicator drops to one bar before we even get to the top of the plateau I start to wonder how I might move fuel from the Kawasaki to the Vespa. Then it starts to rain.
A quick stop to pull on raingear and take a picture of one of the out of place rocks that sort of appear here and there we are on our way. I keep the scooter at around 40 MPH thinking I am going to stretch the fuel supply and maintain a light touch on the throttle as the last bar on the fuel indicator disappears. I'm actually surprised to make it to the gas station in Snow Shoe without running out of gas. Even more surprised that I had 3/10 of a gallon left when I got there. Sometime I am going to have to run the tank dry to see how far I can really go.
Getting closer to home Paul and I part ways. I didn't register any reasons why the relatively small Vespa and the large touring Kawasaki couldn't ride all day together if there was no need to chew up miles or ride at high speeds on the Interstate. For touring around like we did it was fine. I know I could ride a lot faster but that interferes with most of the goals I have while riding