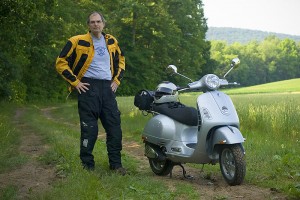 While the Vespa GTS 250ie and I may look at home off the pavement at least one of us is not. This post is more a commentary on my riding skill than any inherent capacity or deficiency of the scooter. And it's probably fair to say that the word Vespa is not often uttered in the company of words like Husqvarna, Dakar, KTM, Baja, and others synonymous with off-road racing and riding. A lot of things working against us.
Devils Elbow Road winds down from the Appalachian Plateau, a narrow, loosely packed gravel road with lots of washboard areas on the steeper sections. The Vespa feels like one or both of the tires could slip out at any moment as I proceed along the smoother sections at 25 MPH. I have to fight the urge to put my feet out as outriggers like I do in the snow. I keep telling myself to keep my head up and throttle even. The wheels still feel as if they are sliding around.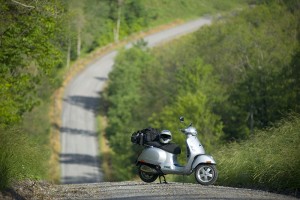 While trying not to picture the paint after a drop I throttle back to 20 MPH, which turns out to be a comfortable speed for me. I try hard to remember what my old Kawasaki dirt bike felt like on similar roads but my memory isn't that sharp.
I tempt fate by throttling up for short periods or stop suddenly to gauge the traction the tires have in the gravel. None of this affords any additional riding confidence. I'm running the stock Sava tires and 3000 miles has squared the back one off making it a candidate for replacement. A more aggressive tread might help but I wonder how much of this riding I would actually be doing and why 20 MPH isn't just fine. Then I picture a 40 mile stretch of this sort of gravel.
The Pennsylvania Bureau of Forestry is big on crushed limestone road surfaces. Sometimes they feel unstable when I walk on them so I guess I should be happy with the progress the Vespa and I are making. At one point the road is just packed clay and dirt and I am able to easily move at 40 MPH making me wonder how well a KLR would perform on the loose and at times deep gravel. (Gary, this is your cue.)
The jury is still out on the Vespa's off-road capability. I can say it's not and off-road racer in it's stock setup and judging by it's performance on the washboard surfaces I would not want to challenge the suspension on anything rough at speeds beyond a crawl. But I was able to travel and get where I was going. At a leisurely pace it will go all day. Perhaps with a bit more practice the Vespa (or me) will become a reasonable traveler off the pavement.