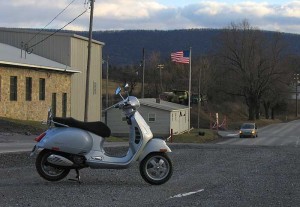 Just a quick update.
Wind was coming out of the west at a steady 20 to 30 miles per hour yesterday with gusts to 40. With temperatures hovering around 29° F for most of the day and calls for snow showers I finally left the house around 2PM for a long loop around town and then to Barnes and Noble for hot chocolate. Simple plan, simple ride. Stopped near a local quarry to see if there was anywhere to ride the Vespa that I hadn't found previously. Enough No Trespassing signs dissuaded me from any of those routes.
The Vespa GTS responds more slowly to the wind. Where the LX150 is jerked around on the road the GTS feels like it has been slowly pushed making it feel more stable in the wind especially crosswinds. Because I can ride faster I end up feeling just as beat up as on the smaller scooter with the wind hitting me squarely in the chest. I suppose the smart person would consider a windshield. I'm not ready for that yet.
The road surface was dry but there seemed to be a lot of salt dust considering we have had no snow. The road crews must be bored enough that they salt each time a snowflake is threatened. My route wound back and forth from one side of town to the other trying a variety of streets and roads. The GTS does everything the LX150 does and more. If I find fault with anything it is the smoothness (or lack of) of the ride. While smoother than the LX150 the front end seems to vibrate as if the tire balance is off. I can't tell if I am expecting too much, the road surface is rough, or the scooter is actually generating the vibration. I'll figure this out over time.
Rode past Beaver Stadium, home of the Penn State Nittany Lion football team. The sun was shining down on Happy Valley so I had to take a look.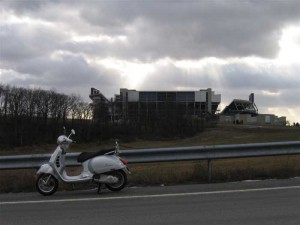 Eventually arrived at Barnes and Noble along with every other person unwilling to go outside so I scrapped any plans to hang out in that crowded venue. Made my way home and there the scooter has remained. This morning the temperature was 15° F with wind and the threat of snow. I had enough to do today that I never got out to ride before the snow came down. The weather forecast calls for snow and freezing drizzle overnight so I don't expect to be on the road. I'm getting antsy to go. A long trip. A long winter trip to parts unknown….